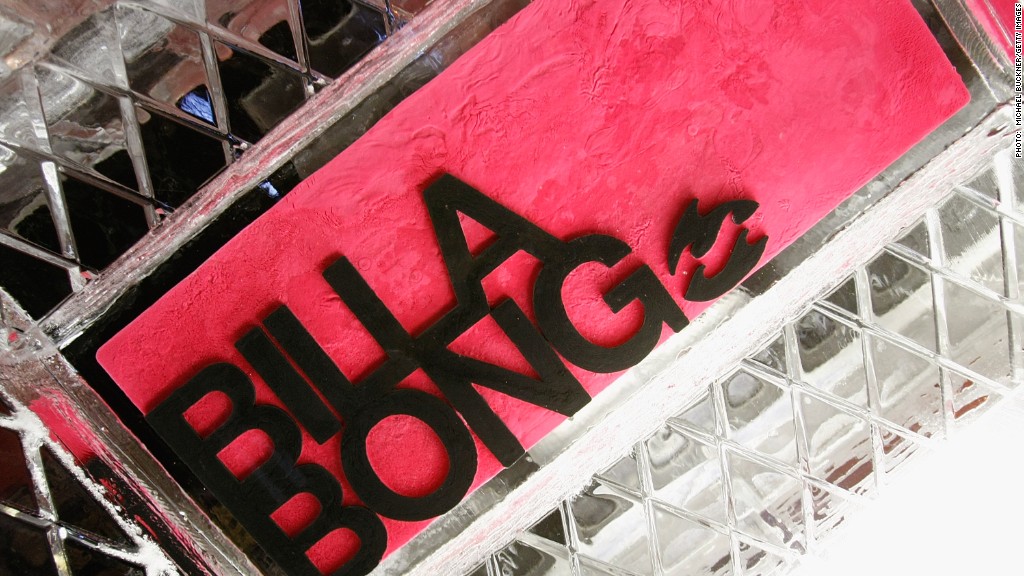 Australian surfwear maker Billabong plunged in Sydney trading after the company posted a tremendous annual loss that totals more than three times its market value.
The company's staggering full-year loss of A$859.5 million ($773 million) dwarfs its A$256 million market cap, and shares fell as much as 15% before a late afternoon recovery. The Gold Coast-based company also wrote down to zero the value of its Billabong and Element brands, deeming them essentially worthless. Sales plummeted 13.5% compared to last year.
Billabong (BLLAF) has long been one of Australia's most recognizable retail brands, and its apparel products are a common sight on beaches as far away as Hawaii and California.
But the company has struggled lately, and it's unclear how it will pull itself out of the red -- a path complicated by the resignation of CEO Launa Inman and confusion over her successor.
Although Billabong has said it intends to name Scott Olivet, former head of competitor Oakley, as its new CEO, no official appointment has been made. Any candidate would also require shareholder approval.
Billabong's full-year result was "always going to be messy," said Citi analyst Craig Woolford. "The company needs clear leadership to restore earnings."
Inman's departure was part of an agreement Billabong struck with a consortium led by U.S. private equity firm Altamont Capital Partners. That deal, which saw the company sell off its Dakine brand and secure a short-term loan through the end of this year, is part of ongoing negotiations for long-term debt refinancing.
The company is also considering a second plan proposed by private equity firms Centerbridge Partners and Oaktree Capital.
Related story: Teens ditch Abercrombie & Fitch, stock tanks 18%
Chairman Ian Pollard said the company is "within weeks" of finalizing refinancing arrangements.
It will be a monumental task. The company closed 93 of its stores this year and has plans to shutter more. It is also cutting jobs in an effort to slash costs.