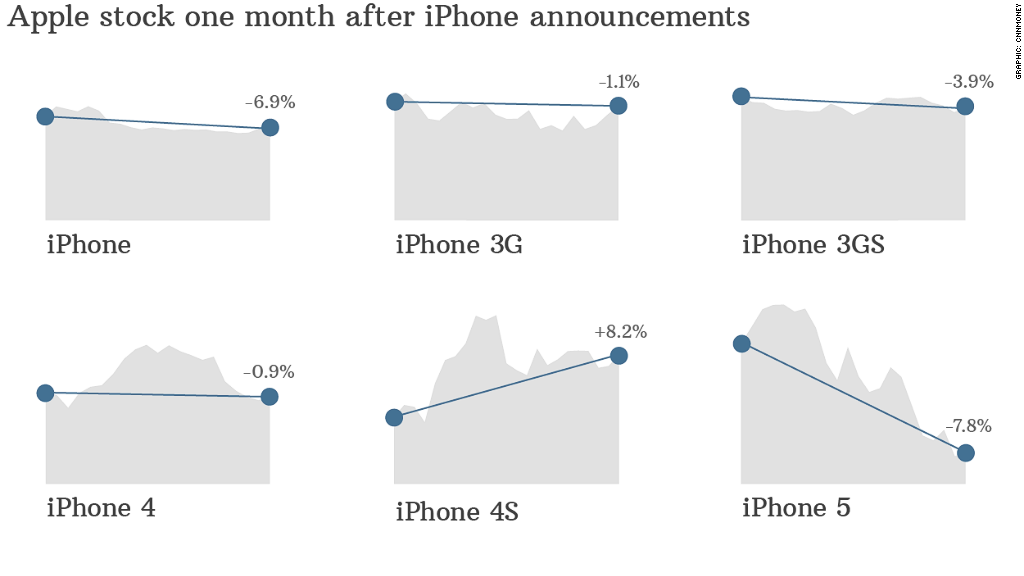 Think the next iPhone will boost Apple's stock?
It may initially but the gains may be short-lived. In five of the past six years, Apple's (AAPL) stock has ended up lower a month after the new iPhone was revealed. And in 2011 -- the one year that Apple's stock actually finished higher after an iPhone release -- it still pulled back sharply from its initial post-iPhone bump.
Take a look:
2012: Last September, Apple's stock rose 3% in the four trading days after CEO Tim Cook unveiled the iPhone 5. But a month after the announcement, Apple shares were down 8%.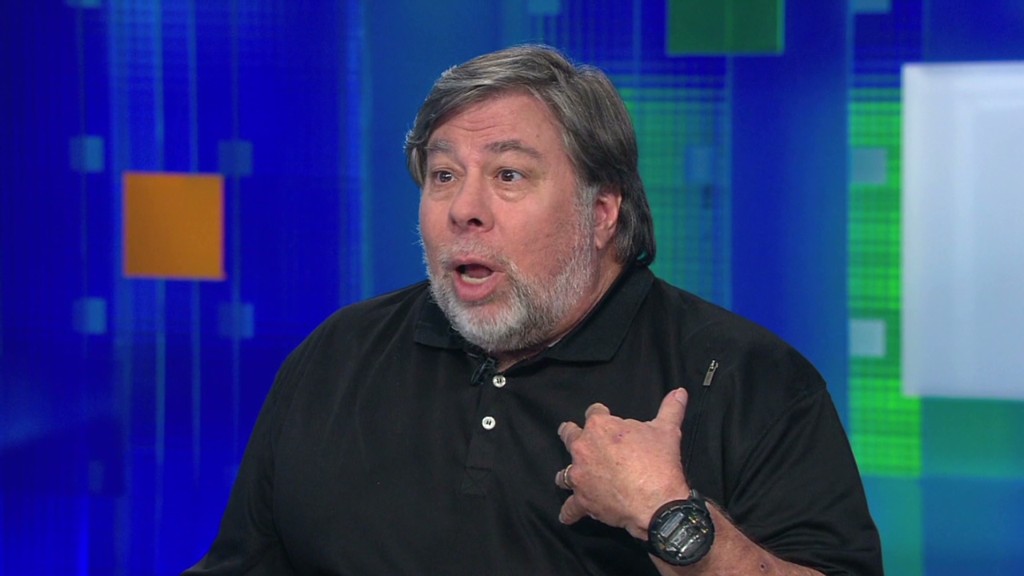 2011: In the two weeks after Apple unveiled the iPhone 4S in October 2011, Apple's stock soared 13%. But it dipped after that. Two weeks later, the stock was only 8% higher than on day one. (Of course, Steve Jobs' death only a day after the iPhone 4S was unveiled quickly overshadowed much of the buzz around the iPhone and its then-new Siri feature)
2010: The stock rose 9% during the week and a half after the iPhone 4 was unveiled. But the stock was 1% lower a month after the announcement.
2009: Apple shares didn't move too much shortly after the company announced the iPhone 3GS -- but shares were down 4% a month after the 3GS news.
2008: Shares rose 2% the day after the iPhone 3G was unveiled but were down 1% a month after the announcement.
2007: The stock gained 5% in the week after Steve Jobs unveiled the first iPhone. But three weeks later, shares had fallen by 7%.
Interactive: The iPhone Evolution
But is this just coincidence? Did Apple stock really fall because it couldn't live up to iPhone hype? Or was there something bigger going on with the market at those particular points of time?
Let's look at how the tech-heavy Nasdaq -- of which Apple is a big part -- did in those post iPhone periods.
2012: Nasdaq down 4%, Apple down 8%.
2011: Nasdaq up 12%, Apple up 8%.
2010: Nasdaq down 3%, Apple down 1%.
2009: Nasdaq down 6%, Apple down 4%.
2008: Nasdaq down 9%, Apple down 1%.
2007: Nasdaq up 7%, Apple down 7%.
That shows no discernible trend. Apple outperformed the Nasdaq a month after the iPhone was unveiled three times out of six. In the other three years, Apple lagged.
Related story: Selling your old iPhone? Do it now
That's why some analysts consider Apple's share price drops following iPhone announcements to be meaningless.
"I think the stock movement is somewhat random," said Trip Chowdhry, managing director of Global Equities Research.
But others argue that there are legitimate reasons for Apple's stock to fall after iPhone announcements.
"I don't think it's random," said Ryan Detrick, senior technical strategist at Schaeffer's Investment Research. "We have seen this before. There is so much hoopla with Apple, but soon after the news comes out, there's not as much reason to be excited anymore."
Apple is expected to unveil the iPhone 5S (or whatever it will be called) on Sept. 10. Will Apple's stock be lower on Oct. 10?
Let's just say it's not quite the same as betting on the sun to rise in the east. Apple no longer is the darling of Wall Street that it once was. Despite a recent rebound, investors may still be looking at Apple as a potential bargain. The stock has lost 30% of its value since hitting an all-time high a year ago.
"Apple has been down for so long, a new product could be a good thing to boost momentum," said Detrick. "Excitement around a new iPhone might be just what the stock needs."