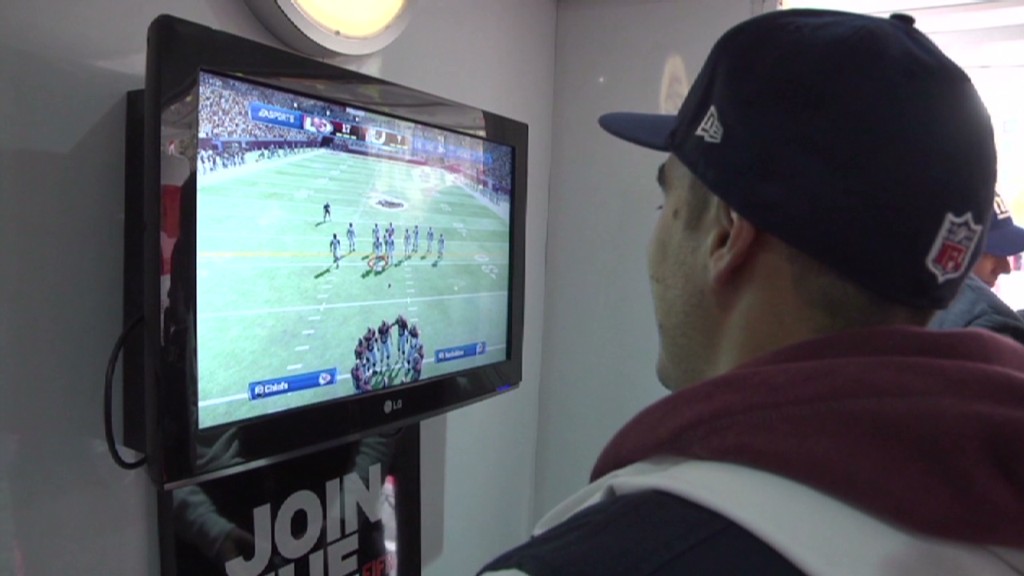 Madden, Electronic Arts' blockbuster NFL video game, turns 25 this year.
A lot has changed since Oakland Raiders Coach John Madden spent time on trains drawing up plays with EA (EA) founder Trip Hawkins in 1988. But one thing has remained consistent: The football franchise is still a perennial bestseller for the game publisher.
EA Sports kicked off the virtual football season last week with the launch of the Microsoft (MSFT) Xbox 360, Sony (SNE) PlayStation 3 and mobile versions of Madden NFL 25.
Madden plays an important role in EA's library of annual releases. Last year the game was second only to Activision's (ATVI) Call of Duty: Black Ops II with over 5 million copies sold in the United States, according to the NPD Group. Electronic Arts has sold over 100 million copies of Madden games life to date, generating over $4 billion in revenue.
That's not surprising, considering Madden has no real competition and football has become the unofficial American pastime.
Related story: Nintendo unveils new '2DS'
"Madden is instrumental for EA in the sense that this is relatively easy money," said Peter Warman, founder of video game research firm Newzoo, who noted that the Madden games sell well on mobile platforms.
But that success does come with a price. EA pays the National Football League and NFL Players Association $50 million to be the exclusive video game licensee, and the company pays John Madden an additional $2 million for the rights to his name, according to Wedbush Securities video game analyst Michael Pachter.
Pachter expects EA will sell 5 million copies of Madden NFL 25 this year, accounting for 6% of EA's overall sales.
Those are high expectations. But the game appears to be off to a slow start this year, according to Stern Agee video game analyst Arvind Bhatia. Video game store checks indicate Madden NFL 25 may currently be under-performing versus last year.
That may be because customers are delaying their purchases until the new Xbox One and PlayStation 4 go on sale in November.
"We expect sales to pick up once the next-gen consoles are launched," said Bhatia.
Related story: 'Call of Duty Ghosts' is Activision's next billion dollar video game
EA has been facing other off-the-gridiron issues related to Madden.
On July 23, a U.S. District Court jury ruled in favor of Robin Antonick, one of the original designers and developers on Madden, who sued EA for royalties not paid him. That ruling could cost EA $11 million for games made between 1990 and 1996, and it also opens the door for Antonick to pursue the same claims against EA for games released after 1996 -- games with significantly higher revenues surpassing $3 billion.
EA is also paying out $27 million to gamers this year as the result of a class action lawsuit settlement. Gamers sued over the monopoly EA had with the Madden, NCAA Football and Arena Football licenses for games released between 2005 and 2012.
Analysts don't believe the lawsuits will impact sales.
"The lawsuit will hardly affect enthusiasm for the Madden franchise or its sales figures," said Peter Warman, founder of video game research firm Newzoo. "If asked, gamers would stand behind EA I am sure."
Despite the legal distractions, Madden NFL 25 has been receiving glowing reviews from the press with an 81 aggregate score on Metacritic.com. The game introduces a more intuitive running system, which connects nicely with Hall of Fame cover athlete Barry Sanders. It also has a connected online franchise mode and the ability to become an NFL owner and call all the shots in a role-playing game experience.
And although John no longer provides his color commentary for gamers, the NFL Hall of Fame coach is still involved in the game. His name goes a long way with the growing number of NFL fans who are gearing up for the real kickoff of the NFL season, providing EA with an annual "Boom!" in consistent sales.