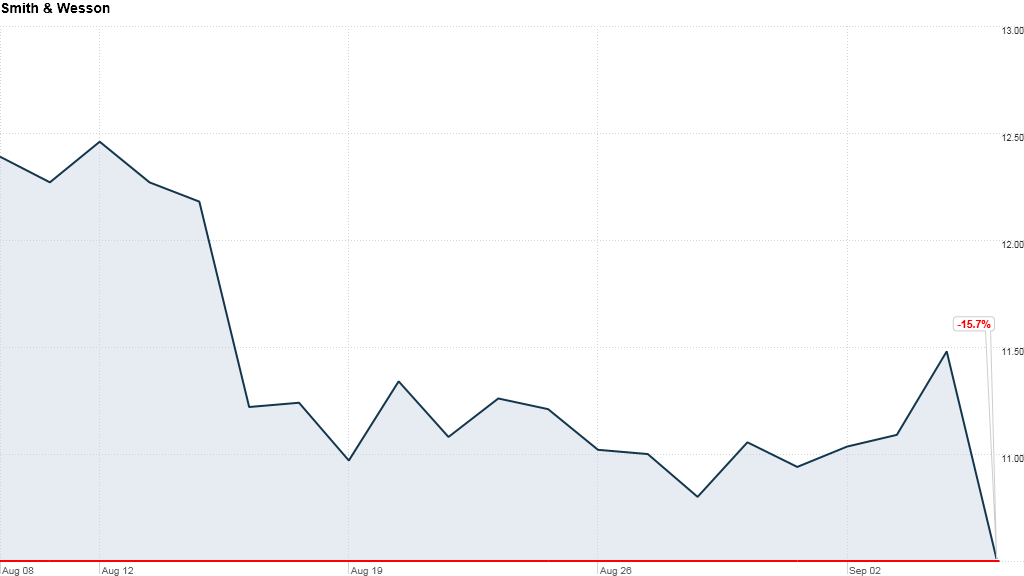 Smith & Wesson shares fell on Friday, a day after the gunmaker reported strong sales and earnings but a disappointing outlook, as the nationwide fever for firearms begins to wane.
Smith & Wesson Holding Corp. (SWHC) dropped 8%, even though the company reported on Thursday that its latest quarterly sales jumped 25% to $171 million. The Springfield, Mass., gunmaker also reported that earnings for the quarter surged to 41 cents per share, compared to 27 cents a year earlier.
"Ongoing increases in our manufacturing capacity, combined with strong consumer demand for firearms, resulted in increased market share and higher sales of our most popular M&P products," Smith & Wesson Chief Executive James Debney said in a statement.
But Rommel Dionisio, gun industry analyst for Wedbush Securities, said investors had a different focus.
Investors were disappointed by the company's "cloudier" than expected forecast for the current quarter, which said sales would be $135 million to $140 million and earnings 20 cents to 22 cents per share.
Related: $27,500 rifle hits targets at 1,000 yards
"Longer term, we think things should be just fine for the industry overall, but certainly the sales frenzy seen earlier this year is unsustainable," said Dionisio.
Shares for rival gunmaker Sturm Ruger (RGR) dipped slightly on Friday. But the performance year-to-date for gun stocks has been outstanding, with Sturm Ruger jumping 21% and Smith & Wesson surging 36%.
Gun sales have surged since the reelection of President Obama last year, fueled by expectations of more rigid regulations in the wake of mass shootings, particularly at a school in Newtown, Conn., and a movie theater in Aurora, Colo.
Related: Bulletproof whiteboards. The answer to school shootings?
Smith & Wesson reported record sales for fiscal year 2013, which ended April 30, with a 42% annual jump in revenue and profit of $78.7 million.
Sales have been particularly strong for military-style semiautomatic rifles and high capacity magazines. But the fears of gun enthusiasts have subsided since Democrats failed to get a bill through the Senate that would have restricted these types of weapons.