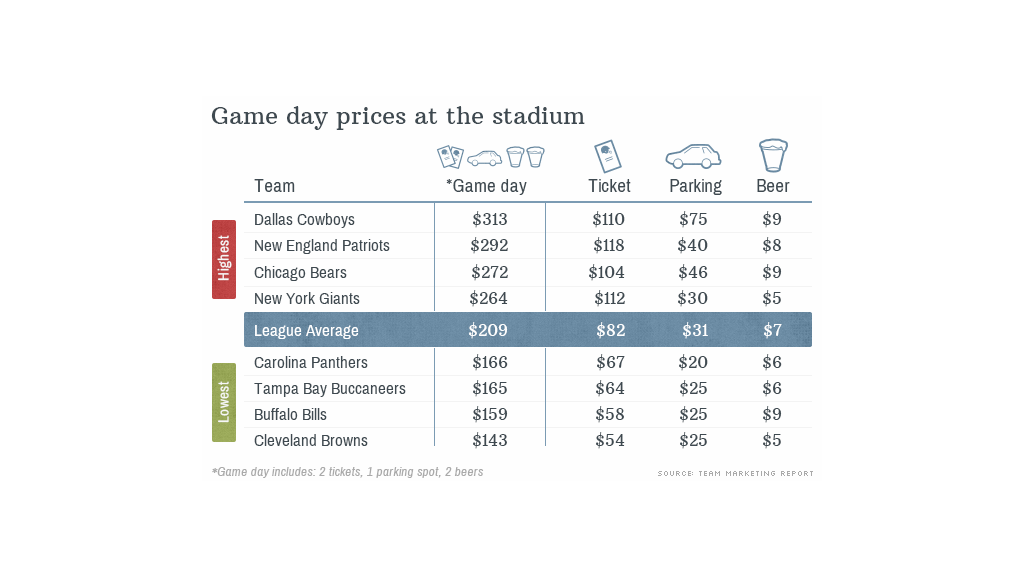 Football season is here, and many stadium goers are breaking out the face paint. But between paying for tickets, parking and grabbing a couple of cold ones, the cost of actually going to a game has gotten much too pricey for many fans.
For the 2013 season, National Football League teams are charging an average of about $82 per game for general season ticket holders, up 3% from last year, according to Team Marketing Report's annual "Fan Cost Index." Tack on the average price of parking ($31) and two beers (at $7 each) and two fans will end up shelling out $209 on game day. And that doesn't even include all of the money spent on tailgating before the game.
While ticket prices have climbed more than 50% over the past decade, parking prices have more than doubled, according to the index. Beer prices, meanwhile, have climbed about 35% from 2003's average of $5.21.
NFL spokesman Brian McCarthy said that ticket price increases in recent years have been the lowest in decades and that this year, 17 out of 32 teams either left prices alone or dropped them.
"Teams are aware that cost is always an issue, and they are very conscious to make sure that there are a wide range of ticket prices for the fans," he said.
Related: Hot dogs and beer: See what $20 buys at the ballpark
Some game-goers have it better than others. The cost of a day at the stadium can vary widely across the country, from more than $300 for two Dallas Cowboy fans to less than $150 for a couple of Cleveland Browns fans. For the Cowboys fans, a big chunk of the expense is parking, at $75.
In terms of standalone ticket prices, the three-time Super Bowl-winning New England Patriots are the most expensive. While they didn't raise prices this year, fans still shell out an average of $118 per game for general seating.
The New York Giants also kept ticket prices steady, but they were still the second most expensive in the league. Meanwhile the team's stadium partner, the New York Jets, came in third after dropping ticket prices by nearly 7% after last year's losing season.
"We are always looking, whether its ticket prices, concessions or the overall experience, how do we make that a good value and affordable for our fans?" said Jets president Neil Glat.
A Giants spokesperson noted that ticket prices have not gone up since the team moved into its new stadium in 2010. The Cowboys and Patriots did not respond to a request for comment.
Related: Madden: The $4 billion video game franchise
Those who aren't season ticket holders often must turn to secondary ticket sellers, like StubHub or NFL Ticket Exchange, and end up paying higher prices. As of Aug. 30, the median price for a football ticket on StubHub was $140 -- up nearly 20% from last year's median of $118.
For some teams, resale prices can easily reach $200, or even $300, since there are relatively few games and high demand, said Jesse Lawrence, founder of TiqIQ, a website that aggregates event tickets from a variety of sellers.
"NFL teams are the highest drawing sport of any league," he said. "You basically see half of the teams selling out every game."
But those rabid fans are starting to feel the pinch of rising prices.
Seattle Seahawks fan Holly Zuluaga went online when single game tickets went on sale for the Seahawks' upcoming home game against the San Francisco 49ers, but tickets sold out within seconds. With secondhand tickets selling for $300 or more, she opted to watch it on TV.
"This isn't good for the game, the team or fans when prices are so astronomical," she said.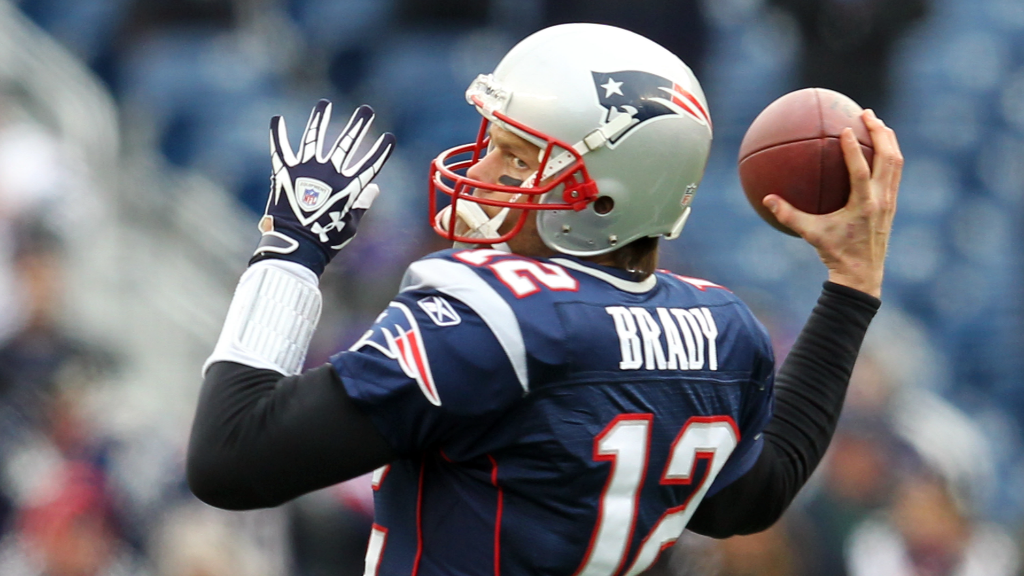 Minneapolis resident Nathan Rice has been attending NFL games in different cities for the past two decades, but he says that current prices have forced him to cut back.
Rice now takes his 8-year-old son to one Minnesota Vikings game a year, which costs about $350 for the day, including food and parking. His wife and younger son stay home.
"It would just be crazy for a family of four to go," he said. "You have to have some serious coin to bring your whole family there."