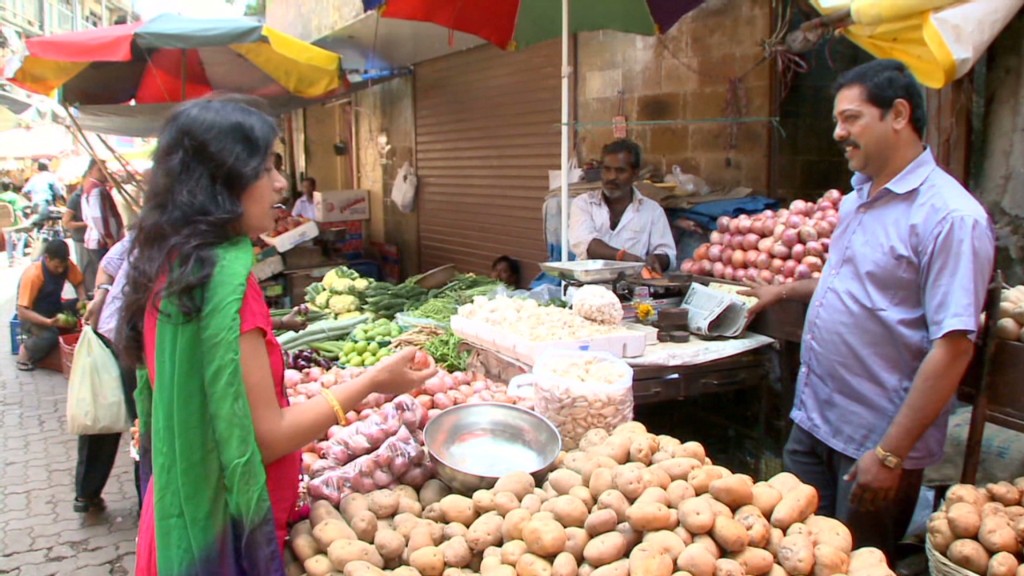 Consumers in India are facing a rapidly weakening rupee and the country's slowest economic growth in a decade.
To make matters worse, rising prices are wreaking havoc on household budgets -- a phenomenon felt most acutely in an astronomical increase in onion prices that far outstrips the country's 6% inflation rate.
The onion is a crucial part of Indian cuisine and the spike in prices -- by as much as 500% in a month in some regions -- is leading shoppers to cut back.
That is no small sacrifice for a nation that consumes more than 15 million tons of the vegetable per year.
Geetal Dalal, a housewife who lives in the city of Nashik north of Mumbai, said that she has cut her usual purchases by 50%. She said that until prices drop, she will buy only one kilogram of onions at market instead of the usual two.
"Since the prices have gone up, we really need to think about what to eat and what not to eat," Dalal said. "It's a real problem for us."
Related story: Are emerging market woes contained?
Economists say the runaway prices are about more than just onions -- and the drought conditions that have limited supply. The situation, they say, has been made much worse by the country's dysfunctional political system and a lack of economic reforms.
"The onion has many layers," said Veena Mishra, chief economist at the Mahindra Group. "If you look at the problems in India, they have many layers."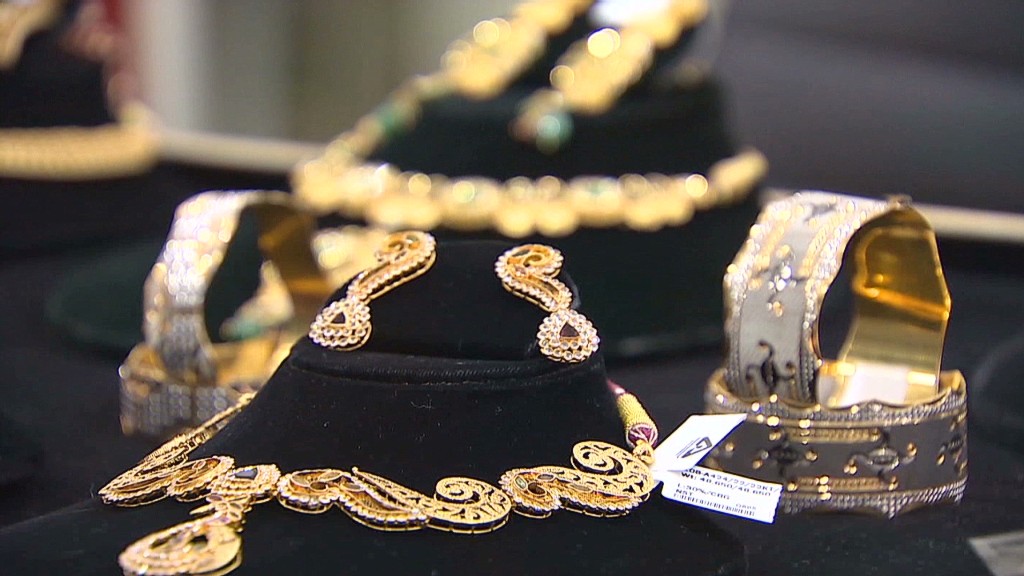 In the onion trade, for example, the use of middlemen is endemic, and each transaction adds to the final cost. In addition, up to 40% of the crop rots as trucks are delayed on the way to market by the poor state of the country's roads.
By the time onions reach the end consumer, the price can be double what the farmer was originally paid.
"You have deep volatility," said Shubhada Rao, chief economist at Yes Bank. "You have variability, be it in growth, be it in inflation or the most recent concern: currency."
"What the onion is doing is summing up what India as a macro economy is going through," Rao said. "We have not had a consistent policy framework regarding this segment of investment."
For things to improve, India needs to create new supply chains, along with cold storage facilities and warehouses equipped with modern technology, Rao said. Attracting more private sector investment -- especially from outside India -- would also help to improve efficiency.
Related story: India's economic growth slowest since 2009
India has been facing calls to reform its economy for years. Parliament took a key step last year by lifting restrictions on foreign direct investment. But investment dollars have not materialized and international companies remain wary of a change in the political winds that could reverse the decision.
With an election looming next year, analysts say that a political breakthrough that would speed reforms is unlikely.
Related story: Trial by fire for India's new central banker
Instead, investors have pinned their hopes on Raghuram Rajan, a University of Chicago professor and fledgling media star who last week assumed the top spot at the Reserve Bank of India.
In his first day on the job, Rajan announced reforms that should make it much easier for new banks to be licensed. He also took steps to support the rupee, including a new central bank facility to encourage commercial banks to accept more deposits from overseas.
But the central bank's ability to promote reform is limited -- and that's a problem for shoppers such as Dalal.
"We have really reduced the quantity [of onion] at home," she said. "We make a lot of Italian food. You don't need as much onion."
-- CNN's Lonzo Cook contributed reporting.