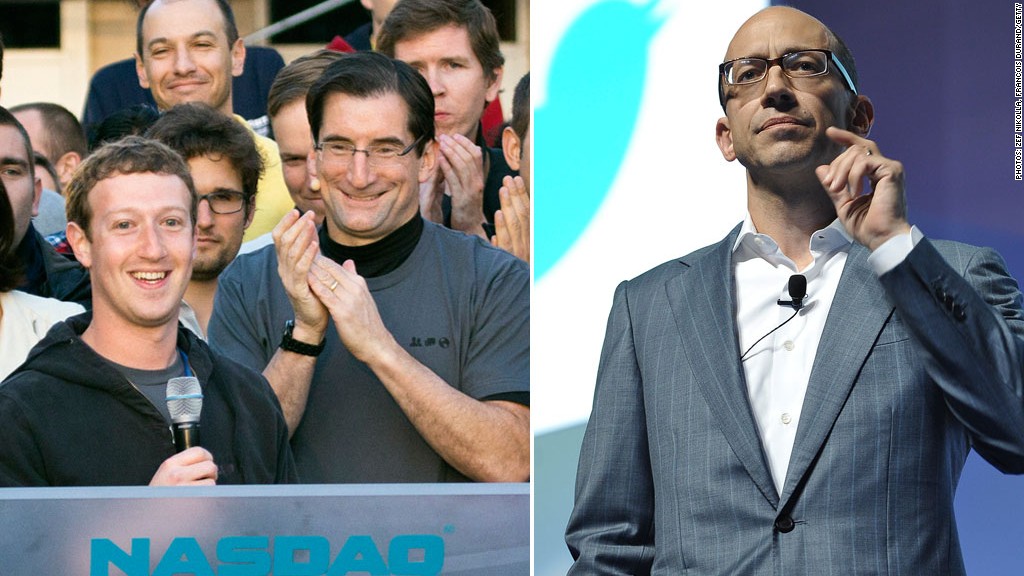 At the start of last year,
Nasdaq

(NDAQ) and

Morgan Stanley

(MS) were on top of the tech world. Both landed key roles in Facebook's hotly anticipated initial public offering.

But Facebook's IPO changed that. Both companies were widely criticized for Facebook's face plant of a debut. The problems that marred Facebook's IPO clearly hurt the image of Nasdaq and Morgan Stanley.

Now, their major rivals -- the New York Stock Exchange (NYX) and Goldman Sachs (GS) -- are expected to be the big winners in the next hot IPO: Twitter.

Twitter has reportedly chosen Goldman Sachs as the lead underwriter for its forthcoming IPO. Goldman Sachs did not comment for this story, and Morgan Stanley did not return calls for comment.

Related: 4 ways Twitter can learn from Facebook's IPO

NYSE is widely expected to land the Twitter listing, although Twitter has not announced any decisions yet on either which bank will lead its offering and where the stock will trade. Neither exchange would comment about Twitter.

"The Facebook IPO was a hiccup. Unfortunately for Nasdaq and Morgan Stanley, it was a hiccup on the largest and most visible transaction of the past decade," said David Weild, head of investment bank and IPO adviser Weild & Co. "It took some of the luster off their reputations."

A banker who has talked to Twitter executives about the IPO said that the Twitter team hopes to avoid Facebook's mistakes.

If Goldman Sachs does land the top spot on Twitter's IPO, it will generate the majority of fees from the offering and also claim major bragging rights.

Before Facebook's IPO, Morgan Stanley's Silicon Valley-based technology investment banking team had won most of the highest profile social media IPOs, including Zynga (ZNGA), Groupon (GRPN), and LinkedIn (LNKD).

Although Facebook shares recently catapulted to an all-time high due to optimism about its earnings and mobile growth prospects, Morgan Stanley's underwriting of the IPO was largely viewed by the market as too aggressive. By pricing the offering at $38, some think that made it tough for the stock to do well in the first few weeks after it started trading.

So far this year, Goldman Sachs has the lead in market share among tech IPOs, up from fourth place last year. In 2012, Morgan Stanley was number two and is now in third place, according to Dealogic.

Related: Explaining Twitter's 'secret' IPO

Nasdaq arguably suffered more damage following Facebook's stock sale. Technical glitches on Nasdaq delayed the opening of trading. Once Facebook began trading, the index failed to tell market makers what orders had been filled, causing massive confusion.

In 2012, Nasdaq led the NYSE in landing tech IPOs. 19 companies chose to list on Nasdaq, while 15 chose to list on the NYSE, according to Dealogic.

But this year, the NYSE has a lead among tech companies with 11 choosing to list on the big board versus eight on Nasdaq.