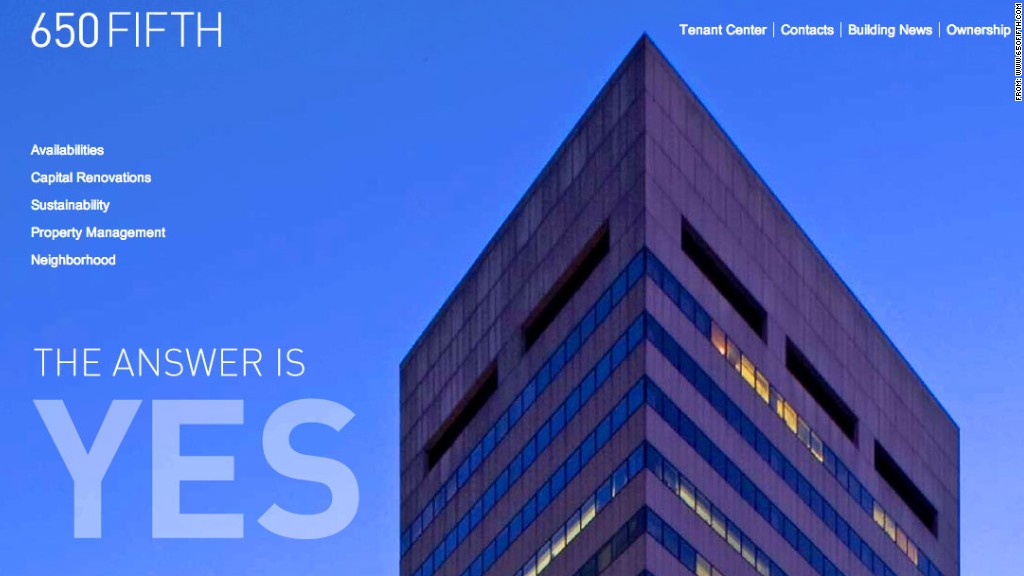 The U.S. government is set to seize a Manhattan skyscraper that prosecutors say is secretly owned and controlled by the Iranian government.
The 36-story tower is located on Fifth Avenue in the heart of New York City, adjacent to Rockefeller Center, and is home to a number of corporate tenants. Preet Bharara, the U.S. attorney in Manhattan, said Tuesday that the seizure and sale of the property would be the government's largest-ever terrorism-related forfeiture.
A federal judge authorized the seizure in a ruling this week, finding that the building's owners had violated federal money laundering laws and sanctions against Iran.
The building was constructed in the 1970's by a non-profit organization operated by the Shah of Iran, who was overthrown at the end of that decade. Today, the property is 60% owned by that organization, now called the Alavi Foundation, and 40% owned by Assa Corporation.
Related: Vatican moves to clean up finances
Prosecutors say Assa Corporation is a front for a bank owned and controlled by the Iranian government, which also is alleged to control the Alavi Foundation. The co-owners have allegedly been transferring rental income back to Tehran.
Bharara said the government would use proceeds from the pending seizure to compensate the families of victims of Iranian-sponsored terrorism.
The Alavi Foundation said it planned to appeal the ruling.
"We have reviewed the decision and disagree with the court's analysis of the facts and the law," the organization said in a statement. "The Foundation was ready for trial and is disappointed that it did not have the opportunity to rebut the Government evidence before a jury."
A lawyer for Assa Corporation did not respond to requests for comment.
Prosecutors originally filed a complaint in 2008 seeking forfeiture only of Assa Corporation's stake, though the complaint was later revised to include the Alavi Foundation's assets as well.
The foundation's former president pleaded guilty to obstruction of justice in 2009 for destroying documents being sought under a grand jury subpoena concerning Alavi's ties to Bank Melli, the Iranian state-owned bank. The Fifth Avenue building has been operating in recent years under a court-appointed monitor.