The Federal Reserve is not going to slow down the pace of its bond purchases yet. And that was just what investors wanted to hear.
The S&P 500 immediately jumped to a new record high, and the Dow quickly followed. The Nasdaq also moved up after the Fed's surprise announcement. All three indexes closed up more than 1%.
Fed chair Ben Bernanke added fuel to Wednesday's stock rally during his press conference.
Bernanke laid out plans to maintain the central bank's "highly accommodative monetary policy" for the foreseeable future, even if the Fed eventually chooses to taper.
Bond yields, which have been rising lately, slid back as well as investors bought more bonds. The 10-year Treasury yield fell to 2.71% from 2.87% earlier in the day.
The Fed's moves also pushed down the dollar and drove up commodities. Gold prices spiked more than 4% following the announcement. Oil prices rose more than 2%.
Related: See what will your monthly mortgage will be
Fed surprises: Many investors had expected the Fed to announce Wednesday that it was finally ready to begin cutting back -- or taper -- its stimulus measures.
The improving economy and falling unemployment rate was expected to be enough of a catalyst for the Fed to ease its so-called quantitative easing. The Fed has been buying $85 billion in Treasury bonds and other securities a month.
Click here for more on stocks, bonds, commodities and currencies
World reaction? European markets and Asian markets ended the day mixed, but investors around the world could rally on Thursday thanks to the Fed news.
Stocks and currencies in emerging markets such as India and Brazil have taken a big hit over the past few months on fears over potential cutbacks to the Fed's bond buying.
D.A. Davidson chief investment strategist Fred Dickson expects that emerging market currencies could rebound in the next few weeks now that the Fed has put the tapering on hold.
Related: Fear & Greed Index back to greed
What housing starts? Investors received one disappointing reading on the health of the economy before the Fed meeting though. The Census Bureau's monthly reports on housing starts and building permits came in below expectations.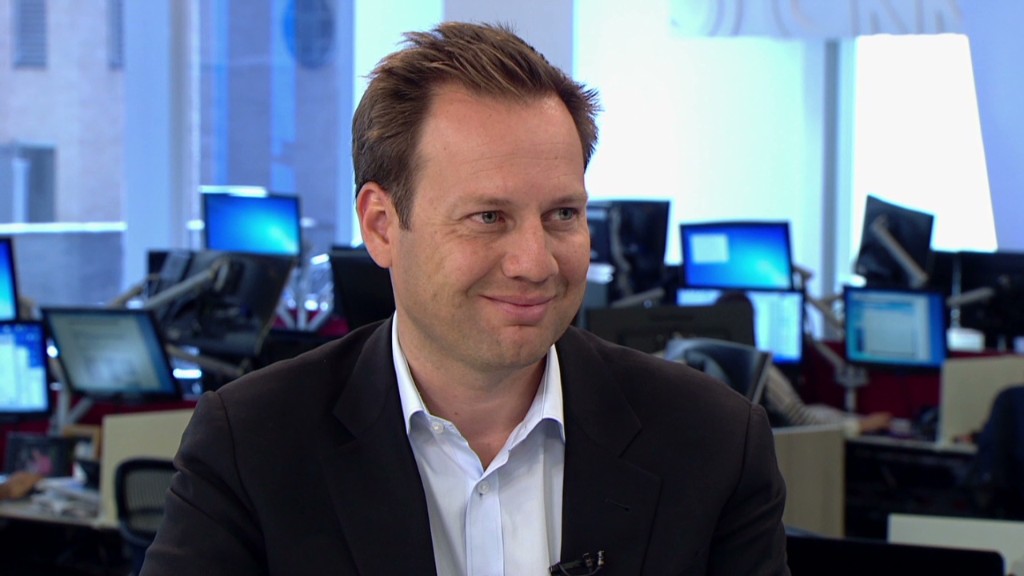 But corporate news was better. FedEx (FDX) reported an increase in quarterly sales and net income, compared to a year-ago. Earnings topped forecasts and shares rose on the news.
FedEx gives a blah reading on the economy: Despite a relatively rosy quarter, FedEx, which is often viewed as an economic bellwether because of its global footprint, gave investors an iffy assessment on the economy.
While the stock popped on earnings, some traders were wary of FedEx's longer-term trajectory.
dachria: $FDX Cost cutting as usual helps the bottom line but for how long
retail_guru: For 'tepid' economic growth as Fedex puts it, $FDX US daily volume (inc Express + Ground) +10%. That's pretty good in any book or any macro
Soccer club Manchester United (MANU) reported a jump in quarterly revenue, compared to the prior year, and a surge in net profit, compared to a loss last year. Its stock closed up more than 2%.
Adobe Systems (ADBE) shares hit all-time highs after the software maker reported strong subscription growth for its "Creative Cloud" service on Tuesday.
flounder: $ADBE New pricing model is absolutely amazing. Never could justify high price of Photoshop to buy but can certainly run with monthly subsc Bullish
AnalystWire: Adobe ($ADBE) Target Raised to $58 at Deutsche Bank http://stks.co/bj54
Priceline hits 4 digits: The online travel company's stock surged after the Fed announcement and briefly topped $1000. Priceline (PCLN) closed at $995.09. It's only a psychological milestone. But some investors thought that Apple (AAPL) (before it began its big pullback late last year) or Google (GOOG) would win the race to $1,000 a share. Priceline is the first stock in the S&P 500 to ever top $1,000.