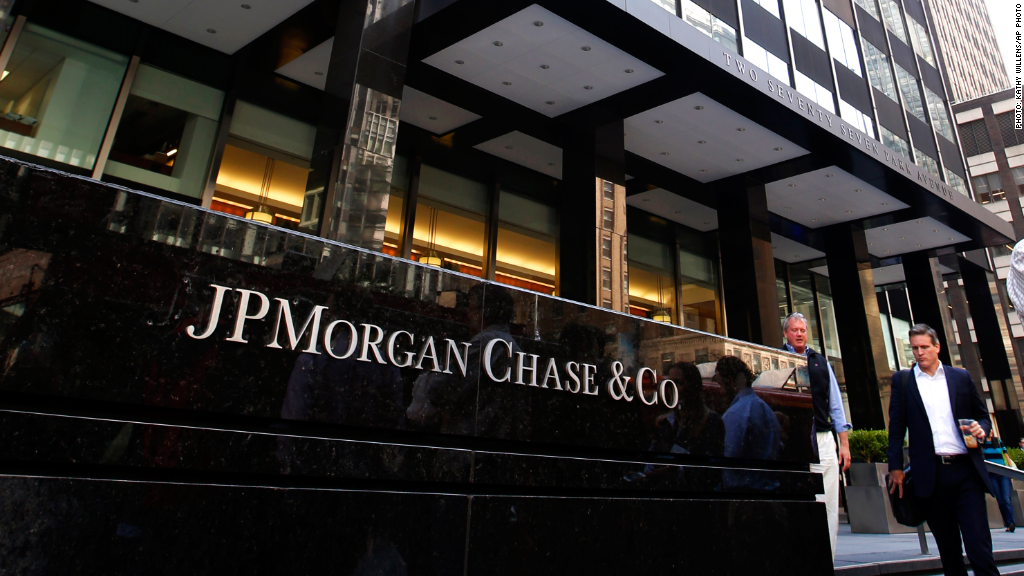 It's more bad news for JPMorgan Chase.
The country's largest bank has been ordered to refund $309 million to customers and pay $80 million in fines over alleged unfair credit card billing, regulators at the Consumer Financial Protection Bureau and the Office of the Comptroller of the Currency announced Thursday.
JPMorgan said it had already issued refunds to the roughly 2.1 million customers regulators say are eligible.
The OCC also ordered JPMorgan to make substantial reforms to its debt collection practices after allegedly submitting fraudulent or inaccurate documents in litigation with consumers.
The news comes on the same day U.S. and U.K. officials announced that the bank would pay $920 million in fines over the "London Whale" trading debacle.
The CFPB said JPMorgan (JPM) had unfairly charged consumers for credit monitoring services they did not receive between October 2005 and June 2012.
The bank is accused of enrolling customers in these credit card "add on" products, which promised to alert them to potential fraud, without their authorization. The promised services, the CFPB added, "were either not being performed at all, or were only partially performed."
"At the core of our mission is a duty to identify and root out unfair, deceptive, and abusive practices in financial markets that harm consumers," CFPB Director Richard Cordray said in a statement. "This order takes action against such practices."
Related: JPMorgan to stop making student loans
Bill Wallace, JPMorgan's head of operations for consumer and community banking, said the firm would fully phase out the add-on products by the end of this year.
"Any mistakes like these are regrettable and we are committed to ensuring our partners and vendors hold themselves to the same high standards that our customers expect of us," Wallace said in a statement.
The OCC also reprimanded the bank for allegedly using faulty documentation in consumer debt collection cases, and for failing to ensure compliance with federally mandated credit protections for military members.
The alleged conduct is similar to that revealed among the nation's largest lenders in the robo-signing scandal that followed the housing crisis. JPMorgan was ordered to identify and compensate the affected consumers.
The bank said it discovered the debt-collection issues during internal reviews in 2010, and that they affected only "a small percentage of credit card, student loan, auto loan, business banking and commercial banking customers who defaulted on their loan or contract."
"Although these issues affected less than 1% of Chase customers, any mistake is regrettable and does not reflect the high standards we set for ourselves and our commitment to providing all customers an outstanding experience," Wallace said. "We are committed to fixing this and getting it right."
The OCC did not fine JPMorgan over its collection practices. California Attorney General Kamala Harris filed a lawsuit against the bank over similar issues in May.
The bank said it had stopped filing credit card collection lawsuits in 2011 and had dismissed the lawsuits in question.
The cases add to the list of legal problems at JPMorgan. In addition to the London Whale fines, the bank paid $410 million in July to settle charges that it manipulated electricity markets in California and the Midwest.
The Federal Housing Finance Agency is said to be seeking at least $6 billion from JPMorgan based on allegations that it misrepresented risky mortgage securities sold to Fannie Mae and Freddie Mac. And the SEC is investigating whether the firm hired the children of well-connected Chinese officials in an effort to win business.
JPMorgan is also among the institutions facing scrutiny in the Libor rate-fixing scandal.