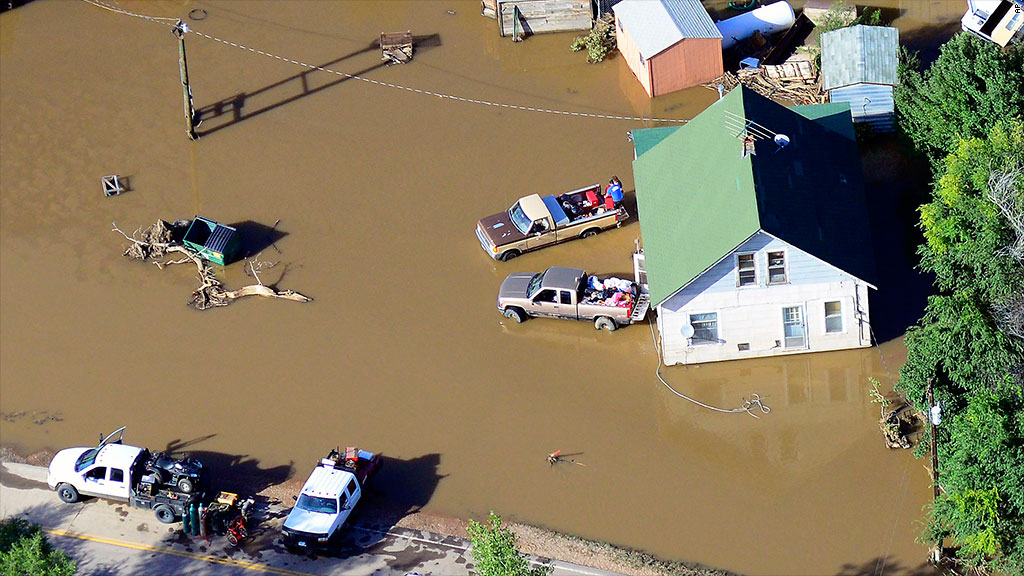 The recent severe floods in Colorado could end up costing homeowners, businesses and local governments nearly $2 billion, according to Eqecat, a firm that conducts loss estimates for the insurance industry.
But unlike many other natural disasters, the firm and an insurance trade group agree that a high percentage of the losses will not be covered by insurance.
Eqecat estimates that the storm cost homeowners about $900 million in both damage and expenses associated with evacuations. Businesses and local governments are likely to be hit with an additional $1 billion in costs.
Related: CNN's coverage of Colorado flooding
Flood damage is not covered by private insurers. Instead, it is covered by the National Flood Insurance Program (NFIP), part of the Federal Emergency Management Agency. But Tom Larsen, senior vice president of of Eqecat, said that because very many of the homes damaged by the flooding are not in flood plains, the number of people with flood coverage is very low.
"NFIP is usually only taken when it's mandatory by a mortgage lender," he said. "In coastal areas, which are susceptible to hurricanes, there's a high concentration. That's why the payout from those storms is so much greater. But the percentage of insurance in this one is going to be a very low number."
Mike Barry, spokesman for the Insurance Information Institute, agrees with Larsen's estimate about how few homeowners and businesses affected by the disaster are covered by flood insurance. And he said local governments generally do not have coverage either.
Related: Colorado flooding may unleash fracking fluid
The Institute's listings of the most expensive disasters shows the NFIP paid a record $16.3 billion in claims for Hurricane Katrina in 2005, and $7.1 billion last year for Superstorm Sandy.
Barry said even without insurance, homeowners and businesses in disaster areas will be eligible for federal help, including grants and low-interest loans from the Small Business Administration. Local governments may also be able to get some assistance from Washington once it is approved by Congress. Already, the Department of Transportation has committed $35 million to Colorado for road and bridge repairs.