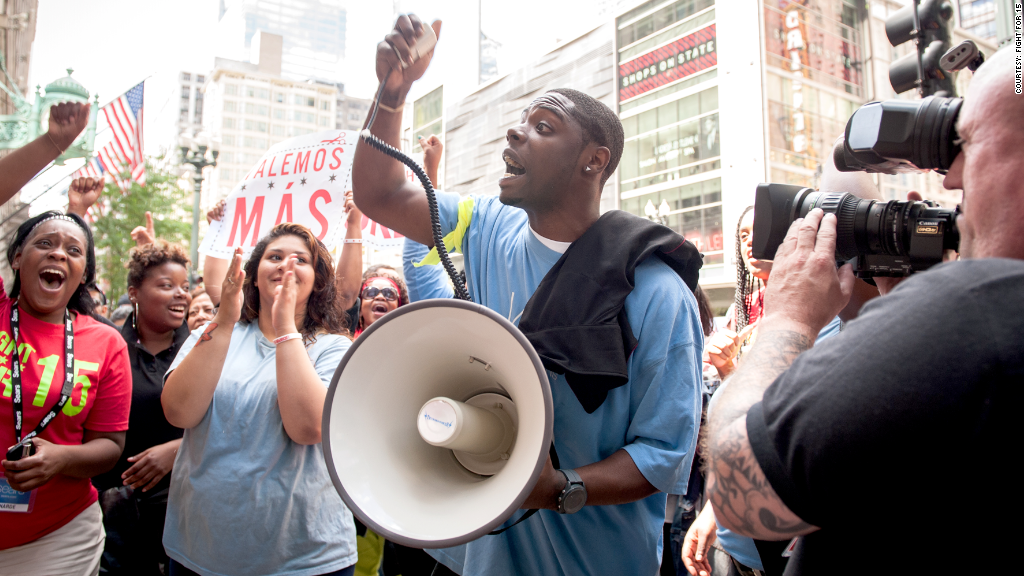 Here's what it takes to raise a family on three minimum wage jobs.
Five days a week, Dejun Jackson wakes at 4:30 to get to the Chicago Chick-fil-A in time to start his shift at 5:45.
He works behind the counter until 1 pm, when he walks to his second job as a cashier at Walgreens. He starts there at 1:10 or 1:15, and is on his feet until his shift ends at 9 or 9:30. He heads home, crashes, and wakes up to do it all again.
Jackson, who is 23, has a five year-old son and four-year-old daughter. The kids are asleep when he leaves in the morning and have already gone to bed by the time he gets home. The only real time he gets to spend with them is on weekends.
"Their mom is doing it all," he said. "I work to put food on the table. My money is needed, but so is my time, and all I want to be able to do is give them more time."
Related: Worker wages: Wendy's vs. Wal-Mart vs. Costco
Between the two jobs, Jackson is working about 70 hours a week. He makes $8.75 an hour at Chick-fil-A and $10.22 at Walgreens, where he's been working for three years. He's also studying to get his bachelor's degree in criminal justice and psychology so that one day he only has to work one job, one shift.
His children's mom works at Walgreens, too, making $10 an hour. The kids are in daycare all day, which costs them $150 each month, until she gets off work at 6:30.
One job helps him cover the cost of school, and the other helps him pay the bills. Already, he owes his college $7,000. On top of the daycare fees, he's paying $575 each month for rent, as well as transportation costs to-and-from work and hundreds of dollars for groceries.
What's left over isn't enough to cover the cost of health insurance. When Walgreens said this week it would stop offering insurance directly to its workers in 2014, he shrugged it off as something else he couldn't afford.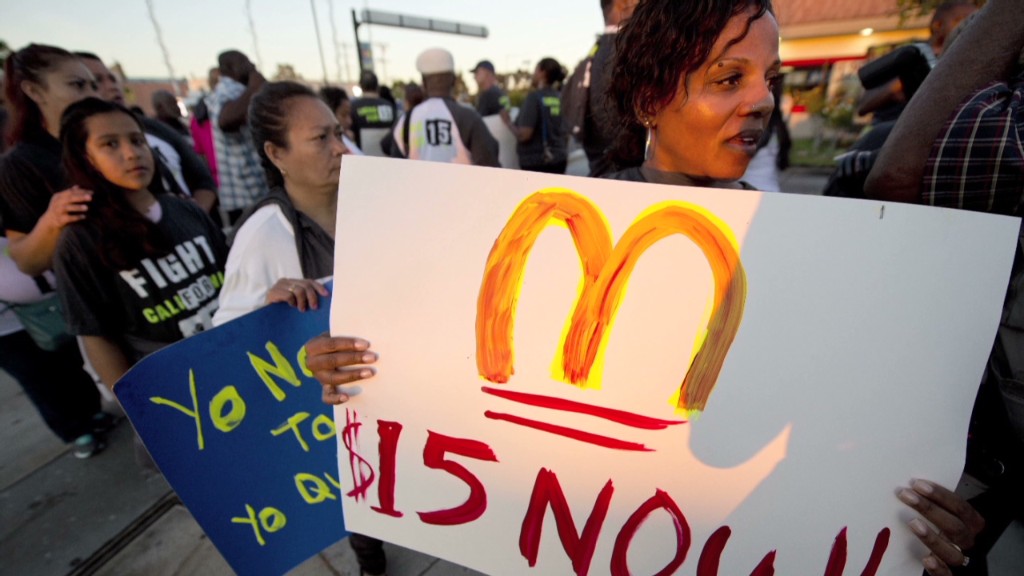 Between his two jobs, Jackson makes about $50,000 a year. The bottom line is he couldn't get by with just one. Even if he worked full time at Walgreen Co. (WAG), making what he makes now, he would bring in less than $21,000 a year. The Census Bureau's poverty income threshold level is $23,000 for a family of four.
This is why workers like Jackson have been walking off work and protesting for a "living wage" for the last ten months. Jackson himself has participated in a few of the demonstrations in Chicago.
"You have to hope and pray for a raise," he said. "I want a job that gives me good hours, good money and lets me come home at night so I can take care of all of my responsibilities with my family."
Until then, Jackson said he has no choice but to keep working these hours. He says it's just something that he has to do.