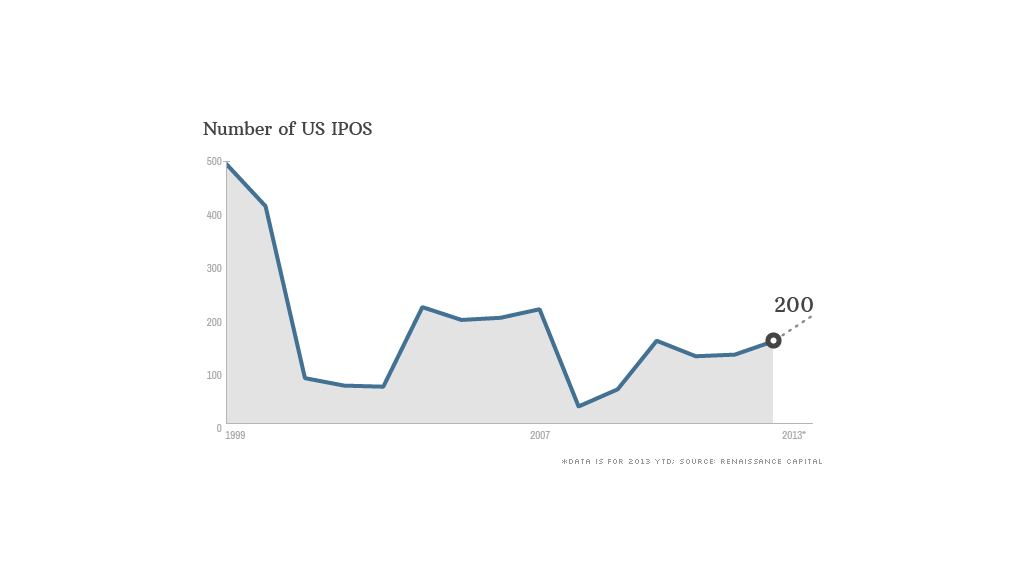 It looks like the death of the IPO has been greatly exaggerated. Twitter is just one of many companies looking to soon go public.
This week alone, 13 companies are set to begin trading on the Nasdaq (NDAQ) and NYSE (NYX) -- which would be the busiest week for initial public offerings since November 2007.
If all those companies make it to the market, that will bring this year's IPO total to 153. At least 200 companies are now expected to debut this year, according to Renaissance Capital. That would be the most since 2007.
Related: Twitter files for IPO
Investors have profited handsomely from many of these offerings. The average IPO has returned nearly 34% from its IPO price, according to Renaissance Capital.
Three of the year's hottest offerings took place last week. Online ad tech firm Rocket Fuel (FUEL) and cybersecurity company FireEye (FEYE) both nearly doubled when they started trading on Friday. Shares of cloud-based software firm Benefitfocus (BNFT) more than doubled.
Secrets sell companies on IPOs: Those three companies all filed for the IPOs under a controversial provision of the JOBS Act -- a 2012 law designed to make it easier for small companies to go public. In fact, 71% of all IPOs this year have come from companies that have filed confidentially, according to Renaissance Capital.
Under the JOBS Act, any company with less than $1 billion in annual revenues can initially notify the Securities and Exchange Commission of their interest in an IPO confidentially. These companies only need to show their financials to the public 21 days before they start reaching out to prospective investors in a process known as a roadshow.
Twitter filed for an IPO confidentially. Sort of. Twitter actually removed some of the secrecy since it publicly announced that it had filed paperwork with the SEC. Still, the decision still drew a fair amount of criticism.
"A company as big as Twitter shouldn't be given special treatment for an IPO. Jobs Act was supposedly for small companies," wrote Vivek Wadhwa, a technology entrepreneur and professor at Duke and Stanford's business schools in a tweet (what else?) shortly after Twitter disclosed its IPO plans
But many market watchers think the JOBS ACT has worked. Companies are more willing to test the public markets since they can withdraw the offering without investors knowing -- assuming they don't pull a Twitter and disclose the filing in the first place.
Related: Who will be getting rich off Twitter
No Facebook freeze: The fact that the IPO market has rebounded so sharply is a bit of a surprise. The IPO market briefly froze after the glitch-ridden debut of Facebook (FB) in May 2012. But those problems have now mostly been forgotten. Facebook is trading above its IPO price. Investors have clearly rediscovered their love of high-growth tech stocks.
Still, the IPO market is nowhere close to its pre-dotcom bubble levels.
In 1999, 486 companies went public. And even though the Nasdaq plunged in 2000 after hitting an all-time high, 406 companies still wound up pricing IPOs.
We may never have a two-year stretch where that many companies go public again. That said, 2013 is still shaping up to be a great year for new offerings.