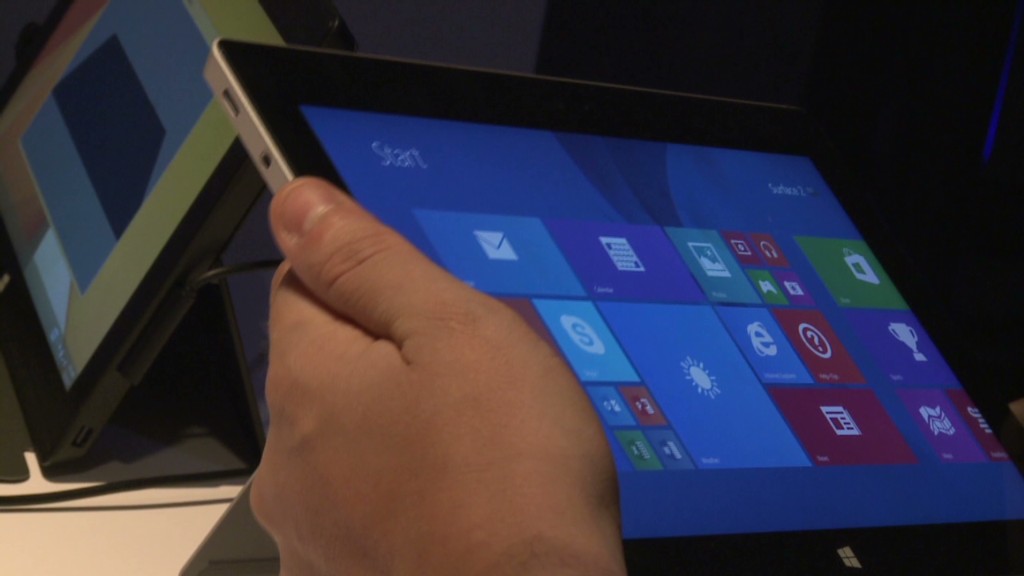 After losing nearly a billion dollars on last year's Surface RT, Microsoft isn't giving up on its tablet.
Instead, Microsoft (MSFT) is pushing the Surface 2 with as much vigor as ever.
Last year's Surface existed in a no man's land -- slightly too big to truly appeal as a tablet, slightly too underpowered to function as a laptop replacement. This year's model offers key improvements in both areas.
While the Surface RT was heavier and thicker than many 10-inch tablets, the Surface 2 is thinner than the current iPad, and nearly as light. The original Surface's processor lacked the muscle to run Windows, the processor inside the Surface 2 promises a three- to fourt-fold boost in performance. The slightly grainy display of last year's tablet is gone, in favor of a 1080p high-definition picture.
Even the name got an update: the confusing "RT" got the boot.
Still present is the kickstand, which now lets the screen fold back to a 44 degree angle, which Microsoft says improves the experience of using the Surface on your lap.
Related story: Windows 8.1's little changes are a huge improvement
Also remaining are the Touch Cover and Type Cover keyboard cases, both of which have been slimmed down, backlit and made more responsive -- especially important for the Touch Cover, which lacks any mechanical parts. There's even a Power Cover now, which packs an extra battery for those constantly away from a power source.
The Surface Pro 2, which is more of PC that masquerades as a tablet, received a few improvements over its predecessor as well. The new Surface Pro includes a display with improved color accuracy, a 50% faster Intel (INTC) processor powerful enough to edit professional video, and improved battery life. But its update was far less dramatic. This event was really about the other Surface -- and fixing some obvious mistakes.
Spending a few minutes with the new Surface, the benefits of those changes were immediately apparent. The Surface 2 is much more pleasant to hold with one hand. Using the Touch Cover Typing felt much more reliable, and even intuitive. The trackpad, while still feeling a bit cramped, seemed less jumpy, and more responsive than before. Meanwhile, the thinner Type Cover seems to be a much more portable than it was last year, while managing to retain its tactile benefits.
But hardware alone -- vastly improved as it may be -- is not going to solve all the Surface's problems. Microsoft's emphasis on the Surface 2 over its more powerful Pro sibling means that Windows RT is here to stay. For newbies, Windows RT is the mobile-optimized version of Windows which doesn't run legacy applications like iTunes.
Microsoft failed horribly last year at communicating the differences between its two versions of Windows, leading many hardware partners to abandon Windows RT entirely. And while it has done well to grow its app store over the last year, Windows RT still lacks the full range of high-profile apps found on the iPad and Android tablets. Innovative apps like Paper and big time games like Infinity Blade are nary to be found on the Surface 2.
This year's challenge for Microsoft will be to convince us all of Windows RT's (and, by proxy the Surface 2's) virtues.
The good news is that Windows 8.1 RT, Microsoft's much-needed Windows RT update, is coming soon. It offers a lot of improvements for any device you use it on, but it will benefit RT devices like the Surface 2 the most. The improved multitasking in particular makes the Surface 2 much easier to use.
But if Microsoft wants the Surface to be taken seriously, the company needs to continue pushing developers into developing apps for Windows RT..
On paper, Microsoft has done enough with the Surface 2 to warrant our attention. Whether or not that translates to a device we want to use on a daily basis remains to be seen.