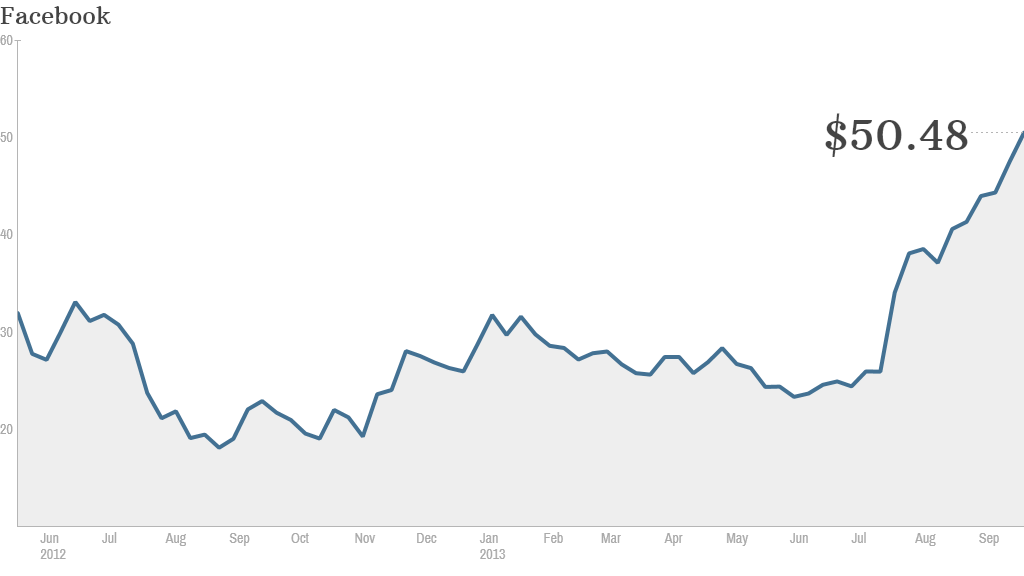 More than a year after its botched initial public offering, Facebook's stock continues to race higher. Shares topped $50 for the first time Thursday.
Facebook's stock is now up 88% in 2013. It's a stunning reversal for a stock that was a big disappointment shortly after its May 2012 IPO. After being priced at $38, Facebook (FB) shares dropped more than 35% within a few months, hurting investors who clamored to buy shares.
But investors who were willing to buy and hold have been handsomely rewarded. The stock is now 32% above its IPO price.
Related: China lifts Facebook ban ... a bit - report
Facebook's swift success in selling ads on mobile devices has driven up the stock price. At the time of its IPO, Facebook was generating most of its ad revenues from users who accessed the site on personal computers.
But in July, Facebook announced that mobile ad revenue accounted for 41% of its sales in the second quarter, a 38% jump. That news pushed analysts to quickly upgrade price targets for Facebook.
When Facebook reports third quarter earnings in late October, investors will be looking for even more growth in mobile revenues.
Related: I was wrong about Facebook
Facebook could soon have another major source of revenue: China.
According to a news report in the South China Morning Post, the Chinese government is expected to lift a ban on accessing Facebook in the Shanghai Free Trade Zone, a 17-mile area within one of China's biggest cities.