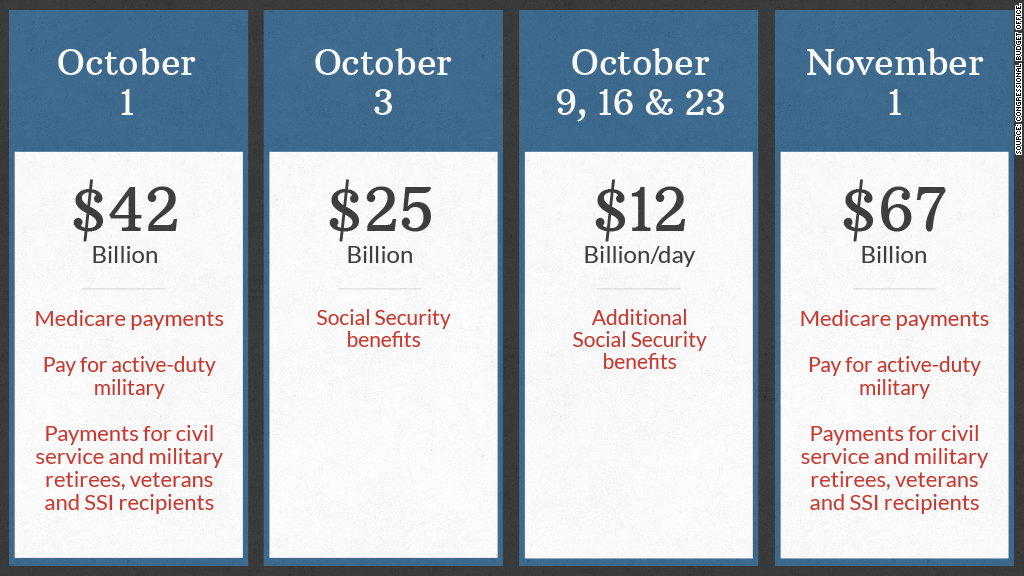 Practical nightmares. Legal disputes. Ethical dilemmas every which way till Sunday.
That's what the Treasury Department will face -- possibly as early as mid-October -- if Congress fails to raise the debt ceiling in the next couple of weeks.
Barring an increase in the nation's borrowing limit, Treasury won't have enough cash on hand plus revenue to pay all the country's bills in full and on time.
Some Republicans say that in that situation Treasury should prioritize who gets paid first.
Their proposal: Pay bondholders and Social Security recipients first. Some GOP lawmakers add active-duty military to the list. If Treasury doesn't have enough money on hand to pay any of those three things on a given day, some proposals would give Treasury limited authority to borrow just enough to make up the difference.
Treasury, by contrast, has repeatedly rejected such proposals.
"Any plan to prioritize some payments over others is simply default by another name," Treasury Secretary Jack Lew wrote in a letter to lawmakers.
One thing is certain: Failure to raise the debt ceiling on time will cause a cash crunch -- and a cascade of problems.
Related: How will a government shutdown affect you?
Automated payment systems would have to be overhauled: The Treasury pays millions of bills every day. It pays interest to bond investors from one computer system and makes all other payments from another.
So technically it may be possible to at least prioritize interest payments since they're processed separately. But it would be much harder to prioritize everything else.
"Treasury's systems are not designed to allow picking and choosing. Payments are automatically made as they come due," former Congressional Budget Director Donald Marron told Congress last week.
Indeed, analysts at the Bipartisan Policy Center think a massive reprogramming of Treasury's payment operations may be impossible.
Late payments would pile up: Even if it could reprogram its systems to allow for prioritization, Treasury still won't have enough cash on hand.
Between Oct. 18 and Nov. 15, Treasury is likely to run about $106 billion short of what's owed, according to a Bipartisan Policy Center analysis. Translation: It wouldn't be able to make a third of all payments due.
Related: Never-ending charade of debt ceiling fights
So Treasury will have two main options, both awful: It could either pay some bills in full and delay others; or it could delay all payments due on a given day until it has enough money on hand to pay them all.
Senior Treasury officials indicated in an inspector general's report that the second option would be the most likely and least harmful of the two. But it's hardly painless.
Depending on how long the debt ceiling standoff lasts, delays could quickly grow from a day or two to several weeks.
"Either approach would damage the economy. Federal employees, contractors, program beneficiaries, businesses and state and local governments would find themselves suddenly short of expected cash, causing a ripple effect through the economy," said Marron, who is now director of economic policy initiatives at the Urban Institute.
Deciding who gets paid and who gets stiffed is a perilous game: Who deserves to be paid more? Senior citizens, disabled veterans, families who rely on food stamps or small business owners whose federal contracts provide a large chunk of revenue?
Every bill and benefit that Treasury pays represents a legal obligation that the United States has incurred.
Favoring some over others could create a minefield of lawsuits, penalties and other assorted messes.
It would also mean Treasury would be subject to accusations of politically choosing winners over losers.
To say nothing of the fact that paying some but not all of what the federal government owes would harm the economy and likely upend markets.
"If the confidence in the reliability of [U.S.] payments were cast into doubt, then the consequences for the budget, for the U.S. economy, for the U.S. and global financial systems could be large and lasting and very damaging," Douglas Elmendorf, the current CBO director, told Congress Thursday.
It would also do great damage to America's reputation. It will be very hard to justify to anyone why the world's largest economy and richest country is willfully choosing not to pay what it owes.
"As every other nation understands, if you need to borrow you can only hurt yourself by scaring your creditors," Marron said.
Even worse, he added, "[it] contributes to the perception that the United States does not know how to govern itself."