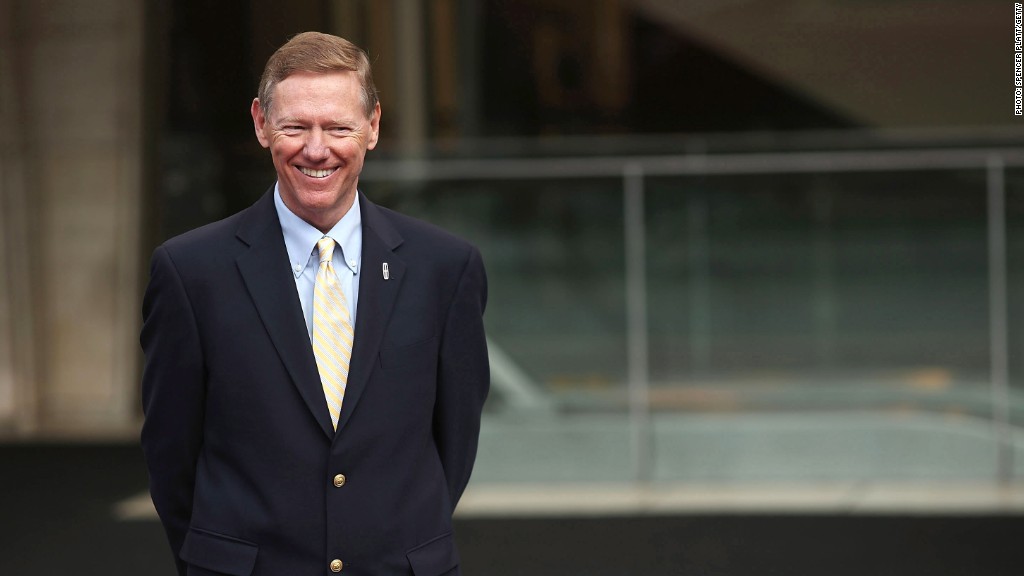 Will Ford CEO Alan Mulally be trading in Explorer SUVs for Internet Explorer?
Mulally is reportedly a top choice to take over Microsoft after current CEO Steve Ballmer retires, according to a new report.
Ballmer announced in August that he'll step down within the next year. In the month since that news, several people -- including Mulally -- have been rumored to be in the running to replace Ballmer.
But tech blog AllThingsD said Friday that Mulally now "has vaulted to the forefront of the candidates." Mulally's talks with Microsoft haven't "entered formal contract negotiations," but the discussions are "serious," according to AllThingsD's unnamed sources.
Microsoft (MSFT) would not comment. Ford (F) declined to comment on "speculative reports." Shares of Microsoft were up nearly 3% Friday while Ford's stock fell about 1%.
A Ford spokesman insisted that "nothing has changed from what we announced last November" -- that is, Mulally will remain Ford CEO at least through the end of 2014. But Reuters reported earlier this month that Ford's board was mulling letting Mulally step down earlier than planned.
However, even if Microsoft wants Mulally, that doesn't necessarily mean Mulally is eager to jump to Microsoft.
Even if Ford does let Mulally retire early, several reports have indicated that he would leave Ford in order to take a role in the Obama administration.
And while Mulally was able to revamp Ford after the struggling automaker poached him from Boeing (BA) in 2006, both of those more industrial businesses are very different from Microsoft's.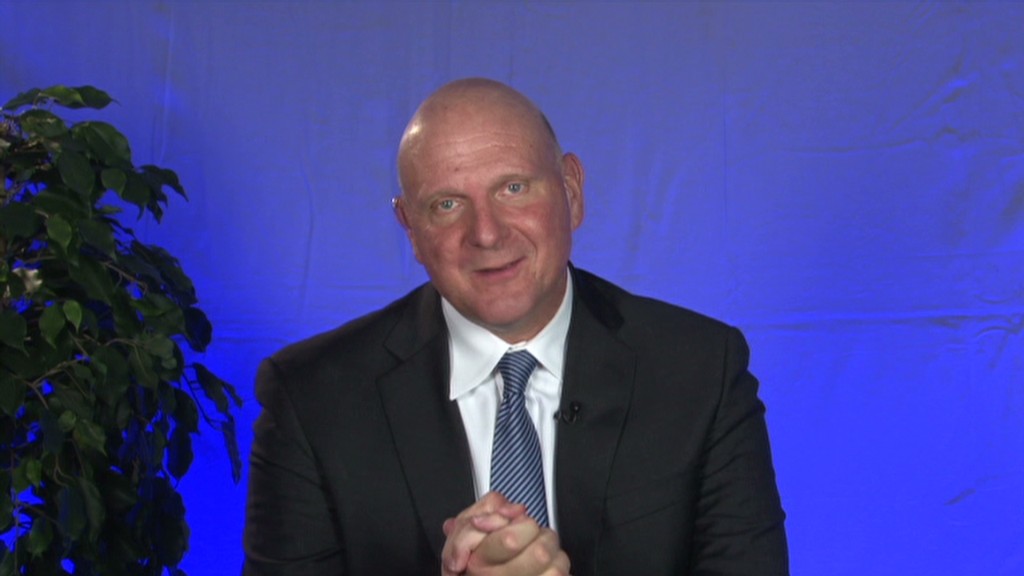 Any new Microsoft CEO will have to lead the corporation through a difficult transition, transforming it from one of the world's largest software makers to a "devices and services" company.
Still, AllThingsD reported Mulally has recently "become more amenable" to becoming Microsoft CEO. The report noted that Mulally lived in Seattle during his Boeing days and still keeps a home in the city, which is about 20 miles outside of Microsoft's headquarters.
But if Mulally were to take the top job at Microsoft, it's not clear what that would mean for former Nokia (NOK) chief Stephen Elop, who is also viewed as a possible Ballmer successor.
Related story: Nokia's ex-CEO set for $25 million windfall
Earlier this month, Microsoft announced it will buy Nokia's mobile phone business for $7.2 billion. As part of the deal, Elop will step down as Nokia CEO to become chief of Microsoft's devices and services business. Ballmer confirmed after the deal was unveiled that Elop is indeed a candidate to replace him.
And as Microsoft's search for its next CEO kicks into high gear, Ballmer has apparently started his farewell tour. Reuters reported that Ballmer led his final companywide meeting on Thursday, with the famously bombastic CEO taking swipes at rivals like Amazon (AMZN) and Google (GOOG) during the "high tempo" presentation.
Ballmer is said to have closed the meeting by playing "(I've Had) The Time of My Life," earning him a standing ovation.