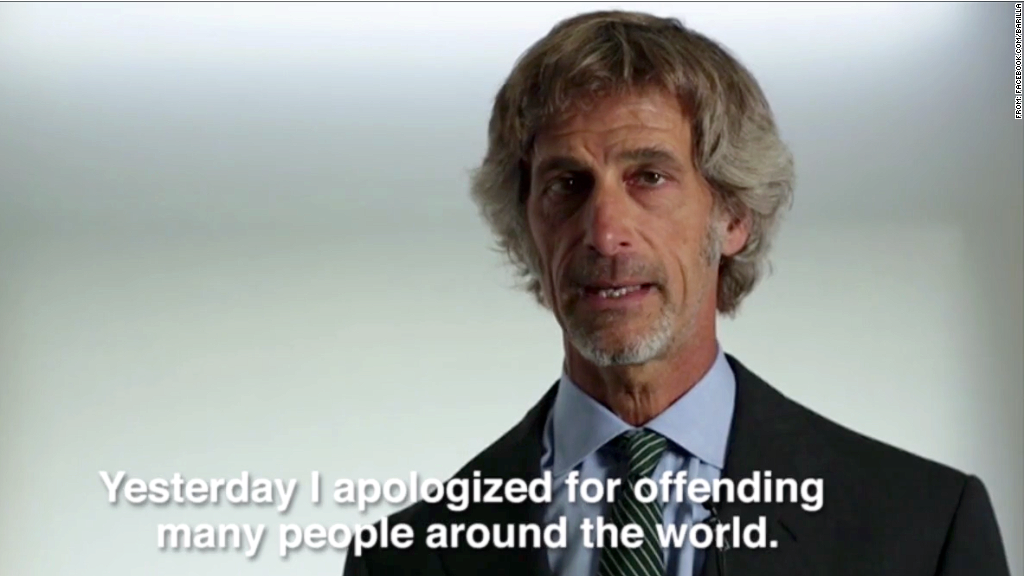 The head of Barilla pasta issued a new apology and said he will meet with gay groups, adding he "has much to learn" about the evolution of the family.
Guido Barilla, president of Barilla, said on an Italian radio program last week that he wouldn't feature same-sex couples in his company's commercials because he prefers the "traditional" family. The company quickly issued a statement apologizing for the comment.
Now Barilla has posted a video of him apologizing in English on its Facebook page.
"Through my entire life I have always respected every person I've met, including gays and their families, without any distinctions," he said. "I've never discriminated against anyone." He said he was "depressed and saddened" by the reaction to his comments.
Related: ExxonMobil to extend benefits to same-sex couples
But Barilla's latest statement seemed to have done little to win over either side in the debate about same-sex marriage.
One comment on the company's Facebook page read: "I'm straight, Christian and will never buy your products again. I dropped my Barilla products at the food bank today."
And another: "You have deeply offended our family. Thank you for exposing your bigotry. We will never purchase Barilla products again."
Several other comments said that the company should not have apologized and should stand its ground.
Related: Find out if a company shares your values
Some Barilla competitors have jumped on the controversy. Buitoni posted an ad on its Facebook page proclaimed "Pasta for All" and had pictures of pairs of tortellini pasta showing same-sex couples.
An online petition on Change.org, started by Linda Ferraro, an Italian-American woman who said her adult son is gay, asks the grocery chain Stop & Shop to pull Barilla from its shelves due to the comments. It has received nearly 8,800 signatures.