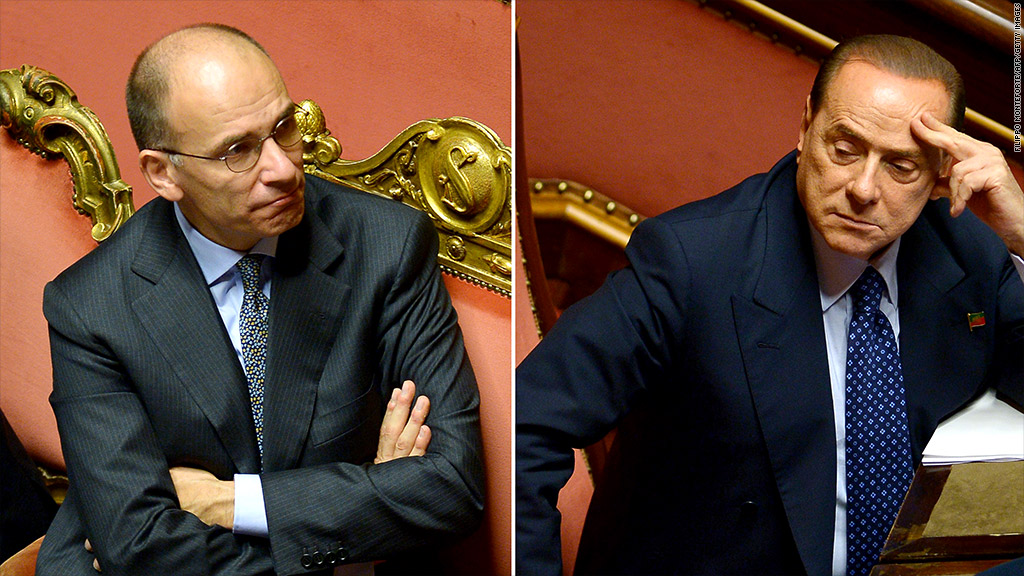 Italian markets cheered Wednesday as former Prime Minister Silvio Berlusconi withdrew his bid to torpedo the country's coalition government.
Stocks and bonds gained ground as center-left Prime Minister Enrico Letta won a crucial vote of confidence by a huge margin, killing off the threat of snap elections and months of uncertainty in the eurozone's third-biggest economy.
"A government and political crisis would only mean more economic difficulties, it means not going through with the reforms needed to boost the economy and help the unemployed and the country," Letta told parliament before the vote.
Italy's main stock index gained more than 1%, even as most other European markets weakened, and yields on its 10-year government bond dropped to 4.35%, narrowing the premium the country has to pay to borrow.
Markets were jolted Monday after Berlusconi withdrew his support for Letta's coalition after just five months and ordered his party's ministers to quit the government. Berlusconi was angered by moves to expel him from parliament following his conviction for tax fraud.
Related: European IPOs stage a comeback
Since the weekend, however, several members of Berlusconi's party had pledged to continue to support Letta, according to local reports -- a mutiny that forced the media magnate into a dramatic about-face.
Early elections would have made it harder to agree on a budget for 2014 and delayed reforms needed to keep Italy on track to meet EU-mandated borrowing targets.
Italy has made substantial progress in cutting its budget deficit since it teetered on the brink of collapse at the height of the eurozone debt crisis in 2011, when yields on its debt topped 7%.
Related: Cyprus reeling 6 months after EU rescue
The economy is showing signs of stabilizing after nearly two years of recession and a decade of stagnation. Tough austerity measures have helped produce a primary budget surplus -- before debt servicing costs -- and a program of structural reforms is beginning to bear fruit.
But the pace of reform has slowed in recent months and growth next year will be only a sluggish 0.7%. Italy is struggling to keep its budget deficit to 3% of GDP this year and its €2 trillion debt mountain -- already above 130% of GDP -- will rise further in 2014, according to the International Monetary Fund.