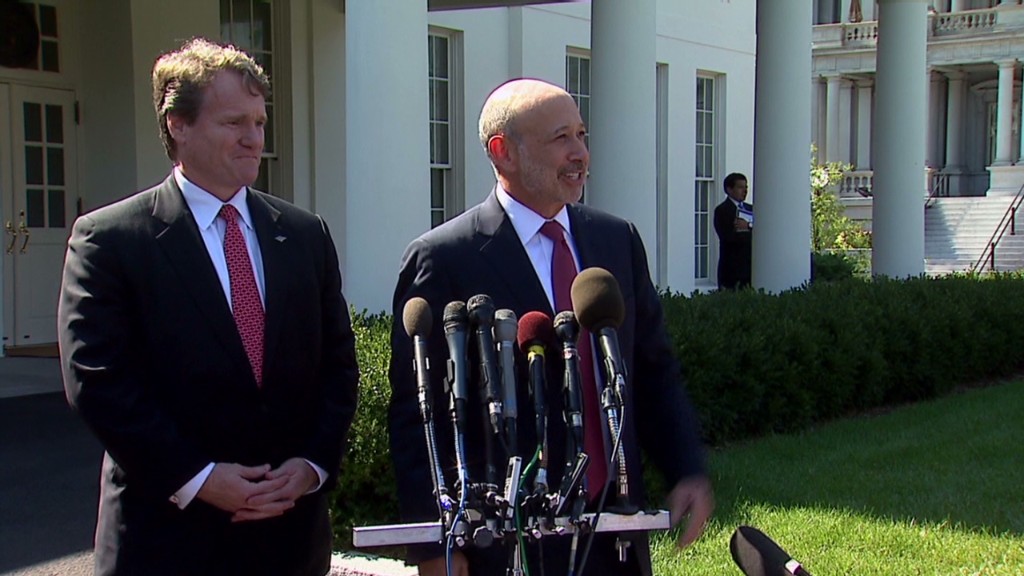 More than a dozen Wall Street bank chiefs warned President Obama at the White House that the financial system would suffer if the shutdown and debt limit aren't resolved.
"We shouldn't use the threat of causing the U.S. to fail on its obligations to repay its debt as a cudgel," said Lloyd Blankfein of Goldman Sachs (GS) after the meeting.
Congress has been unable to come to a deal to fund the federal government, which shut down Tuesday. Even more pressing to bank chiefs and investors, Congress has until Oct. 17 before the Treasury exceeds its borrowing capacity, which means the U.S. will no longer be able to pay all its bills in full.
On the second day of the federal shutdown, Blankfein and other bank CEOs said they told the president they agree the long-term consequences of a shutdown would grow "extremely adverse" if the U.S. fails raise its borrowing capacity.
"There's a consensus that we shouldn't do anything that hurts this recovery that's a little bit shallow, not very well established and is quite vulnerable," Blankfein said. "The shutdown of the government and particularly, a failure to raise the debt ceiling, would accomplish that."
J.P. Morgan Chase (JPM) CEO Jamie Dimon said before the meeting that he "would love to see a resolution" to the government shutdown.
For his part, President Obama said in an interview with CNBC on Wednesday that he told Wall Street CEOs that they "should be concerned."
"This time's different," he said. "When you have a situation in which a faction is willing to potentially default on U.S. government obligations, then we are in trouble."
He warned that all businesses should be worried if the country could be in the same budget negotiation situation during the Christmas shopping season.
The 14 Wall Street chiefs in attendance included Brian Moynihan of Bank of America (BAC), James Gorman of Morgan Stanley (MS), Robert Benmosche of American International Group, (AIG) Michael Corbat of Citigroup (C), John Stumpf of Wells Fargo (WFC), Gerald Hassell of Bank of New York Mellon (BK), Anshu Jain, of Deutsche Bank (DB).
Related: Still no charges for Wall Street execs after crisis
The White House meeting was originally organized as part of the Obama administration's efforts to mend relations with the financial services sector and woo support for White House policy. But the meeting focused on the shutdown and impending fight over the debt ceiling, Blankfein said.
"We are in a position to know -- early -- what the consequences are," Blankfein said. "This was a conversation where we listened, but we also contributed to (explaining) how bad it would be."
Many of the institutions are still resolving investigations by various government agencies on questionable mortgages and financing in the early to mid-2000s, which led to the real estate bubble and ultimately the financial crisis.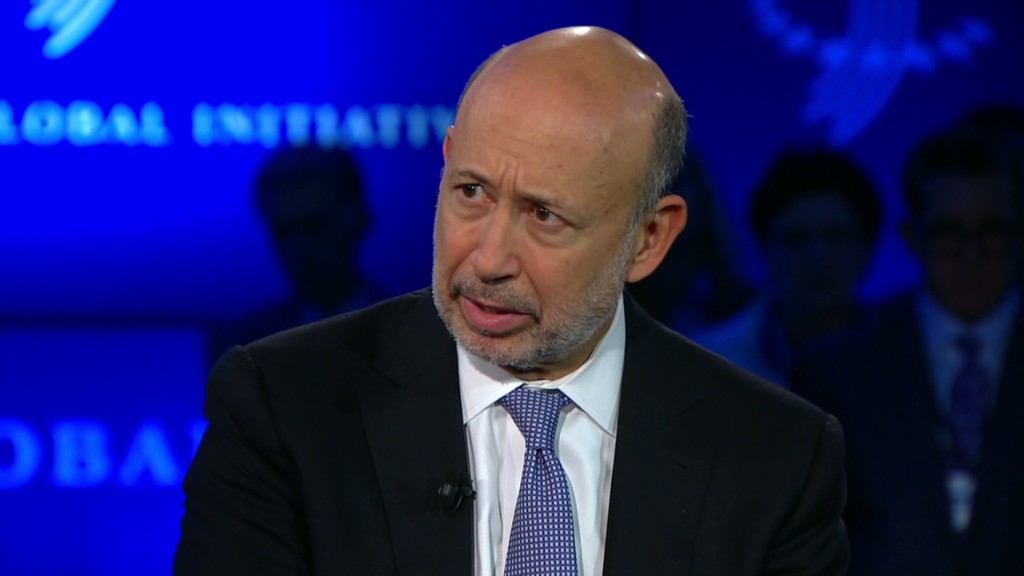 Just last week, Dimon was in Washington to meet with Attorney General Eric Holder about settling government investigations related to mortgage-backed securities.
Wells Fargo was sued Wednesday by New York State Attorney General Eric Schneiderman for violating last year's National Mortgage Settlement.
The CEO visit was organized by the Financial Services Forum, a trade group that represents bank chiefs. Blankfein is currently the forum's rotating chairman.
-- CNN's Kevin Liptak contributed to this report.