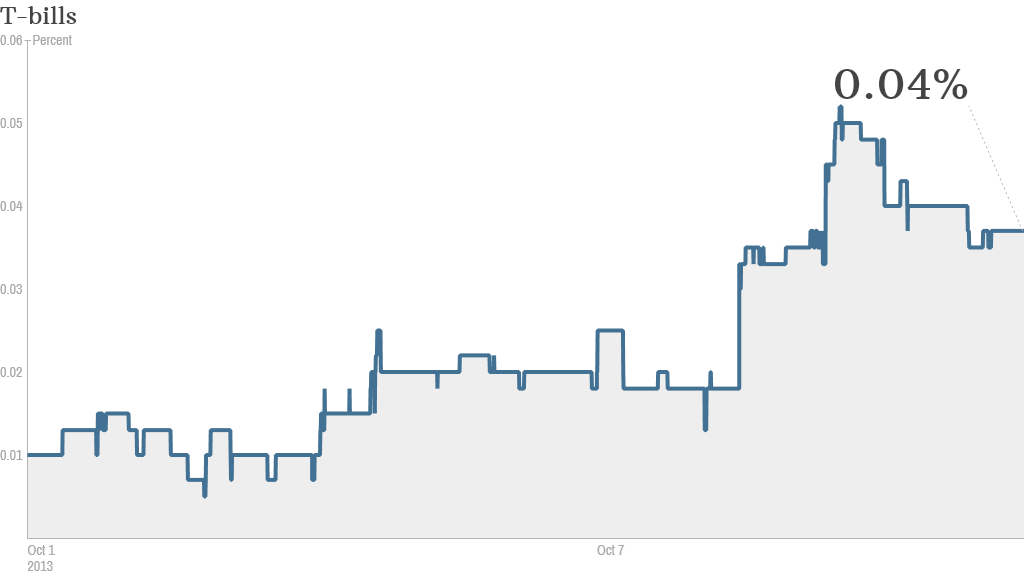 Some investors are taking cover in preparation for a possible U.S. debt default.
Where are the signs of market fear? Look no further than short-term Treasury bills, U.S. government debt that matures over the next 30, 60 or 90 days.
Rates for these government bonds have been spiking over the last several days as investors bet that the government won't be able to make debt payments later this month.
Fidelity Investments' money market mutual funds have sold off all their Treasury bonds that are due in late October and early November.
"Fidelity expects that Congress will take the steps needed to increase the debt ceiling. Nonetheless, we have been taking precautionary measures," Fidelity said in a statement.
While many investors still think the chance of default is zero, some analysts are more nervous. Potomac Research's chief political strategist Greg Valliere recently upped the odds of "the unthinkable" actually happening. Valliere said that after talking to Tea Party members of Congress he now puts the likelihood of a debt default at 20%.
Related: Nervous investors move into cash
Bets were bigger in 2011: The U.S. had a similar debt ceiling drama in 2011. Many investors say that they were more worried back then about a default.
"Fear of a default was more intense in 2011," said Tad Rivelle, chief investment officer of fixed income at TCW. "It's like the boy crying wolf. The market doesn't really think this threat is credible."
For now, most investors are content to ignore the possibility. The Dow is down less than 2% since the government shutdown began 10 days ago.
Most analysts and investors agree that if there was real concern about a default, stocks would be plummeting.
The CBOE's Volatility Index (VIX), commonly known as the VIX, is often used as a proxy for investor fear. It's been spiking since the shutdown, but it hovers just below 20, roughly half of where it traded in 2011.
"The VIX at 20 does not indicate a whole lot of fear," said Russ Koesterich, chief investment strategist at BlackRock. "The VIX should stay elevated, but absent a default, I don't expect it to get anywhere near 2011 levels."
Karim Basta, chief investment strategist at the fund III Associates, says market activity has been quieter than usual in the past week and a half.
"There's this game of chicken going on," said Basta. "Washington is watching the markets, and the markets are watching Washington. Neither one is doing much."
Still, CNNMoney's Fear and Greed Index, which tracks the VIX and six other gauges of market sentiment, is now showing levels of Extreme Fear among investors.
Related: Wake us up when the US defaults, hedge funds say
The real fear? A credit freeze: If the government fails to make interest payments on its debt in late October, rates on longer-term U.S. Treasuries are expected to fall. Investors are likely to rush for safe havens. And even if Treasuries are suddenly less safe, U.S. government bonds will still ironically be viewed as the safest asset in the world.
Eventually, once Congress acts, the U.S. government would be able to pay its bills.
But the real worry for investors is that the credit markets could freeze up like they did in 2008 after Lehman Brothers filed for bankruptcy. Banks use Treasuries as collateral, and they might be afraid, at least temporarily, to extend credit to one another.
"There are questions about how basic markets will function if this happens. Will dealers be able to make markets?" asked Basta.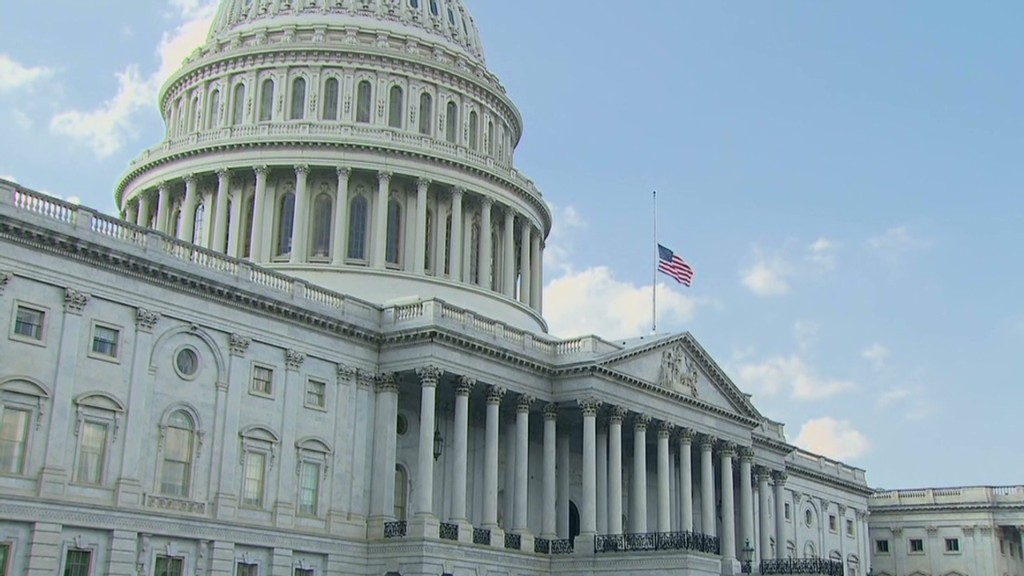 Overall, failure to pay up on time and in full will forever tarnish the creditworthiness of the United States, a terrifying prospect, even if it oddly pushes interest rates down in the short-term.
TCW's Rivelle still thinks there is no chance that the U.S. will default. But he added that Treasuries, which have always been considered as safe as gold, may now have an asterisk attached to them.
"You can't maintain that something is as good as gold and then footnote it, saying except in period of political infighting," he said.
Correction: An earlier version of this article incorrectly stated that Fidelity Investments had sold all of its Treasury bonds.