The government is still shut down, and there's been little progress on raising the debt limit. But there was one bit of news from Washington that kept investors from dumping stocks again.
Janet Yellen's nomination as next chair of the Federal Reserve helped stabilize, if not necessarily excite, Wall Street. The Dow Jones industrial average and the S&P 500 ended modestly higher following two days of selling.
Though the broader market was up slightly, shares of many momentum stocks sank for a second day and weighed on the Nasdaq. Priceline (PCLN) and Facebook (FB) declined about 1%. Shares of Tesla (TSLA), Netflix (NFLX) and Green Mountain Coffee Roasters (GMCR) were down more than 3%.
Yellen, who was officially tapped Wednesday for the top spot by President Obama, has long been a favored candidate for the position and shares much of current chairman Ben Bernanke's thinking on loose monetary policy.
Mike van Dulken, head of research at Accendo Markets, wrote in his daily note to client that "rates will stay low for longer and policy will be accommodative" if Yellen is approved by the Senate.
Related: Obama to nominate Janet Yellen as Fed chair
Meanwhile, minutes from the Federal Reserve's most recent policy meeting showed that the central bank's decision not to scale back its bond buying program was a 'relatively close call' for several members of the Fed's policymaking committee.
Debt anxiety: U.S. stocks have been mostly falling amid continued anxiety over the debt ceiling crisis. The Dow Jones industrial has dropped more than 300 points since the shutdown of the federal government began on Oct. 1.
Investors are getting more concerned by the day that Washington will not raise the debt ceiling next week. This could lead the government unable to pay all of its bills on time.
The yield on one-month Treasury bills surged to its highest level since the financial crisis Tuesday as investors worry about the country's ability to pay its short-term debts.
Earnings rolling in: Alcoa (AA) shares rose after the aluminum producer's profits beat expectations.
Shares of Yum! Brands (YUM), meanwhile, tumbled after the operator of KFC, Taco Bell and Pizza Hut reported weak earnings and continued problems in its China division.
"$YUM ouch. Another blow for China bulls too," said StockTwits trader Scaletrader.
Related: Fear & Greed Index in the grip of extreme fear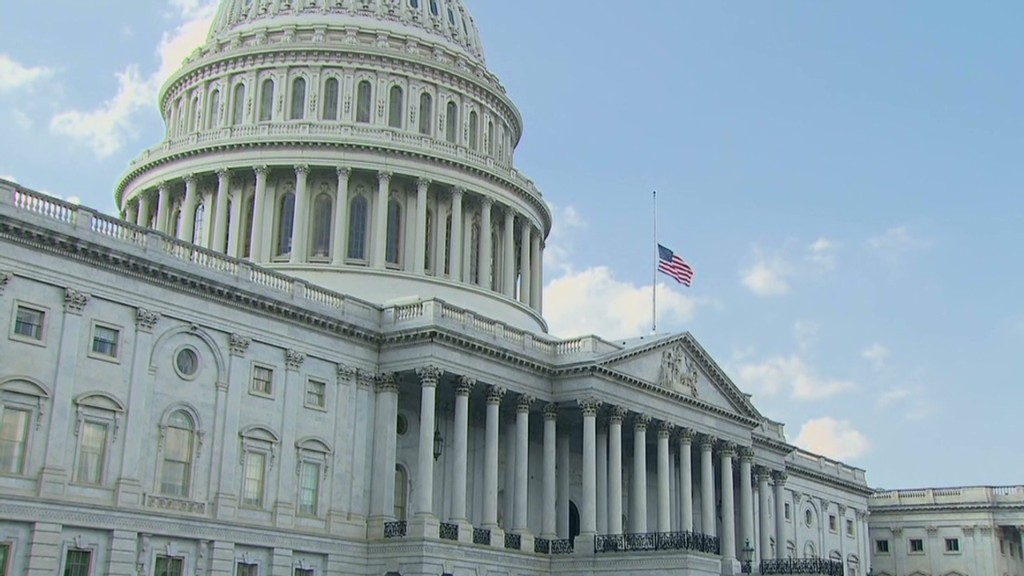 Costco (COST) missed on revenue and reported a slight bump in same store sales. Earnings per shares came in better than expected. The stock rose in mid-afternoon trading after opening lower.
"$COST missed numbers but found buyers," quipped EricSteiman.
Retailer Family Dollar (FDO) beat earnings forecasts, while revenue was roughly in line with estimates. But shares fell on a relatively weak outlook.
StockTwits user Lach14 noted that lackluster earnings from the three companies could be a sign of slumping consumer spending: "Earnings Not So Good: $YUM, $COST, $FDO, - Pattern emerging of strapped consumer - 3Q weak."
Shares of Hewlett-Packard (HPQ) jumped 9% after CEO Meg Whitman said she expects revenue to stabilize in 2014 during the company's annual meeting with analysts.
But traders were skeptical.
"$HPQ what exactly was said that was so bullish?" asked Vega_Man.
JustBelieve predicted a sharp reversal in the stock Thursday. "$HPQ This is going to drop like a rock tomorrow," he said.
Men's Wearhouse (MW) shares spiked even though the company's board rejected a $2.4 bid from smaller rival Jos. A. Bank Clothiers (JOSB), setting the stage for another nasty battle for the men's apparel retailer.
Related: China's economic stumble worries Asian markets
European markets closed lower, while Asian markets mostly ended with gains. Japan's benchmark Nikkei index popped up by 1%.