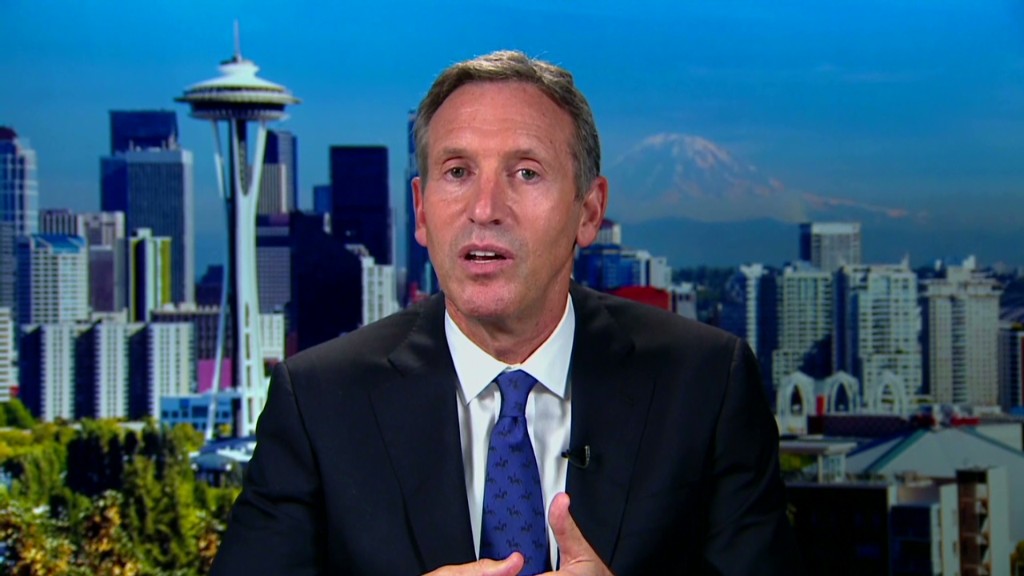 Would you like some bipartisanship with that latte?
Starbucks called Thursday for leaders in Washington to resolve the ongoing fiscal crisis, announcing plans to offer a petition on the subject to customers at its thousands of locations across the U.S.
In a letter posted on the Starbucks (SBUX) website, CEO Howard Schultz said Americans "have no platform with which to voice their frustration with Washington and the current stalemate that threatens our nation."
The petition calls for lawmakers to "reopen our government to serve the people," "pay our debts on time to avoid another financial crisis" and "pass a bipartisan and comprehensive long-term budget deal by the end of the year."
"Our leaders need to lead, and we need a better solution in Washington, D.C.," Schultz said in a video posted on the Starbucks website.
Earlier this week, Schultz called on his fellow chief executives to weigh in on the showdown in Washington.
"I don't pretend that both parties are equally to blame for this crisis," he said. "But, I do think they are equally responsible for leading us to a solution."
Starbucks' call follows a meeting at the White House last week in which more than a dozen Wall Street CEOs warned of grave economic consequences if the shutdown and debt limit issues aren't resolved. The U.S. Chamber of Commerce, an influential business lobbying group, called legislation to fund the government and raise the debt ceiling "must-pass."
Schultz has weighed in on the federal budget and debt ceiling gridlock in the past. In December of 2011, as lawmakers sparred over the so-called "fiscal cliff," he asked employees at its approximately 120 D.C.-area stores to write "Come Together" on coffee cups served to customers.