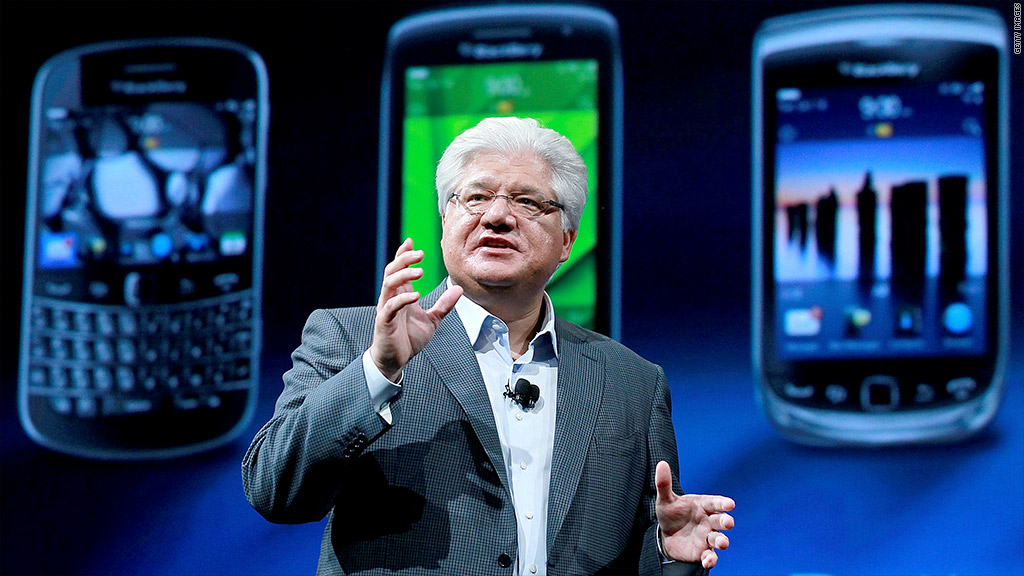 Two of BlackBerry's co-founders want to save their baby.
Mike Lazaridis and Douglas Fregin are considering a joint bid to buy BlackBerry, according to a regulatory filing posted on Thursday afternoon.
The pair didn't provide financial details on their plans, including what they are willing to pay for BlackBerry and whether they have secured financing for the deal. Lazaridis and Fregin each own 8% of the company, respectively.
Lazaridis' interest in BlackBerry had been rumored for weeks, so shares of BlackBerry (BBRY) were up less than 1% on the news.
The co-founders aren't the first to make public a possible bid for BlackBerry.
Related story: Oops! BlackBerry even worse off than it thought
Last month Fairfax Financial -- a Canadian insurance company that is BlackBerry's largest shareholder -- said it was considering buying BlackBerry for $4.7 billion. But Fairfax also didn't secure financing for the deal, and cynics think the insurer is simply trying to draw in other offers and cash out its 10% stake.
And just last week, a Reuters report listed a raft of big tech companies as potential buyers of all or part of BlackBerry: Google (GOOG), Cisco (CSCO), SAP (SAP), Intel (INTC), LG, Samsung and private-equity firm Cerberus Capital.
No one has made an official bid for BlackBerry yet, but the company's smartphone patent portfolio could make it attractive despite its struggles in the consumer phone market.
Lazaridis formerly served as co-CEO of BlackBerry, a title he shared with fellow co-founder Jim Balsillie. The two stepped down from their posts in January 2012. Thorsten Heins now heads up the company.
Fregin, a lesser-known BlackBerry co-founder, served as the company's vice president of operations until he stepped down in March 2007.