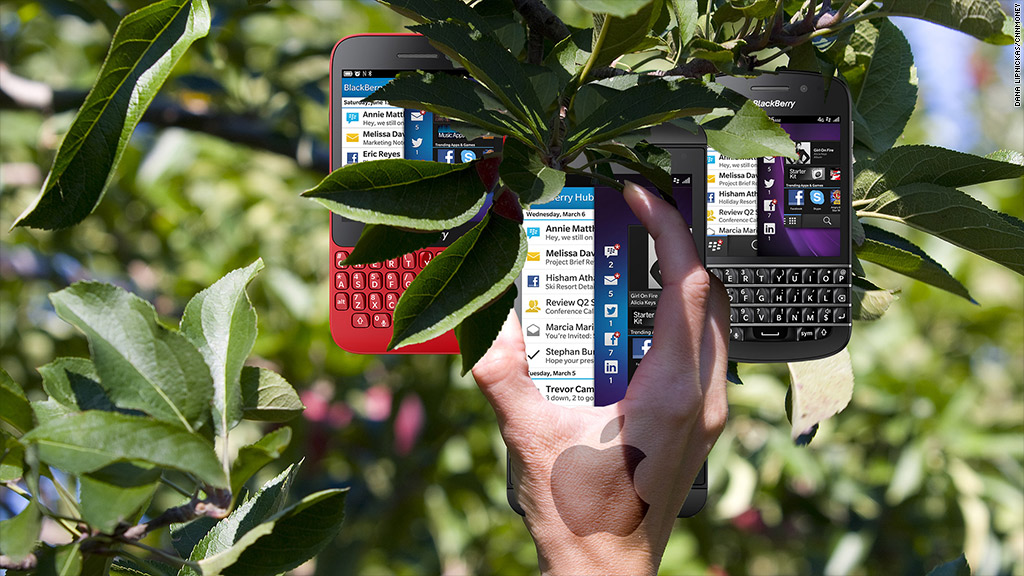 Hey, laid-off BlackBerry employees! The other smartphone maker named after a fruit wants you to know it's here for you too.
Apple (AAPL) used LinkedIn (LNKD) messages to invite BlackBerry employees to a Sept. 26 event near BlackBerry's headquarters in Waterloo, Ontario, according to the Financial Post. Apple said most of the positions it was offering would be based at its own Cupertino, Calif., headquarters, but the company would provide relocation and immigration assistance.
BlackBerry (BBRY) announced last month that it plans to lay off a shocking 40% of its global workforce by the end of the year. The first round of cuts began this week, with 300 employees let go.
But Apple isn't the only one circling. Just two days later, according to the Post, Intel (INTC) held its own two-day "information session" at a nearby hotel. BlackBerry employees received emailed invitations to Intel's event, the newspaper said.
Ex-BlackBerry employees who don't get jobs at Apple or Intel may not have to travel too far from the Kitchener-Waterloo area to find their next jobs. The region has long been a hotbed of engineering activity, thanks in large part to the University of Waterloo. The city is home to large enterprise tech firms including OpenText and Desire2Learn, and the Communitech startup hub has helped the region gain a reputation as one of the hottest startup cities in the world.
Related story: BlackBerry co-founders want to buy the company
Just last month, Google (GOOG) announced it would open a Motorola Mobility office in Waterloo. Google itself already employs 250 people in its existing Waterloo office, where staffers focus on social and mobile efforts -- and enjoy a giant in-office slide (sorry, only Googlers are allowed to try it). Google also chose Communitech as one of seven North American hubs to join a new "Entrepreneurs Tech Hub" network.
Also in September, Square -- a payments company created by Twitter co-founder Jack Dorsey -- announced it will open an office in Kitchener-Waterloo sometime in 2014.