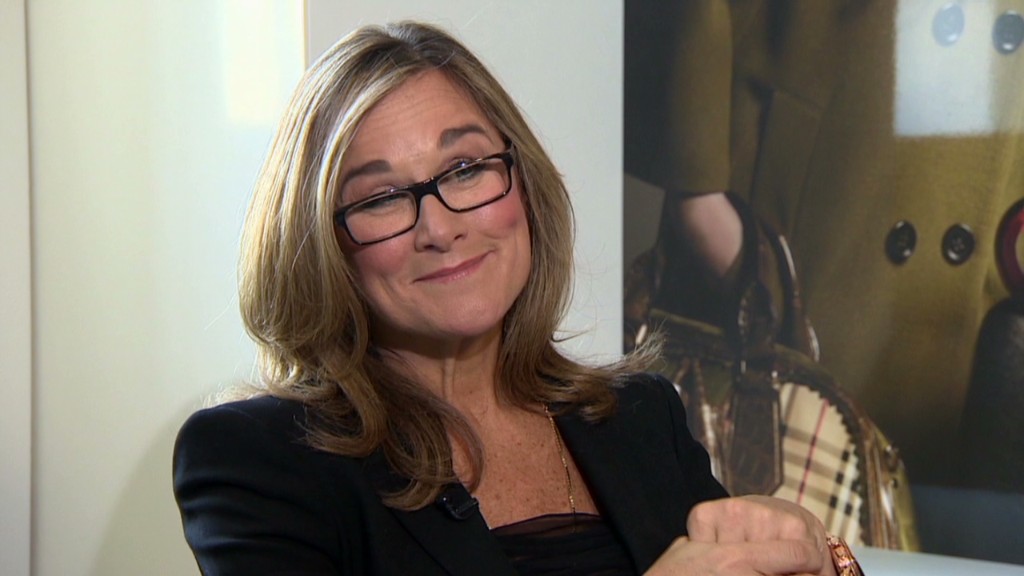 Ahrendts, the current CEO of Burberry, will head up Apple's online and brick-and-mortar retail stores starting in mid-2014.
The CEO of a high-fashion brand may not sound like an obvious fit for a tech giant. But Ahrendts has garnered widespread respect for turning around Burberry -- particularly for expanding its presence in Asia, a market that Apple has yet to conquer.
Ahrendts, 52, also injected a decidedly tech-focused strategy into Burberry's operations, leveraging both social tools like Facebook (FB) and enterprise software from Salesforce (CRM) and SAP (SAP). Ahrendts will fill an important role at Apple (AAPL), which has lacked a retail chief since John Browett was fired in October 2012.
Beyond Ahrendts' wealth of experience, the simple fact that she is a woman will also bridge a serious gap at Apple.
Like many tech companies, Apple's executive suite is strikingly homogenous: Nine white men currently serve as executives, including CEO Tim Cook and eight senior vice presidents. Ahrendts will be Apple's ninth senior VP.
Ahrendts isn't the first or highest-ranking female executive in Apple's history, however. Deborah Coleman served at Apple for 11 years, through 1992, in a variety of high-ranking positions: chief financial officer, VP of operations, and VP of information systems and technology.
Fortune's 50 Most Powerful Women in Business
Females are better represented at the vice president level at Apple, with women currently serving as VPs in fields like operations, communications and accounting. Andrea Jung, the former CEO of Avon (AVP), is the sole female director on Apple's eight-person board.
The lack of diversity -- in regard to both gender and ethnicity -- at large tech companies continues to spark debate. The latest high-profile flap came after Twitter filed for an initial public offering without a female board director.
Apple's appointment of Ahrendts, who was the highest paid CEO in the U.K. last year, does a small bit to help that problem. But there's a negative flip-side to Ahrendts stepping down from a CEO role to become a senior VP: Her resignation from Burberry will leave Britain's FTSE 100 stock index with just two female CEOs.