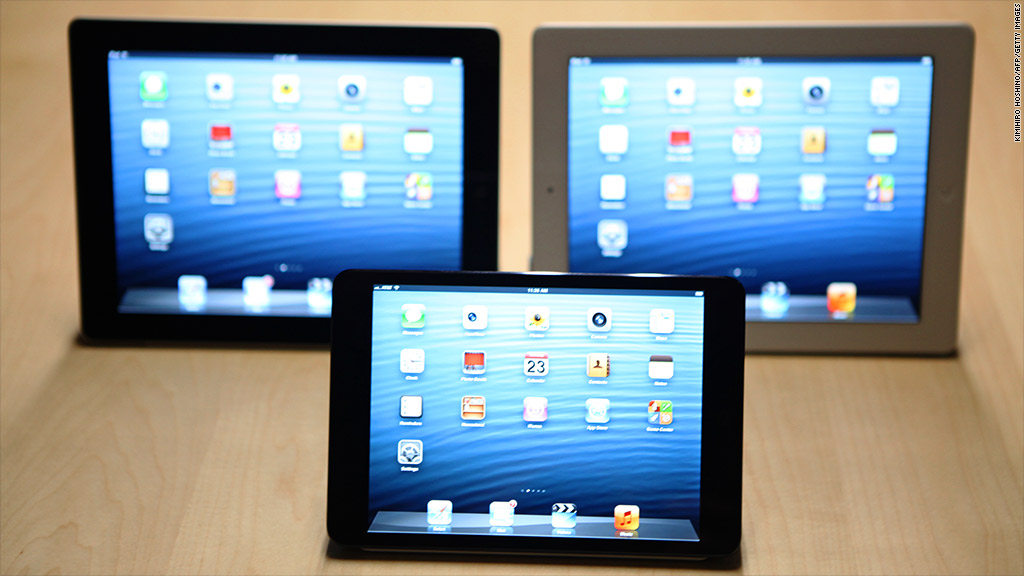 IPad sales are slumping, and Apple's share of the tablet market is in a tailspin.
Apple (AAPL) is hoping to reverse the trend on Tuesday. The company is expected to reveal its first revamped iPad in a year during an event in San Francisco.
But don't expect Apple to produce a radically new device in an effort to turn the tide -- the new iPad will likely be a marginal upgrade from the current version. Apple is expected to unveil a slightly thinner and faster iPad with a fingerprint sensor.
"What are they supposed to do, add wings and make it fly?" asked Colin Gillis, senior tech analyst at BCG Financial. "It's a tablet. There's only so much you can upgrade."
During Apple's fiscal third quarter, which ended in June, iPad sales fell to $6.3 billion -- a 27% drop over last year. But this year, Apple didn't get a boost from a new version of the tablet. The company released a new iPad in March 2012, while the fourth-generation iPad came out in November. Even though last quarter's iPad sales were weak, tablet revenue jumped 40% and 22% in the prior two quarters.
More striking is the fact that Apple no longer dominates in tablets. Apple's global tablet market share currently stands at 32%, down from 60% a year ago, according to IDC.
That's because rivals are taking advantage of Apple's lack of major updates: The tablet market share controlled by Samsung, Acer and Lenovo tripled last quarter from the previous year. That kind of wild changing of the guards is common for markets that are in their infancy -- but it still isn't particularly good news for Apple.
Although the iPhone gets the lion's share of Apple hype, the iPad is still extremely important to the company's overall business.
"The iPad is the company's second-largest revenue stream, so you definitely can't discount it," said Gillis.
Related story: Verizon: Apple has an iPhone supply problem
And there is still a strong growth opportunity for the iPad, via the smaller iPad mini.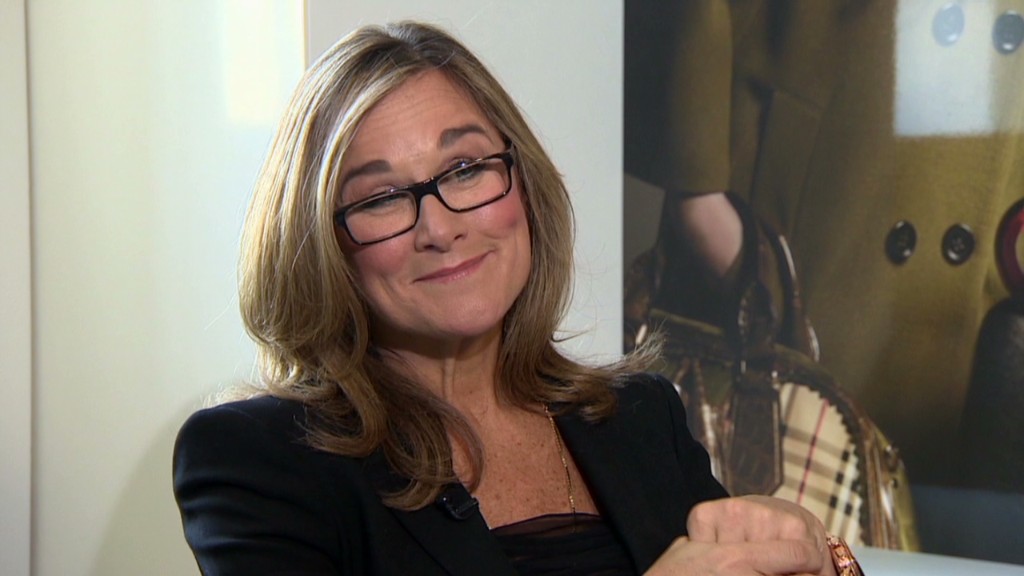 Apple is also expected to update the iPad mini on Tuesday, giving it a much more robust upgrade. Most notably, the mini tablet is expected to get a Retina display, significantly upgrading the resolution of its screen.
The "mini" category of tablets that includes the iPad Mini, Amazon (AMZN) Kindle Fire and Google (GOOG) Nexus 7 is primed for skyrocketing growth, analysts believe.
"The seven-inch is absolutely dominant right now, and we expect it to stay that way for some time," said IHS iSuppli tablet market analyst Rhoda Alexander.
Tablets with screens smaller than eight inches accounted for only about a quarter of the tablet market in 2011, according to IHS, but the consultancy predicts the category will take a majority 55% share this year and grow to 57% by 2017.
Meanwhile, medium-sized tablets like the iPad are expected to fall to a 37% share in 2017.
"Apple caught a lot of heat for launching the iPad Mini, with critics saying the low end isn't where the competition is," Alexander said. "But they've overcome the naysayers pretty quickly."