Is J.C. Penney on the path toward becoming a penny stock?
On Monday, Imperial Capital analyst Mary Ross-Gilbert slashed her price target on J.C. Penney shares to just $1, down from a previous target of $5, amid growing concern over whether the troubled retailer is headed toward bankruptcy.
J.C. Penney (JCP) shares have tumbled nearly 70% this year, and are currently trading just below $7, the lowest level in over three decades.
Bankruptcy rumors: One of the biggest hindrances to J.C. Penney's stock has been talk of the retailer going bankrupt.
J.C. Penney has staunchly denied rumors about credit problems and bankruptcy, which have have plagued the retailer for some time, saying it will end the year with $2 billion of easily accessible cash.
J.C. Penney calls the rumors "unequivocally false," saying last week that they amounted to nothing more than "attempted market manipulation by certain types of investors for their own personal gain."
Related: Why J.C. Penney should go private
Even if the reports are inaccurate or misleading, they are wearing down management and vendors, said Ross-Gilbert. And that could force J.C. Penney into bankruptcy next year.
"While we think J.C. Penney can be turned around, we are becoming increasingly concerned that without a 'deep-pocketed' long-term investors providing financial and 'halo' support, the company may strategically file for bankruptcy protection to conserve cash while it continues to execute a turnaround in 2014 and 2015," she said.
Avoid the stock, but check out J.C. Penney's long bonds: Ross-Gilbert is also bearish on the company's short-term debt, particularly bonds maturing between 2015 and 2018.
But she's a little more upbeat long term, and is maintaining a buy rating on bonds maturing between 2020 and 2097.
"We continue to believe in the viability and sustainability of J.C. Penney," she said.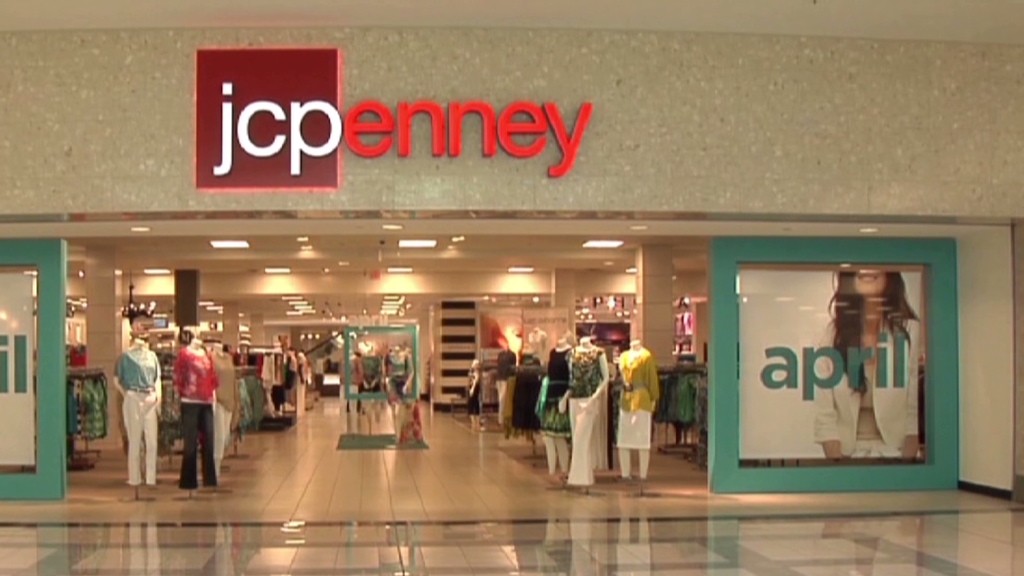 Holiday sales will be key: While no Wall Street analysts are bullish on J.C. Penney, most have a hold rating on the stock as they wait to see how sales fare during the all-important holiday season. This year J.C. Penney will kick off its holiday shopping period at 8 p.m. ET on Thanksgiving Day, just like rival Macy's (M).
Last year, under CEO Ron Johnson, who came to J.C. Penney from Apple (AAPL) and was ousted from the top spot in April, sales plunged almost 30% during the holiday quarter. This year, under returning CEO Mike Ullman, analysts expect sales to edge up 1%, according to FactSet.
While that would be an improvement, Ross-Gilbert said it still may not be enough to "instill confidence for equity investors and vendors."