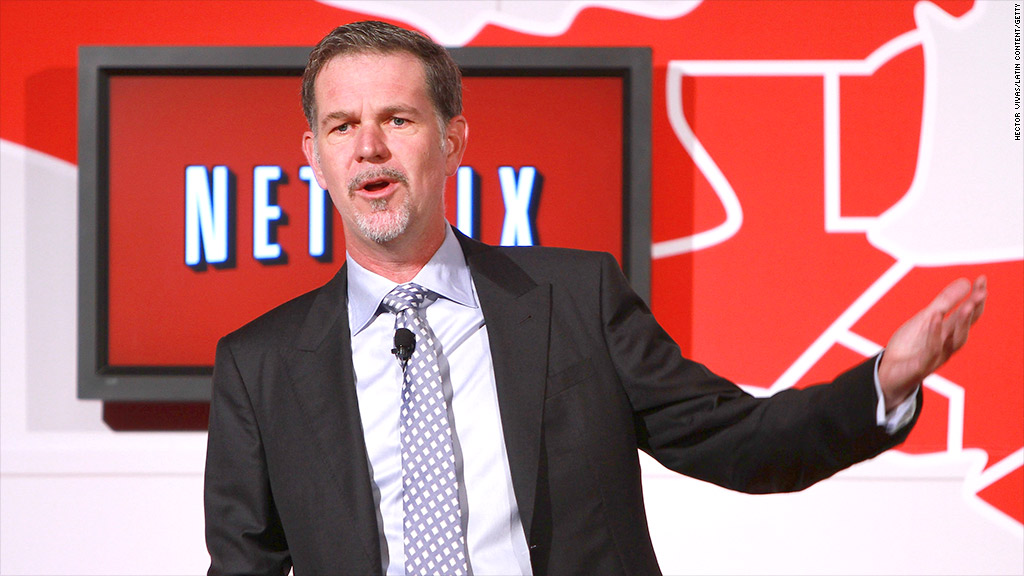 Expectations for Netflix's third quarter couldn't have been higher, but the company still managed to wow Wall Street Monday -- and shares jumped 10% as a result.
Netflix cynics have been waiting for the company's stock bubble to pop: Netflix shares are up a shocking 440% in the past 12 months, and analysts expected third-quarter earnings nearly to quadruple over the year.
But Netflix (NFLX) delivered. The company reported third-quarter earnings of 52 cents a share, well above the 49 cents that analysts polled by Thomson Reuters were expecting.
Sales came in at $1.1 billion, in line with estimates.
Netflix expects more happy news for the current quarter. The company predicted earnings of 47 cents to 73 cents per share. That's an extremely wide range -- common for Netflix -- but it's far above the 46 cents a share that Wall Street expected.
Shares of Netflix jumped 10% after-hours immediately after the news and continued their run in premarket trading on Tuesday.
Netflix CEO Reed Hastings isn't comfortable with the huge stock run-up, however. On a post-earnings conference call with analysts, he said Netflix thinks "momentum investors" are "driving the price more than we like normally" -- but that it's out of the company's control.
Subscriber growth and original content: Hastings was happier with Netflix's third-quarter subscriber growth, which also impressed. Netflix added nearly 1.3 million new American subscribers during the third quarter, near the top range of the 690,000-1.49 million range the company predicted in July.
International subscriber growth was even more striking: 1.44 million new overseas streaming customers. That pushed Netflix above the 40 million subscriber mark for the first time. But Netflix warned of a surge in free-trial signups in Latin America that artificially boosted the international additions figure.
In order to continue that user-base growth, Netflix has spent years transforming itself into not only a purveyor of other studios' content, but a creator of original content as well.
Netflix CEO Reed Hastings and other company executives have repeatedly said Netflix "wants to become HBO faster than HBO can become Netflix." (HBO is owned by CNNMoney parent company Time Warner (TWX).)
Related story: RIP television, hello mobile gaming
That original-content strategy has included a new season of "Arrested Development," a U.S. remake of "House of Cards," and -- most notably -- the new series "Orange is the New Black." Netflix called the comedy-drama "one of the most critically well received TV shows of 2013" and said it will end the year as Netflix's most watched original series to date.
Three of those original series netted Netflix a total of 14 Emmy nominations and three wins (all for "Cards") this year, but some analysts are still concerned about Netflix's mounting costs. The company reportedly spent $100 million producing and shooting two seasons of "House of Cards," the first of which was released in February.
Netflix appears unfazed by that criticism. The company said it expects to double its spending on original content in 2014. Content chief Ted Sarandos said on the earnings call that the company is actively looking for documentaries to debut on Netflix and will keep an open mind about feature films -- but Netflix still isn't interested in airing sports.
Meanwhile, the content licensing side of Netflix's business is also expensive. Studios have demanded more money for their content as rival services proliferate: Amazon (AMZN), Hulu and Redbox (OUTR) are only a handful of the competitors. Premium channels like HBO and CBS' (CBS) Showtime are also expanding their streaming offerings.