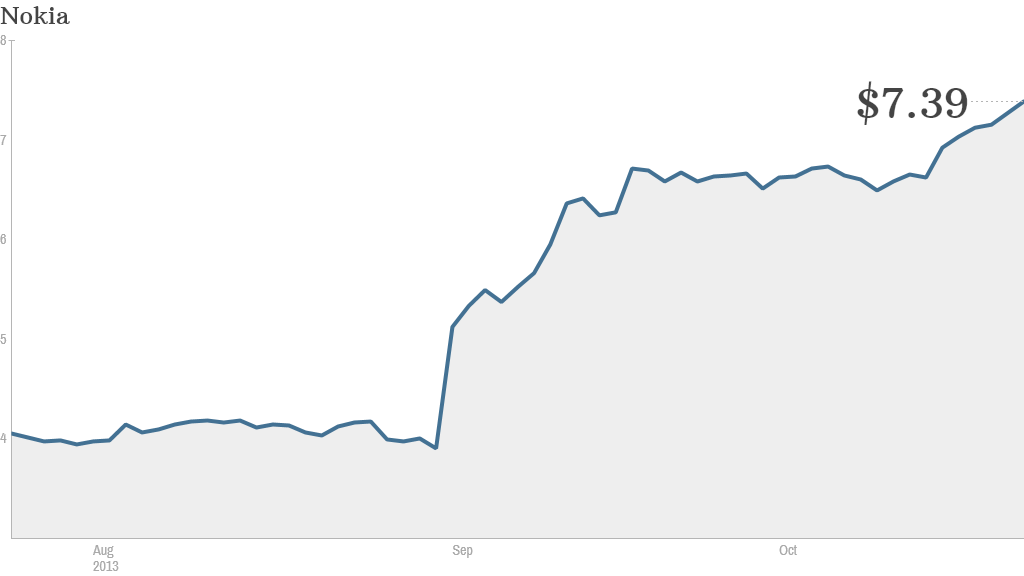 Hedge fund manager Dan Loeb was quietly buying up shares of
Nokia

(NOK) after the company threw in the towel on its phone business earlier this year.

Loeb disclosed in a letter to investors dated Tuesday that his hedge fund, Third Point, had purchased a stake in Nokia shortly after the company sold its phone business to Microsoft (MSFT) for $7.2 billion in cash.

The letter did not specify how large the stake was, but it did say that Third Point bought Nokia stock at a "substantial discount" to the fund's target value.

Once an industry leader, Nokia struggled to compete in the smartphone market as rivals Apple (AAPL), Google (GOOG) and Samsung took market share. Nokia shares hit a low below $2 a share in 2012, but the stock has regained ground since the deal with Microsoft was announced. Shares were up nearly 3% on Tuesday. The company also announced a new tablet on Tuesday.

Lobe's investment is largely based on Nokia's cash windfall. When the deal with Microsoft closes, Nokia will have about 8 billion euros in net cash, according to Third Point. Loeb expects Nokia to eventually announce a share buyback or a special dividend.

"We expect a meaningful portion of the excess will be distributed to shareholders in coming quarters," the letter states. Loeb is betting that a buyback or big dividend will draw in more investors and drive up the value of his stake.

Related: Nokia gets into the tablet game

Beyond that, Loeb wants to create a "new" Nokia out of the ashes of the old one.

He envisions that the new Nokia will consist of three distinct businesses: Nokia Siemens Networks, the HERE maps business and a patent portfolio known as Advanced Technologies.

Nokia's ailing phone business has largely overshadowed these profitable enterprises in recent years, according to Loeb..

Related: Nokia's ex-CEO set for $25 million windfall

Loeb said "event-driven situations" like Nokia's transaction with Microsoft "are the bread and butter of our strategy."

He hinted that these opportunities have been on the rise recently, saying the fund welcomes "the chance to populate the portfolio with them."

Loeb has also made headlines this year for his efforts to shake up Sony. Third Point, which has a 6% stake in the electronics and entertainment firm, wants Sony (SNE) to spin off its movie and music division.

Loeb is also well-known for helping to push former Yahoo (YHOO) CEO Scott Thompson out. Thompson quit after Loeb raised questions about inaccuracies in Thompson's resume. Thompson was ultimately replaced at Yahoo by ex-Googler Marissa Mayer. Shares of Yahoo have surged during Mayer's tenure.