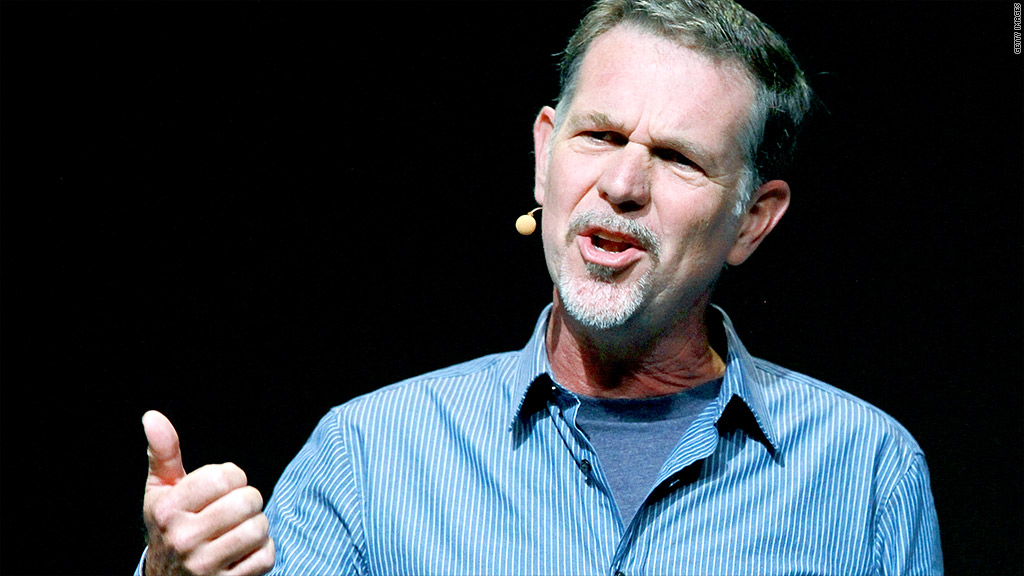 Netflix's stock is up a jaw-dropping 430% over the past 12 months, but CEO Reed Hastings isn't too happy about it.
Shares jumped by as much as 10% Tuesday morning before falling into negative territory later in the day following Netflix's great third-quarter earnings report. But the company dedicated part of its quarterly letter to shareholders warning investors about the "euphoria" around the stock.
"We do our best to ignore the volatility in our stock," the company wrote in a letter to shareholders. The letter compared the 2013 run-up to Netflix's stellar run a decade ago, when it was the highest performing stock on the Nasdaq.
"We had solid results compounded by momentum-investor-fueled euphoria," Netflix (NFLX) said. "Some of the euphoria today feels like 2003."
Netflix also highlighted "the huge swings" in the price of its shares since the company's 2002 initial public offering: $8 to $3 to $39 to $8 to $300 to $55 to $330.
Related story: RIP television, hello mobile gaming
Just in case that wasn't clear enough, Hastings hammered the point home on a post-earnings conference call with analysts late Monday.
"Momentum investors" are "driving the price more than we like normally," he said -- adding that share price movements are out of the company's control.
There is reason for investors to be excited about the company, however. Netflix's third-quarter earnings of 52 cents a share were well above the 49 cents that analysts polled by Thomson Reuters were expecting. Sales came in at $1.1 billion, in line with estimates.
Beyond that, Netflix also topped expectations with its prediction for the current quarter. Netflix expects earnings of 47 cents to 73 cents per share for the fourth quarter. That's an extremely wide range -- which is common for Netflix's outlook -- but it's far above the 46 cents a share that Wall Street expected.