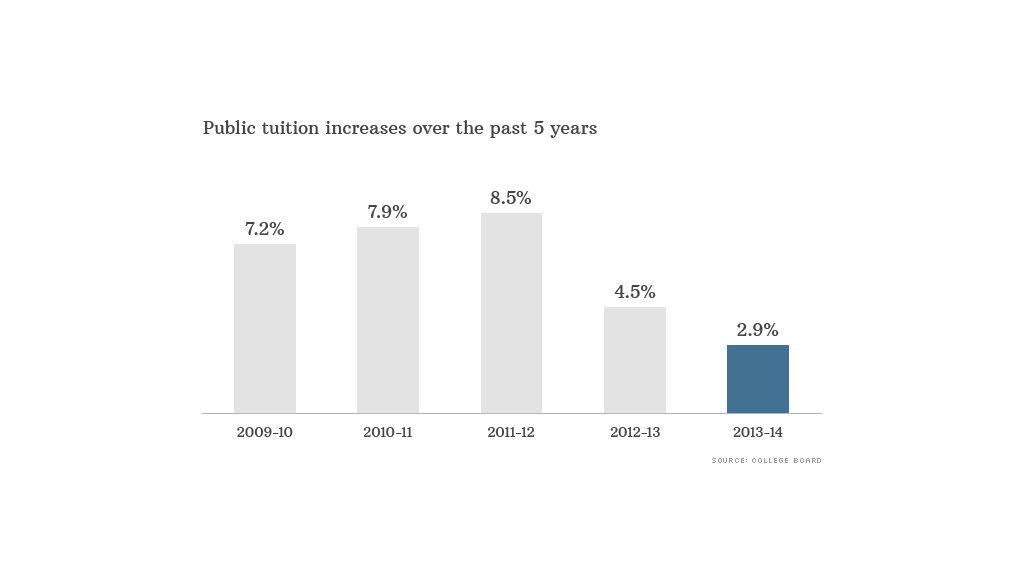 The gravity-defying trajectory of the cost of college finally appears to be losing momentum, with tuition at public universities this academic year rising at its slowest rate in decades.
In-state tuition at public four-year colleges averaged $8,900 for the 2013-2014 academic year, an increase of just 2.9%, the College Board reported Wednesday. That's a dramatic slowdown from the previous decade's average annual growth rate of 8%, and the smallest increase since 1975.
Meanwhile, tuition at private universities and colleges rose 3.8% to an average $30,100 for the 2013-2014 academic year.
Public university tuition has skyrocketed since 2000, when state governments started reducing taxpayer support for colleges. But now that some states have started to restore funding for higher education, price increases are starting to moderate, said Jeff Lieberson, a spokesman for the American Public and Land-grant Universities.
"It's not back to where it was before, but at least it's not going in the wrong direction," he said. "And hopefully, this trend will continue."
Yet, tuition is still growing faster than most families' incomes: Since 2002, median family income has risen just 1.9% annually, the Census Bureau reports.
Related: Colleges with the highest paid grads
Other college costs are also rising faster than household incomes. Add in room and board, books, and other campus costs, and the full sticker price of attending Your State U totals $22,800, up 2.7% from last year. That's about 60% higher than the full cost of attendance a decade ago.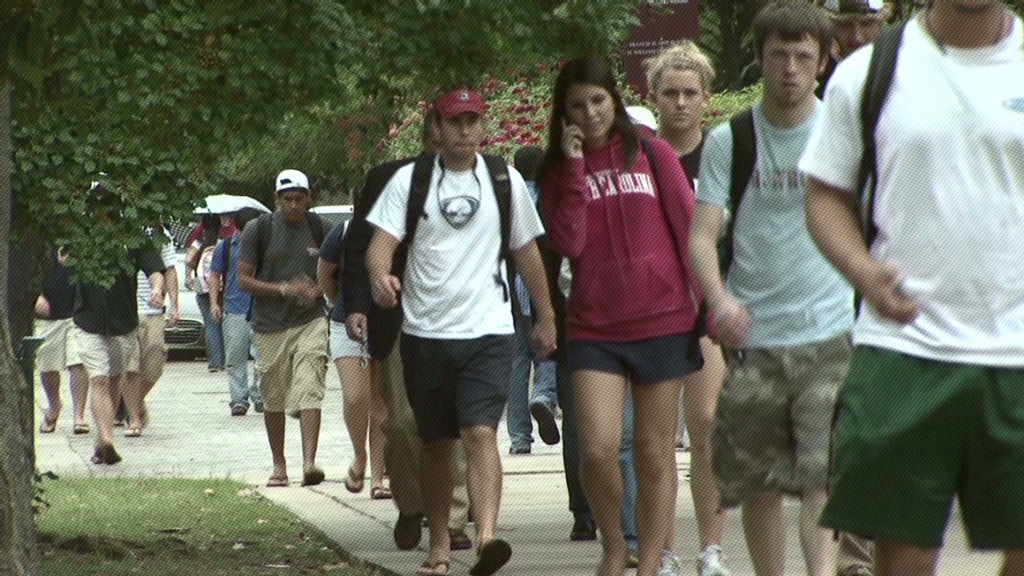 For private schools, the sticker shock can be even more extreme: the full cost of attendance came in at $44,750 for this academic year, the College Board reported.
Of course, at least half of all undergrads get grants or tax credits that mean they pay a lower "net" price.
Unfortunately, the total amount of grants and scholarships was flat this year, driving the net price at public universities 3.2% higher to an average of $17,060 a year.
Related: College degrees with the biggest bang for your buck
Students at private colleges are the least likely to get stuck paying full sticker price. Private schools, on average, award grants worth about 40% of tuition to 87% of freshmen. (The amount a student receives typically depends on his or her ability and financial need.) This year, the average net price at private schools was $27,100, a 5% increase from 2012.
Still worried about affording college? Here are a few bright spots:
Community colleges: Tuition at public two-year colleges averaged just $3,260, up 3.5% from last year. After adding in the $2,500 American Opportunity Tax Credit, and the fact that about half of community college students get some grants, the College Board says the typical community college student gets enough aid to fully cover their tuition and books.
Bargain states: The University of Wyoming charges only $4,404 a year for in-state students, a price increase of just 3.5%. And the University of South Dakota charges out-of-staters about $10,000 a year in tuition and fees, which is lower than the in-state charges for more than 20 other states' flagship schools.
Reduced borrowing: While 60% of 2012 graduates had college debt averaging a record $26,500, today's students appear to be borrowing less.
The number of federal Stafford undergraduate loans made in the 2012-13 academic year dropped by 343,000, or 3.9%, and the amount borrowed through the program fell by $3.7 billion, or 6.1%. (The number of undergraduates only decreased by 1.6% last year.)
Related: Some two-year degrees pay off better than BAs
The number of parents who took out federal PLUS loans plunged by 19%. The Department of Education declined to comment on the reasons behind the decline in borrowing. But it has been widely reported that in late 2011, the Department quietly tightened lending standards for PLUS loans, rejecting more parents with credit problems.
In addition, Kathleen Payea, one of the authors of the College Board report, noted that there has been a decline in enrollment at for-profit colleges, and those students tend to borrow more than others.
The cost of attendance
| | 2013-2014 | 2012-2013 | % change |
| --- | --- | --- | --- |
| Public university (in-state) | | | |
| Tuition & fees | $8,893 | $8,646 | 2.9% |
| Room & board | $9,498 | $9,171 | 3.6% |
| Miscellaneous (books, travel, etc.) | $4,435 | $4,401 | 0.8% |
| Total sticker price | $22,826 | $22,218 | 2.7% |
| Average aid and tax benefits | $5,770 | $5,690 | 1.4% |
| Average net price | $17,056 | $16,528 | 3.2% |
| | | | |
| Private university | | | |
| Tuition & fees | $30,094 | $28,989 | 3.8% |
| Room & board | $10,823 | $10,458 | 3.5% |
| Miscellaneous (books, travel, etc.) | $3,833 | $3,771 | 1.6% |
| Total sticker price | $44,750 | $43,218 | 3.5% |
| Average aid and tax benefits | $17,630 | $17,387 | 1.4% |
| Average net price | $27,120 | $25,831 | 5.0% |