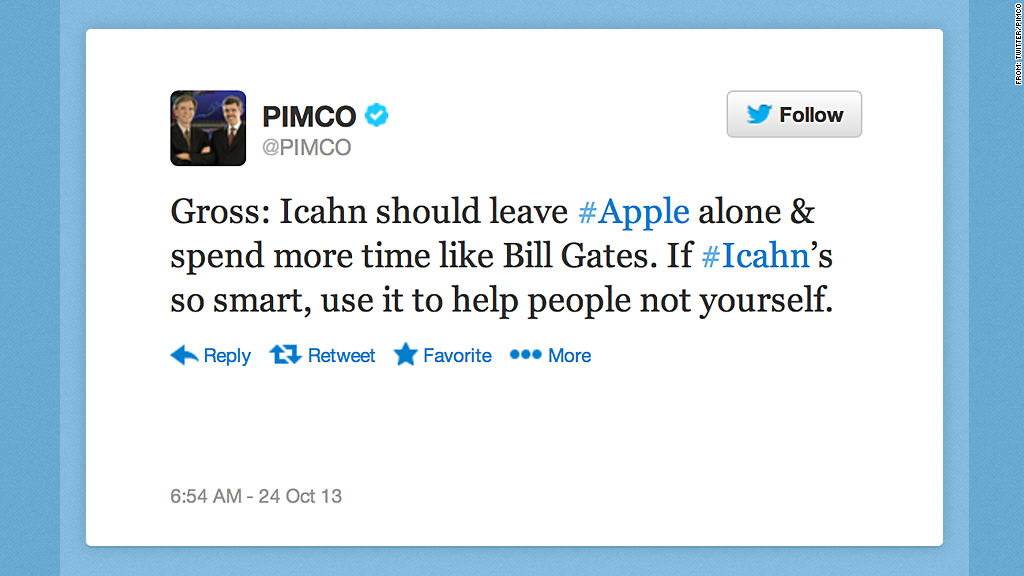 Shareholder activist Carl Icahn is turning up the heat on
Apple

(AAPL). And that seems to be making bond king Bill Gross uncomfortable.

Gross, who runs the giant bond fund Pimco Total Return (PTTAX), raised eyebrows Thursday after he picked a Twitter fight with Icahn, who had just demanded that Apple buy back $150 billion of its own stock.

"Icahn should leave #Apple alone & spend more time like Bill Gates," Gross said on Twitter, referring to the Microsoft (MSFT) chairman who's now famous for his philanthropic efforts. "If #Icahn's so smart, use it to help people not yourself."

The harsh words were surprising coming from Gross, an avid yoga fan who prefers to wear his ties undone. There's also the fact that Gross is known more for his calls on Treasuries and interest rates, not tech stocks.

But it's worth remembering that Apple sold $17 billion worth of bonds in May, the largest corporate debt offering in history.

For the record, Pimco doesn't appear to own any Apple bonds, which are not listed among the holdings in the ETF that tracks Pimco's Investment Grade Corporate Bond (CORP) fund. It's also not listed as holding in the ETF that mirrors the Total Return Fund (BOND).

Pimco does own a small stake in Apple's common stock, according to FactSet. A spokesman did not immediately respond to questions about whether Pimco owned any Apple bonds.

Related: Apple at $532: Look whose price targets are underwater now

In theory, Icahn's plan for a huge stock repurchase poses a threat to Apple's credit quality. If Apple gives in to Icahn's demands, it would end up with less cash and more debt on its balance sheet.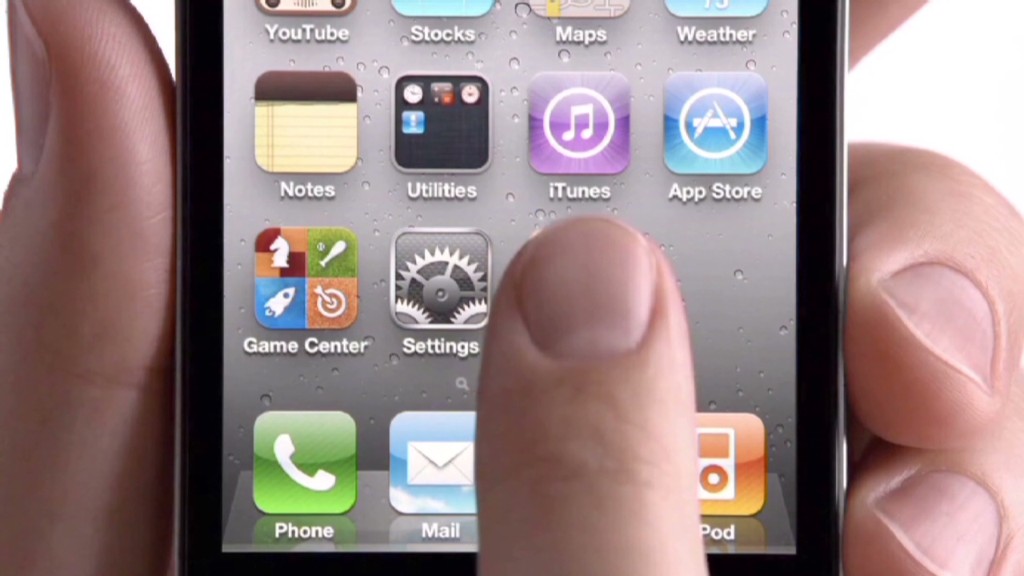 This is troubling for Apple bondholders, since part of the company's appeal is that it has a lot of cash and not much debt. There aren't that many high-quality corporate bonds out there. Microsoft (MSFT) and Johnson & Johnson (JNJ) are among the few AAA-rated issuers. Apple's bonds are rated AA by the rating agencies.
What's more, Apple has already shown a willingness to listen to activist investors, including David Einhorn of Greenlight Capital.
Although Apple did not agree to Einhorn's proposal to issue preferred shares, Apple did increase its existing buyback program to $60 billion from $10 billion in April. The bond sale, a surprising move by the usually fiscally conservative Apple, was done to help finance the repurchase of stock.
Gary Jenkins, credit analyst at Swordfish Research, pointed out that bondholders are nervous because Apple already made a move to appease a vocal shareholder. So that makes it more likely that Apple may do something to quiet Icahn,
While Apple may not borrow as much as Icahn wants, "they probably will gradually change the structure of the balance sheet over time so that the credit profile is more in line with a single A rated credit," said Jenkins.
Still, there are reasons to doubt that Icahn will be successful, despite his veiled threat of a proxy fight.
For one, Apple's share price has risen 30% since it upped its share buyback program in April. So buying back stock now would be more expensive and seems less necessary.
Additionally, Icahn lost a similar battle at Transocean (RIG) in May, when shareholders approved a smaller dividend increase than he wanted.
The real threat for Apple bond holders is the general trend of rising interest rates, said Jody Lurie, corporate credit analyst at Janney Capital Markets.
She said Icahn is not an immediate concern, but acknowledged that "there is a certain level of discomfort when an activist investor comes into company and stirs up talk of additional shareholder rewards."
But in a somewhat surprising show of restraint, Icahn didn't push back against Gross. Speaking on CNBC Thursday, the notoriously scrappy New York native, who publicly sparred with hedge fund manager Bill Ackman this year, said he respects Gross and other top investors who have criticized his methods.
"I think that Bill Gross certainly has a right to his opinion," said Icahn, who proceeded to compare his push to get Apple to reward shareholders with President Theodore Roosevelt's trust busting campaign in the early 1900s.