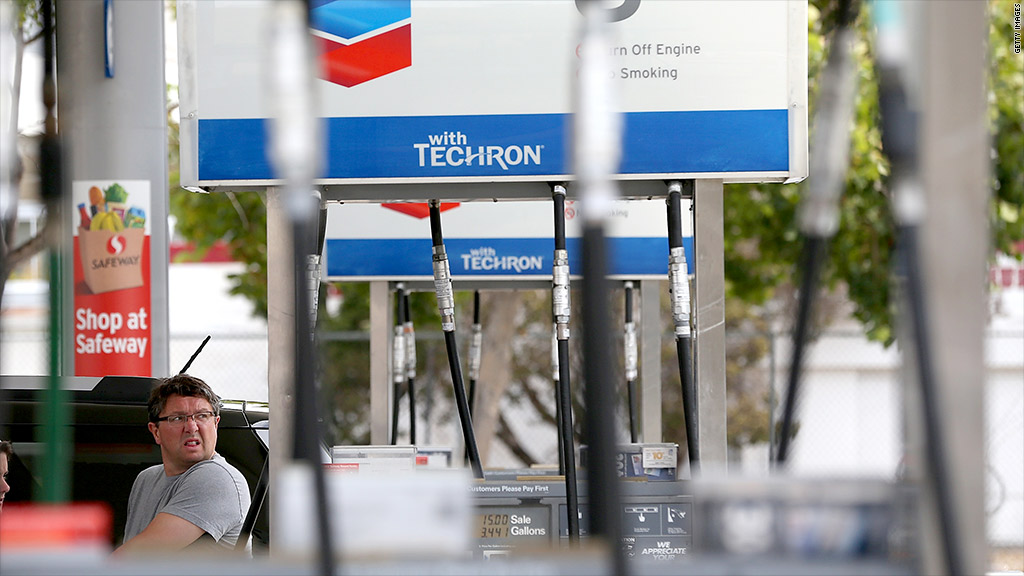 Gas prices in Missouri dipped below $3 per gallon on Friday, the first time in more than eight months.
The average price of unleaded gasoline dropped to $2.991 per gallon in Missouri, cementing its status as the state with the lowest gas prices in the country, according to motorist club AAA.
Missouri's proximity to refineries in the Midwest are a big reason for its low prices, according to oil trader Dan Dicker, author of "Oil's Endless Bid."
"It's about supply and transport costs," he said. "Basically, the states closest to the refiners will get a greater benefit than those further away.
The Midwestern refineries get their oil from the Bakken shale formation in North Dakota and Montana, and the Eagle Ford formation in Texas, which have been experiencing a glut in supply, said Dicker.
Related: Chamber of Commerce: Raise gas tax to fix roads
In addition to its proximity to refineries in Illinois, Kansas and Oklahoma, the state of Missouri "is served by numerous pipelines carrying petroleum products," said Michael Right, spokesman for AAA in Missouri. He said it helps that Missouri has no sales tax on gas and also charges a relatively low gasoline tax of 17 cents per gallon.
The last time statewide average prices were below $3 per gallon was on Feb. 7.
After that, prices climbed from worries over the war in Syria and unrest in Egypt. More recently, there's been relative calm in the Middle east.
Related: States' pledge could boost electric car business
Gas prices have been falling nationwide. The average price for a gallon of unleaded gas was $3.315 on Friday, compared to $3.360 a week ago and $3.599 a year ago.
The partial government shutdown during the first half of October also sapped demand for gas, as it fueled anxiety among consumers, said Tom Kloza, chief oil analyst with Gasbuddy.com.
Kloza said nationwide gas prices might stay close to the $3-per-gallon mark between early November and Christmas, before demand for holiday travel may drive them back up again.
"People have a very, very dim outlook for the economy," he said. "That tends to manifest itself in less purchasing."