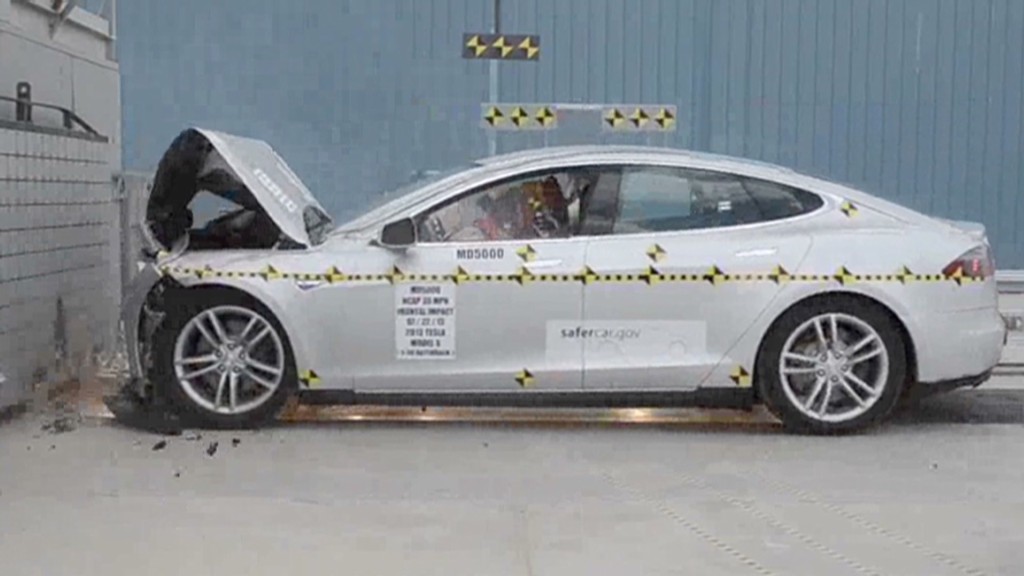 In May, Consumer Reports called the Tesla Model S the best car it had ever tested, but it still wouldn't recommend it.
That was because the magazine hadn't yet gathered enough reliability data on the still-new model. Well now the survey data is in, and Consumer Reports has officially given the Tesla (TSLA) Model S the sought-after red checkmark.
The Tesla Model S is now Consumer Reports Recommended.
The Model S isn't perfect, according to its owners, but none have reported any problems with the car's battery-powered electric drive system or with the enormous iPad-like touch screen inside the cabin.
The problems that have been reported have had to do with things like squeaks, rattles and malfunctioning sunroofs and door locks.
Related: Consumer Reports' Most Reliable Cars
Overall, the reliability rating for the Model S was average, according to the magazine. But that rating, combined with the car's stellar test scores, was enough to earn the recommendation.
The Model S earned a score of 99 out of a possible 100 in the magazine's performance tests, which ties for the highest score any car has ever received. It would have scored even higher except for the fact that it has to be recharged on long trips, Jake Fisher, head of auto testing for Consumer Reports, said in May. Fisher called the car's performance "off the charts."
Depending on price, the Model S has a driving range of between 208 and 265 miles. A full charge takes about six hours from an ordinary 240 volt outlet, according to Tesla. The car can be charged much more quickly at one of the "supercharger" stations Tesla has installed along various highways in the country. Tesla is also rolling out quick battery swapping capability at some of those stations.
The Model S has already won awards from car magazines like Motor Trend and Automobile, but Consumer Reports is widely regarded as being the most influential magazine among car shoppers. Consumer Reports, published by nonprofit Consumer's Union, purchases all the cars it tests and does not accept paid ads.
Tesla's next vehicle is supposed to be the Tesla Model X crossover SUV but, after that, the company's plans call for a less expensive car and, possibly, other products.