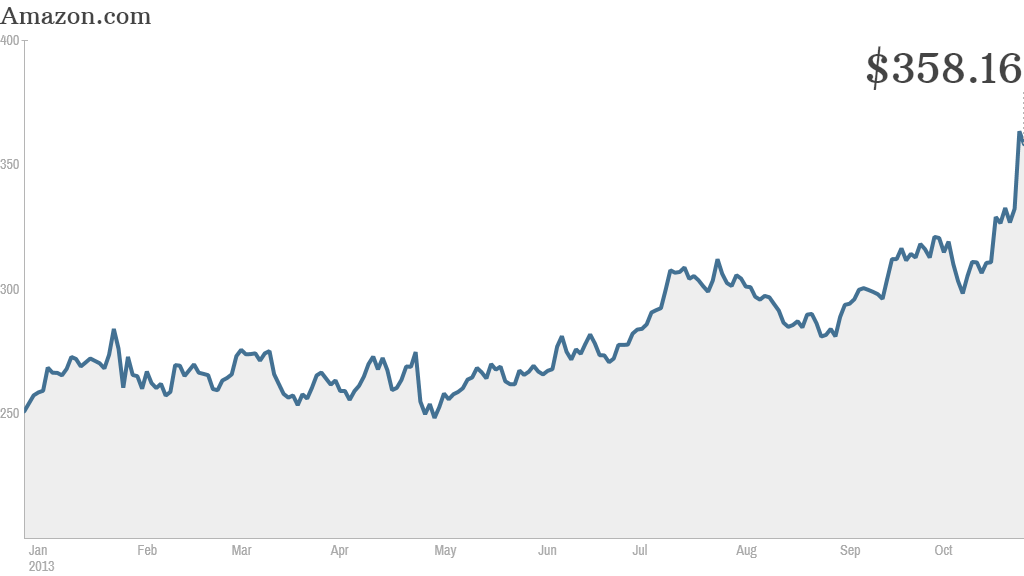 The verdict on whether the stock market is overvalued or not may still be out.
But there are definitely some high-profile stocks looking frothy.
In fact, Wall Street darlings Amazon.com, Salesforce.com, Netflix and Chipotle are among the ten most overvalued stocks in the S&P 500, according to research from Thomson Reuters StarMine.
Analysts at StarMine calculate a stock's fair value by adjusting for optimistic biases in Wall Street analysts' earnings forecasts and then coming up with their own estimates for earnings growth and cash flow.
Here is a look at where StarMine thinks some of the market's hottest stocks should be trading.
Amazon.com (AMZN)
Current price: $358.16
StarMine target: $37.65
Amazon.com's stock has climbed more than 40% this year to a record high of nearly $370 a share. According to StarMine analysts, that's almost 10 times higher than where the price should be and makes it the most overvalued stock in the S&P 500.
In fact, to justify its current value, Amazon would need earnings to grow at a compounded rate of 55% annually for the next decade, according to Thomson Reuters corporate earnings research analyst Greg Harrison.
"That's almost unheard of for a company the size of Amazon," he said, adding that Wall Street analysts are projecting an annual 10-year earnings growth rate of 22%.
Related: Amazon trumps Wall Street's sales predictions ... but still loses money
Despite the fact that Amazon's stock is so expensive, it keeps going up.
Last week, Amazon reported a quarterly loss but shares rallied because revenue surged last quarter and topped Wall street estimates for the first time in over a year.
RBC analyst Mark Mahaney wrote in a note to clients last week that Amazon is still a buy. He boosted his price target on the stock to $425 from $330.
Salesforce.com (CRM)
Current price: $53.49
StarMine target: $8.01
Salesforce, the company known for offering sales and market software through the cloud, is the third most overvalued stock in the S&P 500 according to StarMine, just after concrete and cement maker Vulcan Materials (VMC). Shares have rallied nearly 30% in 2013 to record highs.
That makes Salesforce's current stock price almost seven times higher than it should be, based on StarMine's calculations.
Netflix (NFLX)
Current price: $314
StarMine target: $56.60
Netflix is up 240% this year thanks to strong earnings and subscriber gains. Original series like "House of Cards" and "Orange Is the New Black" have been hits. But CEO Reed Hastings is worried about the meteoric rise in the company's stock price.
Last week, Hastings said some of the "euphoria" for the stock feels like 2003. Shares of Netflix rallied 400% that year, but plunged in 2004 and have been fairly volatile since.
According to StarMine analysis, shares of Netflix are trading more than five times where they should be.
Related: Elon Musk warns about Tesla's stock price
Still, Netflix has defied critics before. And short sellers, investors who bet certain stocks will go down, have mostly given up on the stock since it is so hard to call a top with momentum stocks. Short interest in Netflix, the number of shares that bearish investors have borrowed and hope to buy at a lower price, have plunged more than 50% since the start of the year.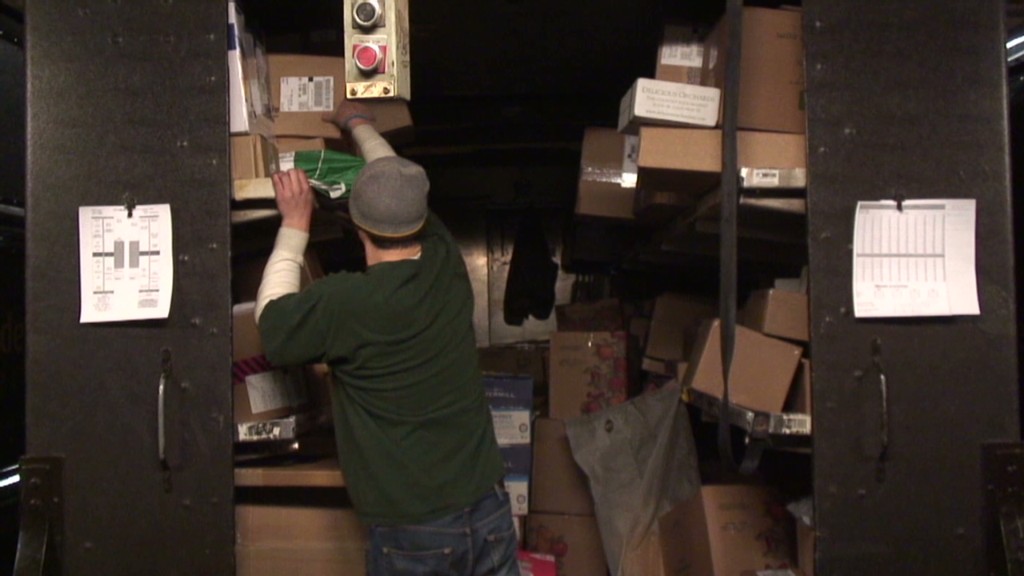 Chipotle (CMG)
Current price: $527.85
StarMine target: $182.59
Hedge fund heavyweight David Einhorn called Chipotle overvalued over a year ago, and DoubleLine Capital's Jeffrey Gundlach joined the bearish train in June.
But investors still crave Chipotle shares just as much as the restaurant chain's burritos.
Shares of Chipotle have rallied nearly 80% this year, and shares are trading at an all-time high above $500.
That puts them nearly three times where they should be, according to StarMine analysts.
Still some bargains in banks, auto and "old" tech. Overall, StarMine data shows that about 25% of the S&P 500 stocks are overvalued.
But StarMine also sees plenty of values in the market, particularly in banks such as Citigroup (C) and Bank of America (BAC).
Auto giants Ford (F) and General Motors (GM) may have some room to run, as well as tech titans Hewlett-Packard (HPQ), Microsoft (MSFT) and Apple (AAPL).