The bulls are on a roll. Stocks rose again Tuesday, despite a lackluster report on retail sales and a brief glitch involving the Nasdaq.
The Dow Jones industrial average jumped more than 100 points, to finish at a record closing high. The Dow is still slightly below its all-time intraday high though.
The S&P 500 also gained and closed at a record high for a third straight day, while the Nasdaq finished at its highest level since September 2000.
Retail sales slipped 0.1% in September. The decline was the first since March but was in line with expectations.
A separate report showed that home prices kept rising in August, with prices in 20 big cities climbing at a 12.8% annual rate, according to the S&P/Case-Shiller index.
The Federal Reserve was also be in focus as the central bank kicked off its two-day policy meeting. A statement is due Wednesday afternoon. The Fed is widely expected to keep its stimulus measures in place, but investors will be looking for signs to determine when the Fed may begin scaling back, or tapering, its $85 billion monthly bond buying program.
Nasdaq index prices briefly halted: The Nasdaq Composite index and Nasdaq-100 stopped updating just before noon due to dissemination issues. The indexes resumed updating at 12:45 ET. Options trading was halted, but stocks listed on the Nasdaq were not affected.
Still, this glitch is the latest in a string of malfunctions at the Nasdaq that began with the marred debut of Facebook (FB) in May 2012.
Related: Fear & Greed Index still shows greed
Earnings still rolling in: Apple (AAPL) shares started the day higher but ended down 2.5% as investors worried about the company's declining profit margin.
But traders on StockTwits remained optimistic.
"$AAPL Following this stock is nothing short of comedic, except that I'm long," said danieljs. "Still bullish long term, maybe an entry point on pullbacks?"
RealFanboy101 expects Apple's stock will rebound by the end of the year: "$AAPL Patience. We will see $600 before EOY."
Some traders suggested that Apple CEO Tim Cook needs to listen to activist investor Carl Icahn, who is pushing for a $150 billion buyback.
"$AAPL Tim cooks needs to get it on and Twerk that buyback," said Armando2013.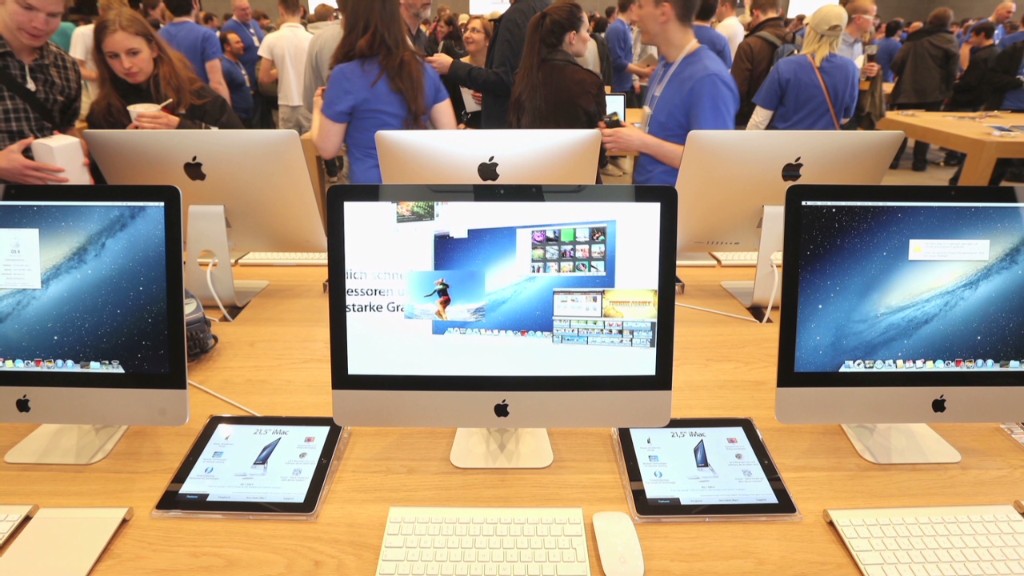 Shares of rival Nokia (NOK) were higher after the company reported a jump in smartphone sales. Nokia is in the process of selling its mobile device unit to Microsoft (MSFT).
"$AAPL what happened to the green?" asked StockTwits trader Crammarc22. "Looks like you got played. Invest in $NOK to make real money."
Shares of LinkedIn (LNKD) were up in extended trading after the social network reported earnings and sales for the third quarter that topped forecasts.
IBM (IBM) shares jumped after the company announced it will buy back $15 billion in stock, adding to its existing buyback program. IBM is one of the most heavily weighted stocks in the Dow. So its move helped push the Dow higher.
Tesla (TSLA) managed to erase earlier losses and end higher for the first time in three days. The stock has taken a dive this month, but is still up 370% for the year.
Some traders looking for a buying opportunity are happy with the recent slide.
"$TSLA Happy to see the nice pullback over the last month," said theansweris7. "Price was way too high for me to even consider it previously. Waiting on a bottom. Bearish."
Some traders are hoping Tesla's earnings report next week will help the stock rebound.
"$TSLA I expect good news out of the ER since the Model S is still 2 months on backorder," said KDMeister. "That should lift this baby to new highs."