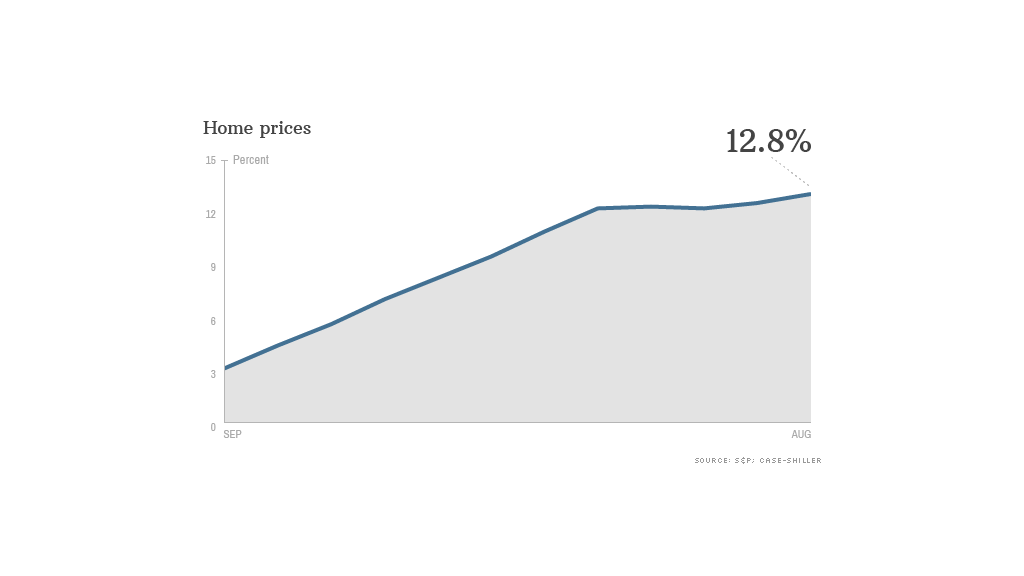 Home prices posted the largest annual gain since housing bubble days in August, although the month-over-month gain slowed for the fourth straight month.
The closely watched S&P/Case-Shiller home price index increased 12.8% from a year earlier, the biggest 12-month gain since February 2006.
But with mortgage rates significantly higher in recent months, the pace of increases is slowing. The 1.3% rise compared to July is only half the monthly increase posted in April when mortgage rates were near a record low.
Still, the recovery in the housing market continues to be strong, helped by a drop in foreclosures that were weighing on overall prices. A drop in the unemployment rate is also helping to support the housing recovery.
Related: To get the house, get there first
Experts said the slowing of the monthly increase is not necessarily a bad thing, as it will reduce the chance of another bubble in home prices.
"It's good to see the pace of home value appreciation moderate, allowing the market to get back into a more sustainable balance and not topple over," said Stan Humphries, chief economist of home price tracker Zillow.com. "Home value appreciation is better when it's boring, and we expect to see continued moderation."
Related: Shiller, two other win economics Nobel for 'bubble' warning
Despite the rebound in prices, overall prices remain about 20% below the July 2006 peak. But prices in Dallas and Denver once again hit record highs. And markets, including Boston and Charlotte, are now less than 10% below their peak prices.
The markets that rose fastest during the bubble -- Las Vegas, Miami, Tampa and Phoenix -- remain more than 35% below their peak valuations. But those markets are also among those with the most rapid price increases compared to a year ago. The fastest growth has been in Las Vegas, where prices are up 29%.