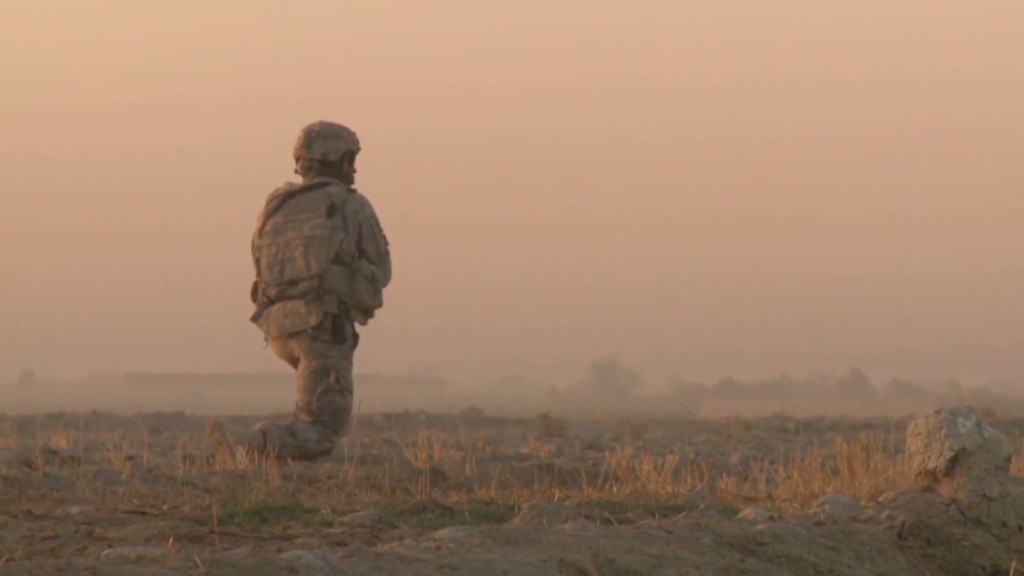 Starbucks is the latest big company to announce an aggressive push to hire veterans returning to the civilian work force.
The Seattle-based coffee chain said on Wednesday that it will hire 10,000 veterans and military spouses over the next five years.
Former Defense Secretary Robert Gates was appointed to Starbucks (SBUX)' board of directors last year. He told CNN's Poppy Harlow, "We know that many men and women who have served in Iraq and Afghanistan have had a difficult time finding career-fulfilling kinds of positions. Over the next five years another million men and women will come out of the military and enter civilian life."
Starbucks chief executive Howard Schultz said his company also plans to open five stores on or near military bases that will share their profits with the local communities. And, he added, "as a small gesture," all vets and their spouses will get a free tall brewed coffee on Veteran's Day.
Related: Vet hire tax credit to expire at year's end
Other companies have launched ambitious plans to hire veterans, including UPS (UPS), JPMorgan (JPM) and Walmart (WMT). Walmart, the world's biggest retailer, has said that it expects to hire 100,000 veterans by 2018.
Veterans of the wars in Iraq and in Afghanistan have a higher rate of unemployment than the general population. The unemployment rate for the general population was 7.2% in September, according to the most recent government figures available, compared to 10.1% for veterans who have served since the Sept. 11, 2001 terrorist attacks.
Veterans are often lauded for their courage under fire and valuable combat experience. But many find it hard to translate their combat infantry experience into the civilian job market.
"Being the best mortar man in the best battalion in the world doesn't mean a whole lot when you come out," said Sean Parnell, veteran of the Afghan war and author of "Outlaw Platoon," in an interview with CNNMoney last year.
Nonetheless, the unemployment rate for veterans has been declining in the last couple years.
Related: Job challenges loom for war vets
Gates said veterans "bring with them extraordinary skills" including logistics, supply chain management and electronics, as well as leadership experience.
He said that matching these military skills to equivalent jobs in the civilian work place "does require a little bit of effort" but that "it can be done."
The federal government provides a $9,600 tax credit to companies that hire veterans, but that program is slated to expire at the end of the year.
-- CNN's Poppy Harlow contributed to this story.