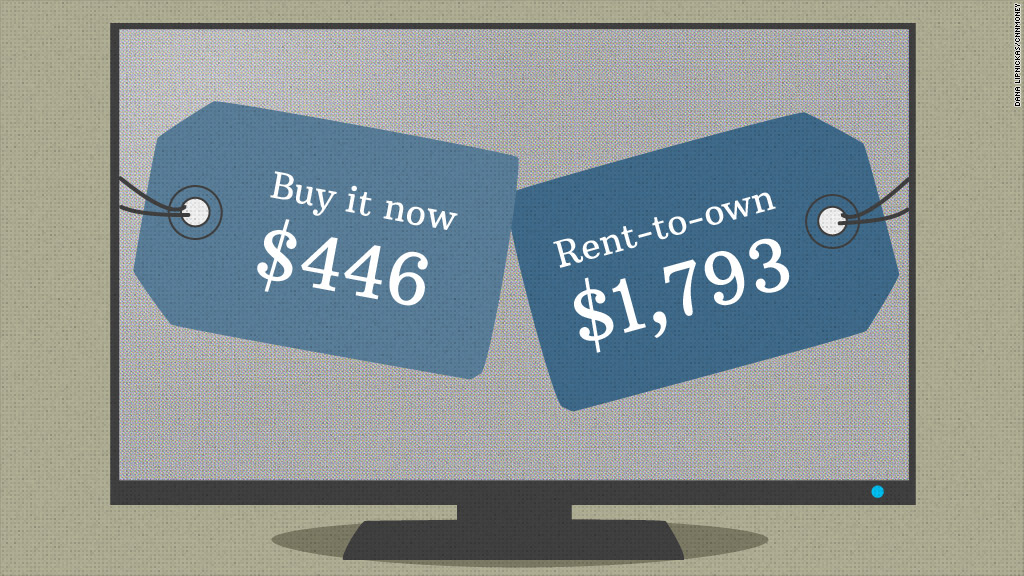 The rent-to-own industry is booming.
People who can't afford to buy items upfront are renting everything from jewelry and vacuum cleaners to beds and storage sheds -- all with the option to eventually own the product once they've made enough monthly payments.
Since the financial crisis began, the number of rent-to-own customers has surged 50%, from 2.8 million in 2007 to 4.2 million last year, according to industry group the Association of Progressive Rental Organizations (APRO). Annual revenue among retailers in the industry spiked 35% during that time -- to $7.9 billion last year. And as of last year, there were nearly 9,000 rent-to-own stores in the United States.
Here's how it works: At Buddy's Rents, for example, you can rent-to-own an LG 42-inch plasma TV for as little as $22.99 a week. You can return the TV any time if you don't want to keep it. But in order to own it, you need to make 78 payments or a total of $1,793. That compares to a retail price of $446 on Amazon.com.
This is fairly standard for rent-to-own agreements. In most cases, making enough payments to actually own the item will cost you more than double the amount it would cost to buy it upfront from a traditional retailer.
Related: Squeezed middle class looks to dollar stores
These high prices, which the industry says are necessary to offset losses from theft and damage of rented goods, have prompted consumer advocates to warn against this option.
"We urge customers to save the money they would spend [on weekly payments] and buy the item outright," said Katherine Hutt, a spokeswoman at the Better Business Bureau.
While there isn't a federal law governing the rent-to-own industry specifically, 47 states have laws requiring certain disclosures or price caps on rent-to-own transactions. Some states, including Wisconsin, Minnesota and New Jersey, have determined that rent-to-own is a form of credit, and therefore apply caps to those transactions based on usury laws.
When measured by interest rates, rent-to-own agreements often carry annual percentage rates, or APRs, of 100% or higher, Hutt says. And despite state laws, prices remain at least double what the retail value of an item is.
Related: Free FICO credit scores coming to millions
APRO admits renting-to-own is a far more expensive way to purchase an item. But it said only 8% of customers actually make the full number of payments required to own an item. Most rent an item for only three to four months before returning it, meaning they often pay less, it said.
However, the most recent government report looking at this industry, from 2000, found that a much higher percentage of customers ended up purchasing merchandise -- about 70%.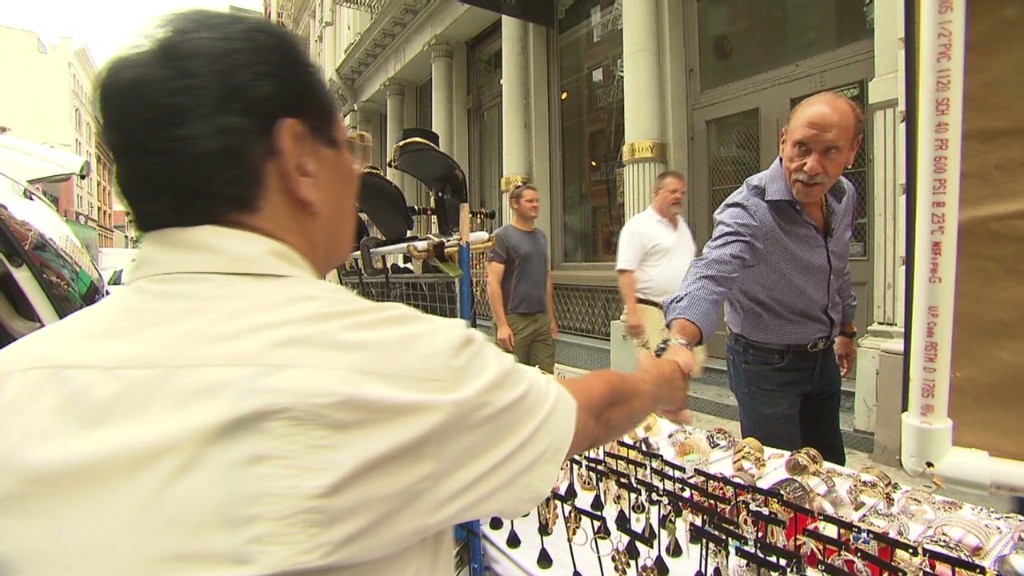 Furniture is the most popular rent-to-own item, making up 37% of sales. Electronics and computers make up 36% of the market, followed by appliances, jewelry, and other miscellaneous items like instruments, artwork, car tires and even riding lawnmowers.
The two giants in the industry are Rent-A-Center (RCII) and Aaron's (AAN). Rent-A-Center is rated a "C+" by the Better Business Bureau, receiving more than 1,000 complaints from customers in the last three years -- mainly about inadequate products (like a couch infested with bedbugs), incorrect billing information and harassing collection practices. Aaron's rating is under review after the FTC alleged that the company has been installing software on its rent-to-own computers in order to secretly track customers.
Despite the negative press, both companies bring in billions in revenue each year and Rent-A-Center has seen its stock price more than double over the past five years, while shares of Aaron's have jumped more than 60%.
Even Kmart is launching a rent-to-own program, beginning Nov. 22 -- just in time for holiday shopping. In one example provided by the store, it would cost a customer $553 to rent-to-own an item priced at $400 on the shelves.
Related: Aaron's rental stores in anti-spying accord
Most rent-to-own customers are female, earn under $36,000 per year and haven't attended college, according to APRO. Industry spokesman Richard May said stores are providing consumers access to items they would otherwise be unable to afford or to qualify for enough credit to buy it with.
Anthony Giorgianni, a writer at Consumer Reports, part of Consumers Union, said the industry is preying on the people who are least able to afford such "outrageous prices."
"These companies are serving poor communities, and the problem is when you're poor, the last thing you should be doing is opting for one of most expensive ways to buy something," he said.
Rent-to-own can make sense in very specific situations, however, says Hutt. For example, if someone is living in a new city for a couple of months and temporarily needs a couch or TV for their apartment.
If you determine that renting to own is your only option, do your research. Check ratings and consumer complaints about the rental companies on the Better Business Bureau's website and read the fine print of your contract so you know exactly what you're getting into, Hutt recommends.