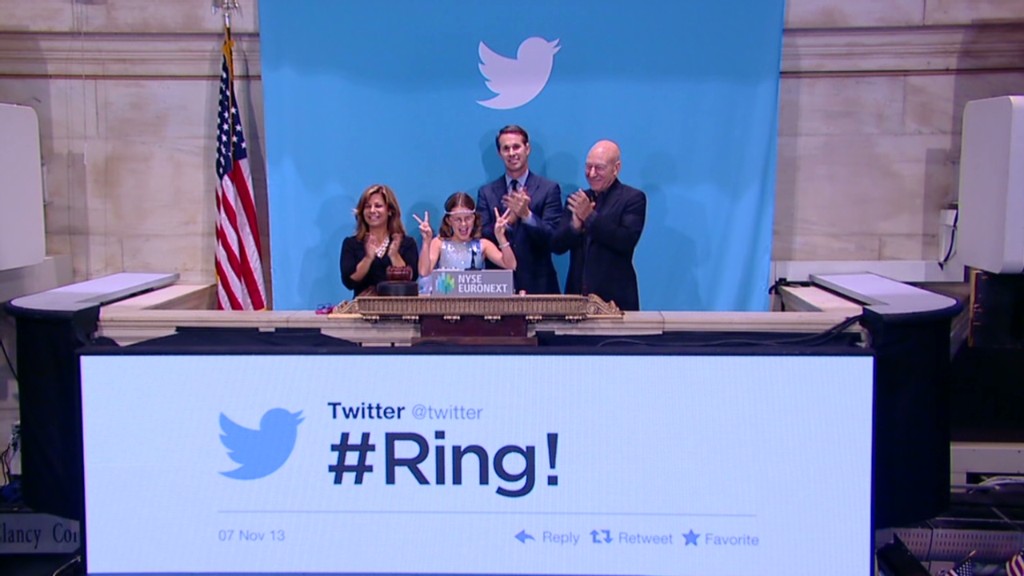 It's official: Wall Street #hearts Twitter. Shares of Twitter soared to close almost 73% above their offering price in their first day on the stock market.
Twitter priced its initial public offering Wednesday night at $26 a share. The stock debuted at 10:49 a.m. ET on Thursday on the New York Stock Exchange, and the first trade came in at $45.10 a share.
Shares quickly jumped to a high of $50.09 -- a gain of 93% over the IPO price -- before dropping back a bit to close the trading day at $44.90.
A price near $45 a share values Twitter (TWTR) at $24.4 billion.
A 'clean' debut: Twitter's early pop is similar to that of LinkedIn (LNKD), which more than doubled in its first day on the stock market. But it was Facebook's messy debut on the Nasdaq last year that had some individual investors worried ahead of Twitter's IPO. Luckily for Twitter, its offering went smoothly.
"We tried to have a very clean process [for the IPO] ... the team that worked on it inside the company was very methodical," Twitter CEO Dick Costolo said on CNBC earlier in the morning.
"Phew!" tweeted Anthony Noto, Twitter's top banker at Goldman Sachs (GS) (the IPO's lead underwriter), after trade started.
Twitter was the most actively traded stock in the U.S. on Thursday. More than 117.3 million shares had exchanged hands by the end of the day.
Related story: 10 surprising stars of Twitter
Twitter isn't yet profitable: Twitter raised about $1.8 billion through the sale of 70 million shares Wednesday evening at $26 a share. The offering's underwriters also have the option to buy another 10.5 million shares from Twitter. By comparison, Facebook (FB) raised $16 billion in its IPO.
But unlike Facebook, Twitter has yet to turn a profit. The company pulled in $317 million in sales in 2012, but ended up reporting a loss of $79.4 million.
For the first nine months of 2013, Twitter's revenue was $422 million. But losses also increased, to $134 million.
Twitter's business model revolves around ads. Twitter runs ads for corporate accounts, specific tweets and topics, and the sponsored content is tucked right into users' feeds.
Search for AT&T on Twitter, and a "promoted tweet" from a rival such as Verizon or Sprint may pop up. A "who to follow" box suggests a promoted corporate account such as Macy's in the top slot. Advertisers can also place "trends" -- like the name of an album going on sale -- in the list of topics that are popular worldwide or in a specific city.
Related story: Wall Street reserved best Twitter IPO info for top clients
Who's getting rich off Twitter: Twitter insiders aren't selling shares in the IPO, but their stakes are extremely valuable.
Twitter co-founder Evan Williams is the company's largest individual shareholder with a 12% stake, which is worth $2.6 billion at Thursday's opening price of $45.10.
Peter Fenton, a Twitter board director and an early investor in the company, owns a stake worth $1.4 billion.
Williams' fellow co-founder, Jack Dorsey, holds shares worth nearly $1.1 billion, and company CEO Dick Costolo has a nearly $346 million stake. Williams and Dorsey's third partner, Biz Stone, isn't on the list of largest shareholders.
Six institutional investors own 5% or more of Twitter. The biggest winner is private equity firm Rizvi Traverse, which holds a nearly 18% stake that is now worth $3.8 billion.