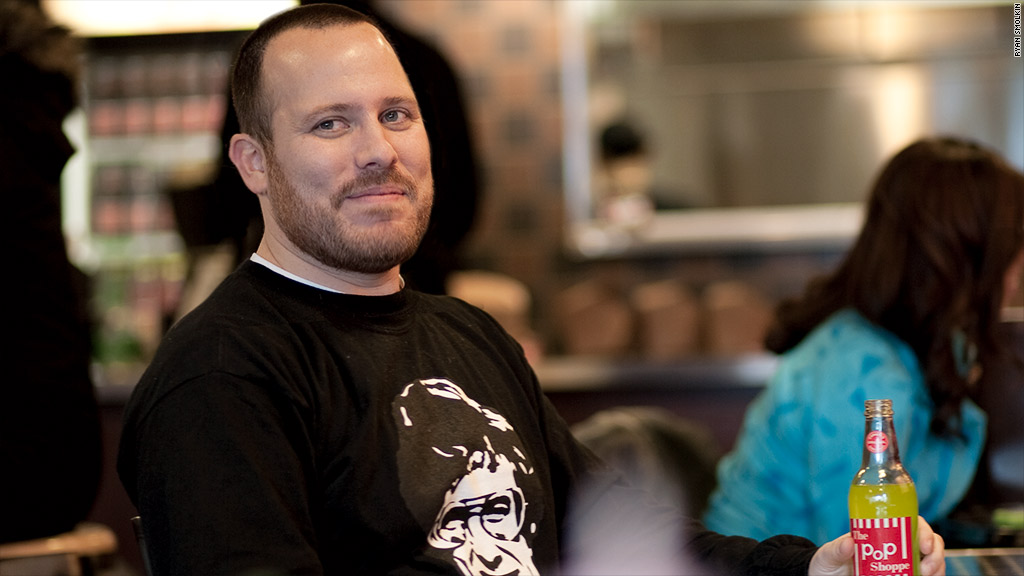 It's usually a bad idea to start a company with no marketing budget, but don't tell that to Ryan Smolkin.
The founder of Toronto-based Smoke's Poutinerie had $400,000 to launch his fast-food chain, but not a dime of it went toward advertising
He opened his first store in November 2008, serving variations on the dish of french fries, cheese curds and gravy. To get the word out, he turned to the one marketing medium he could use for free: Social media. He signed up with Facebook (FB) just as the first restaurant opened and took to Twitter (TWTR) six months later.
During the first six months, Smolkin put in nearly five hours a night sending invites to friends of friends from the company's account. His method worked: About 500 people accepted his requests and lines soon began to form around the block of his restaurant.
Related: Which social network is best for your business?
Soon, customers were doing the friending themselves: Smoke's had almost 1,000 friends by the end of 2009 and his followers kept growing.
"People started inviting their own friends," he said. "It was completely word of mouth."
He'd post at least once a day about things he knew his target demographic was interested in: Food, sports and bits of news from his various restaurants.
Messages that received the most traction showcased some of the company's more off-the-wall ideas: An Eggs Benedict poutine, for instance.
Pictures of the first wedding they catered were also incredibly popular. They not only highlighted how his food could be used, but followers got a kick out of the fact that poutine was served at a wedding.
What he didn't do then, and still refuses to do, is offer online discounts.
"It devalues my product," he said. "People just wait for the 15%. I should just give my whole menu at a better pricepoint then."
Today, Smoke's Poutinerie has nearly 17,500 Facebook likes and 14,000 Twitter followers. There are 60 stores across Canada that will generate about $28 million in sales by the end of the year.
Related: How do you handle bad online reviews?
The business is doing better than Smolkin could have imagined, and he's continuing to build up his online presence. In September, he began rolling out pages for his franchises, which are overseen by the head office.
Smolkin also hired a social media coordinator to handle the majority of the posting. His goal is for 120 Facebook pages and 100,000 followers across all social media networks.
Smolkin attributes his success to the fact that he "keeps it real." He and his team know the company's target market, they don't outsource the work and, most importantly, they have a ton of fun.
Smolkin plans to open several U.S. locations in 2014 -- the first will likely be in Los Angeles. But this time around, he won't have to burn the midnight oil friending American customers. He's got an army of fans who will likely be spreading the good news themselves.
"We put up things that people care about and want to see," he said. "We give them a reason to come back and they bring their friends when they do."