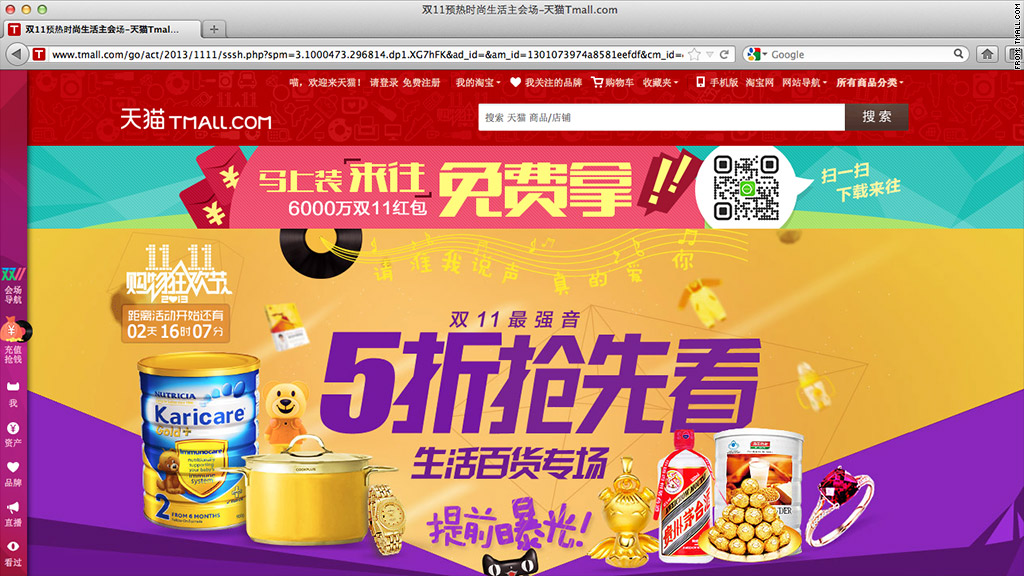 Chinese bargain-hunters spent a record amount with Internet retailers Monday, smashing last year's tally for the country's busiest online shopping day by early afternoon.
What began as a holiday for singles has morphed into an online retail frenzy that dwarfs Cyber Monday, the day after the Thanksgiving weekend when Americans rush to snap up bargains at the start of the Christmas shopping season.
Sales on Tmall.com, China's version of Amazon (AMZN), run by Alibaba, reached $164 million in the first few minutes of the day. By the end of the day, sales on Alibaba's shopping sites clocked in at $5.7 billion -- nearly double last year's total of $3.1 billion.
"On this day, the prices are much lower," said Zoe Zhang, an expectant mother in southwest China, who filled up her shopping cart days ago with baby staples like diapers.
Created as a response to Valentine's Day, the holiday falls on Nov. 11 or 11/11, representing four singles. Gifts are often exchanged among single people, but the day has grown into the country's biggest annual e-commerce bonanza.
Related story: My 5 years as a temporary holiday worker at Toys R Us
Retailers have slashed prices to woo customers, and sales this year were expected to be bigger than ever, said Barclays analyst Alicia Yap prior to the Nov. 11 holiday.
Consumers on Alibaba's sites were offered discounts on thousands of brands including Microsoft (MSFT), Gap (GPS) and Clarins, while competitor Tencent (TCEHY)'s 51buy.com was offering promotions on products from Apple (AAPL), Samsung (SSNLF), Sony (SNE) and more.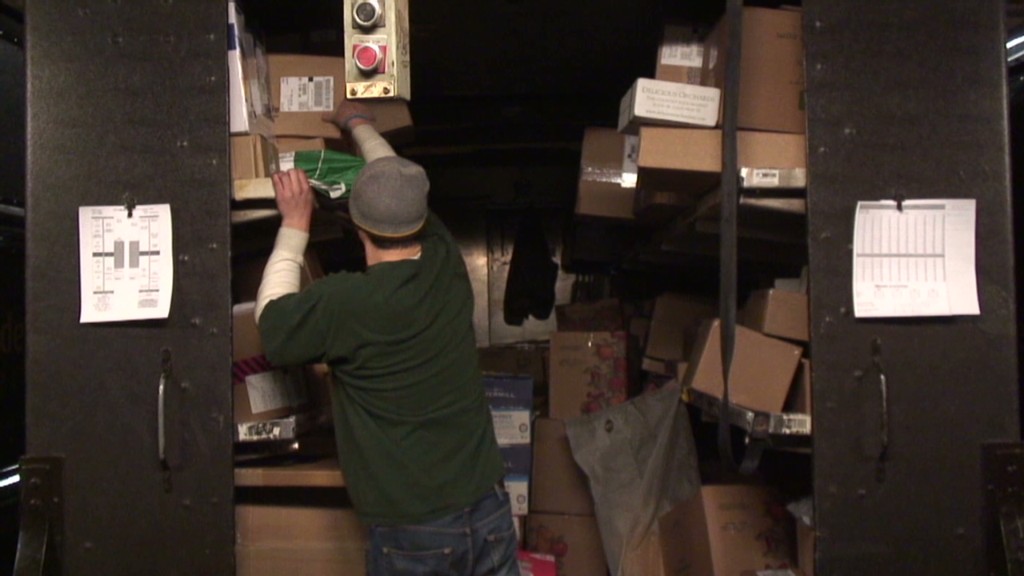 Shoppers can buy just about anything they like, including lemon juicers, baby swings, champagne, ski gear, or even BMW (BAMXY) cars.
China's Cyber Monday reflects the rapid growth in the country's online shopping market, which McKinsey estimates will be worth more than $650 billion by 2020.
A growing number of China's 1.3 billion consumers are paying ever fewer visits to brick-and-mortar stores. Zhang said she now makes 90% of all her purchases online -- anything from blouses to mattresses and lamps.
Related story: Cyber Monday to be business day ever for FedEx
One of the biggest headaches for Chinese e-sellers is how to manage logistics to meet the demand surge.
Some customers, like Beijing teacher Ice Zhang, have become less jazzed about the big shopping day after experiencing poor service and shipping delays in previous years.
To meet this year's expected spike, Alibaba said it has built or renovated more than 150 distribution centers, and prepped 20,000 computer servers to handle peak shopping traffic. During the first minute of Nov. 11 last year, 10 million people visited Alibaba's Tmall.com.
--CNN's Yuli Yang contributed reporting