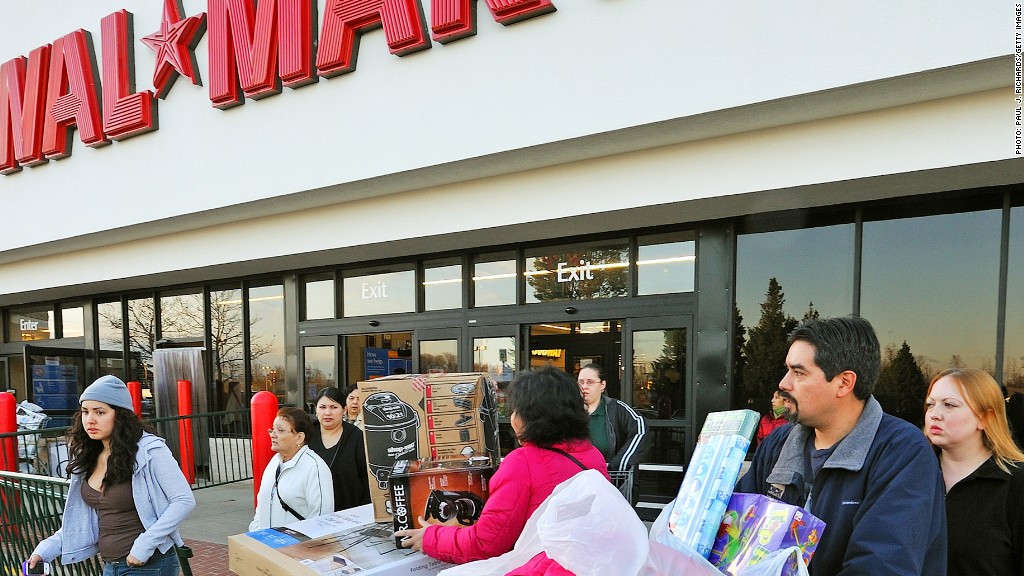 Wal-Mart's Black Friday deal bonanza starts earlier than ever this year, at 6 p.m. on Thanksgiving Day.
The sales kick off two hours earlier than they did last year, mirroring similar announcements from a number of its competitors.
Wal-Mart (WMT) is slashing prices again this year on popular items like tablets, TVs, home appliances and toys. The deep discounts will be offered at specific times on Thursday and Friday.
The store promises to stock 65% more TVs and double the number of tablets compared to last year, according to Duncan MacNaughton, Wal-Mart's chief merchandising officer.
The evening will be broken into phases, during which select items will be guaranteed at a certain price point for an hour to customers who are in line at the time. A total of 21 items have made the deep discounts list this year, compared to just three last year.
Related: Wal-Mart's 2013 Black Friday deals
Phase 1: At 6 pm. on Thanksgiving, 10 items will be made available on special sale. Buy an Apple (AAPL) 16 GB Wi-Fi enabled iPad mini, which sells for $299, and get a Wal-Mart $100 gift card along with it.
A 60-inch Vizio flat panel TV will sell for $688, a $310 savings, and a Funai 32-inch HD TV for $98.
HP (HPQ) Pavillion TouchSmart laptops will be $278, more than $300 below the regular price.
The popular video game Call of Duty Ghosts will be $39.96, a $20 savings, and a Furby Boom for $29, $30 off full price.
Related: Outrage over Kmart's Thanksgiving decision
Phase 2: At 8 p.m., three items will be discounted: Beats by Dr. Dre headphones for $114.95 ($85 off), a Galaxy Centura prepaid phone for $29 ($70 off) and a 7-inch RCA tablet for $49 ($50 off).
Phase 3: At 8 a.m. on Black Friday, people will get a $75 Wal-Mart gift card if they buy the Apple iPhone 5C or 5S with two year contracts with AT&T (T)or Verizon. (VZ)The phones will be sold at their regular Wal-Mart prices.
A $20 Wal-Mart gift card will be given with a $169 Keurig brewing system, and $10 gift card with a $79 SodaStream kit.
Customers will also get up to $127 off for each tire.
Online deals: Starting on Thanksgiving morning, certain online-only deals will also be offered, including $75 off an iPad 2. A Samsung (SSNLF)40-inch HD TV will be $379, a discount of $50.
Managers specials: Local managers will drop prices on certain categories and brands that are in demand for the holidays. Customers have to check their local Wal-Mart Facebook (FB) pages on Thanksgiving for details. These specials will run from 8 a.m. to 2 p.m. on Black Friday.
Customers don't have to wait in line if they arrive early. They will be given wrist bands once they arrive, so that they can browse around the rest of the store until the sale starts. Once it's time for their phase to begin, they have to head back to the lines.
Related: 10 big holiday hirers
What it means for workers: About 1 million Wal-Mart workers will be scheduled to work over the Thanksgiving holiday.
Wal-Mart said that workers will get "a nice Thanksgiving dinner at work," as well as extra "holiday pay."
Workers scheduled to work will also get a 25% discount off one purchase, regardless of how many items they buy at the time.
Related: My 5 years as a temporary holiday worker
Wal-Mart's decision to offer these incentives comes after employees staged protests last year on Black Friday, demanding higher wages, better benefits and hours and the right to speak up without fear of retaliation.
The movement has since caught steam, and protests have continued to pop up throughout the country even in other low-paid jobs. Just last week, three current and two former Wal-Mart workers were arrested outside of a Los Angeles store while protesting.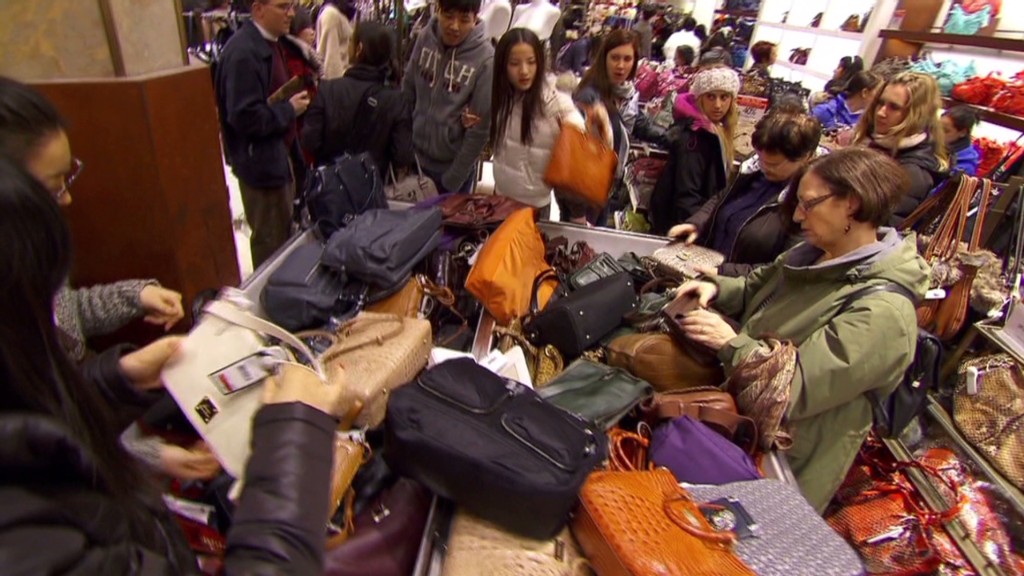 Wal-Mart isn't the only store opening earlier this year. Kmart leads the pack, opening at 6 a.m. on Thanksgiving day and staying open for 41 hours straight, leading shoppers to go on the store's Facebook page to express distaste. Some called the decision "heartless," "greedy," "shameful" and "disgusting."
Toys R Us is opening at 5 p.m., three hours earlier than last year. Macy's (M), Kohl's (KSS), J.C. Penney (JCP) and Sears (SHLD) will let customers in at 8 p.m.