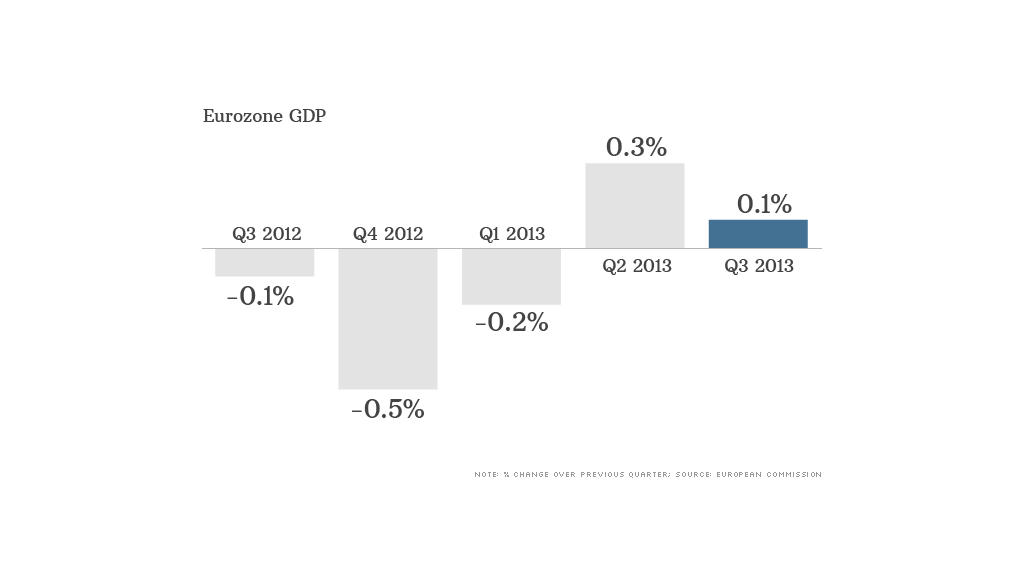 Europe's recovery from 18 months of recession stalled in the third quarter as exports slowed and the region's second-biggest economy slipped back into reverse gear.
The 17-nation eurozone's first estimate of GDP showed growth of just 0.1% over the previous quarter, when the economy grew by 0.3% after contracting for six consecutive quarters through the depths of the region's debt crisis.
Analysts were predicting growth would slow as one-off factors such as a seasonal rebound in German construction faded, but the regional figures were weaker than some had expected.
Subdued global growth and a relatively strong euro hit exports from Europe's leading economies. Germany's rate of growth more than halved to 0.3%, while the French economy shrank by 0.1%.
The figures confirm suspicions that the eurozone is struggling to generate any real momentum, as record levels of unemployment, weak investment, tight credit conditions and government austerity -- albeit at a slower pace than last year -- are weighing on demand.
Industrial production and retail sales both fell in September, and inflation plunged to 0.7%. That prompted the European Central Bank to cut interest rates to a new record low last week in an attempt to prevent the region slipping into deflation and stagnation.
And ECB President Mario Draghi said the bank was ready to take further measures, including another rate cut, if the move fails to have the desired effect.
Related: Are German exports holding back Europe?
Unemployment won't start falling until 2015 at the earliest, according to recent EU forecasts. The European Commission has trimmed its estimate of GDP growth next year to 1.1%, and said it was too early to declare an end to the region's crisis.
With 19 million out of work and wages barely rising, domestic demand in the eurozone remains very weak.
"While there's not much difference between the second and third quarter GDP figures, the deceleration is, psychologically speaking, a major setback for the eurozone," said Nicholas Spiro, managing director of Spiro Sovereign Strategy.
German domestic demand was responsible for most of the slim growth, with a recovery in exports from countries such as Spain and Portugal helping too.
Italy's economy continued to shrink, although by much less than in previous quarters, but France was weaker than expected.
Last week, ratings agency S&P downgraded France on fears the government will be unable to restore the economy's competitiveness, and the Organization for Economic Cooperation and Development weighed in Thursday, urging the country to be more ambitious with its reforms.
It highlighted relatively high tax rates, insufficient research and development, strict product market regulation and barriers to competition in business services.
Related: Surging U.K. economy surprises central bank
The faltering nature of the eurozone recovery contrasts strongly with accelerating growth and a surge in confidence in the U.K., where the talk is now about when the Bank of England will move to tighten monetary policy.
The central bank raised its growth forecasts on Wednesday and said it expected unemployment to fall much faster than expected just a few months back. Governor Mark Carney said he would be prepared to raise interest rates before May 2015 if it was the right decision for the economy.