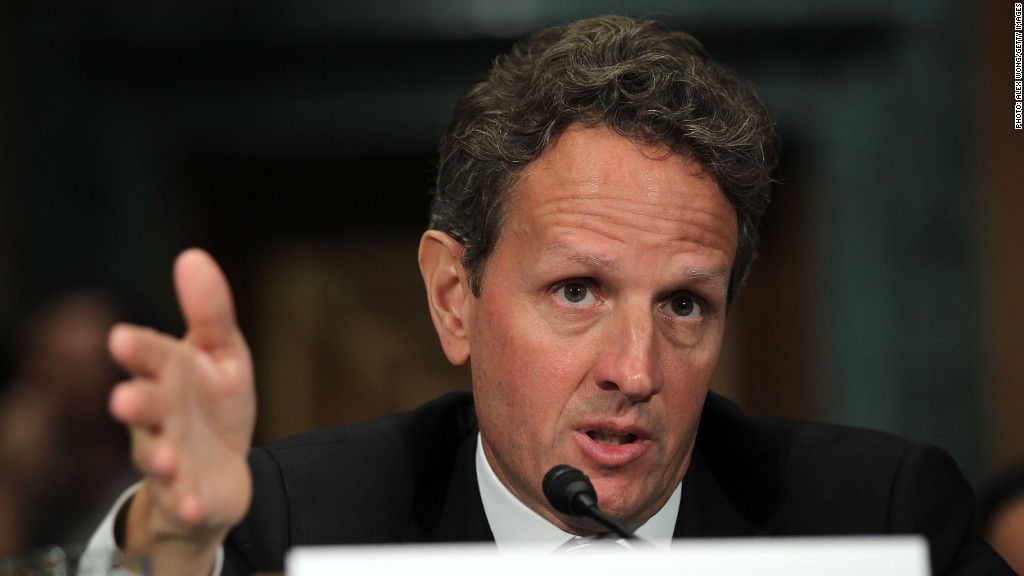 Former Treasury Secretary Tim Geithner, who has spent virtually his entire career working for the government, is taking a job in finance.
Warburg Pincus, a firm engaged in buying and selling companies, said Saturday that Geithner will start at the firm as president and managing director in March.
Geithner told the Wall Street Journal, which first reported the move, that he will play a "substantive role in helping ... manage the firm."
In a statement, Warburg Pincus said Geithner will "work closely" with its co-chief executives on strategy, management and investing.
A mainstay of President Obama's first-term cabinet, Geithner was an architect of the government's response to the financial crisis.
Geithner was widely associated with the TARP bank rescue, which was ushered through Congress by former Treasury Secretary Henry Paulson and then managed by Geithner after the Bush-Obama transition.
The controversial TARP was seen by some as a bailout of fat cat bankers. And some credited it with stabilizing the economy and helping avoid a deeper recession.
The day word leaked that Obama would name Geithner to lead Treasury, in the tumultuous period after the 2008 election, the Dow gained nearly 500 points.
When the crisis began, Geithner was president of the New York Federal Reserve, which helps oversee Wall Street. All told, he ran the New York Fed from 2003 until 2009.
Geithner, 52, left Washington in January 2013 and was succeeded by Jack Lew as Treasury chief. He first went to work at Treasury in 1988 and was later a top deputy to Treasury secretaries Robert Rubin and Larry Summers.
Reports surfaced after he left office that Geithner is writing a book about the financial crisis.
Warburg Pincus, established nearly 50 years ago, is a top player in private equity and manages $35 billion in assets.
In a deal this summer, Warburg sold eyecare specialist Bausch & Lomb to Valeant Pharmaceuticals for $8.7 billion. Years earlier, Warburg had led a private takeover of Bausch & Lomb.
Warburg did not disclose Geithner's compensation.