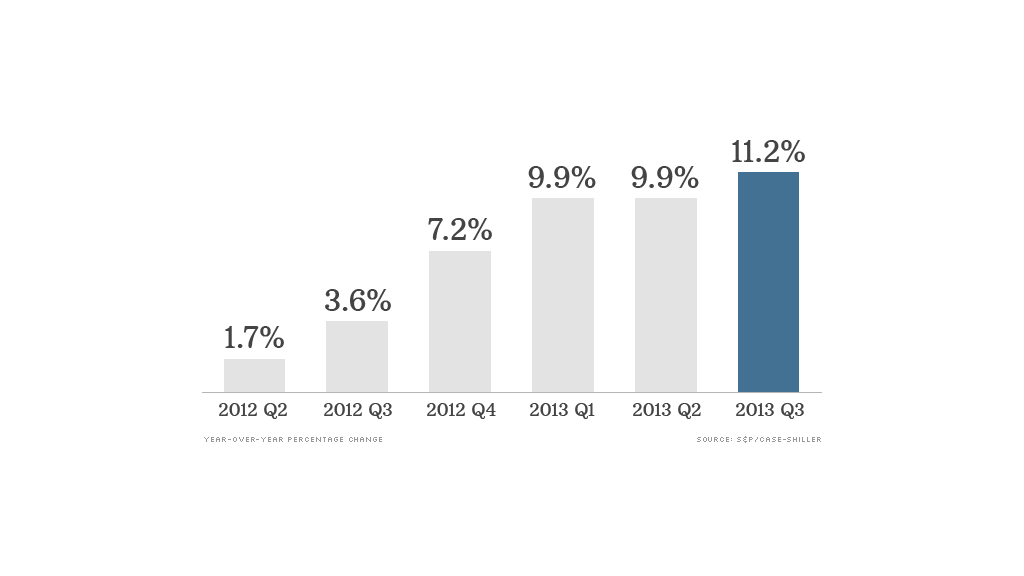 Home prices continued to climb in third quarter, rising 11% from a year earlier.
The S&P/Case-Shiller home price index registered its first double-digit year-over-year gain since early 2006 -- just before the height of the housing bubble -- despite a recent rise in mortgage rates.
However, the quarter-over-quarter gain slowed to 3%, compared with the second quarter, when prices jumped 7%.
"The data suggest a market beginning to shift to slower growth rather than one about to accelerate," said David Blitzer, chairman of the index committee at S&P Dow Jones Indices.
He cited weakening sales of existing homes along with home construction remaining far below the boom levels of six or seven years ago. On top of that, he said interest rates are expected to be higher a year from now.
Related: Top markets for million-dollar homes
But the slowing pace isn't necessarily a bad thing, considering some housing markets have been at risk of overheating.
"The strong price gains in the West are sparking questions and concerns about the possibility of another bubble," Blitzer said. "However the talk is focused on fear of a bubble, not a rush to join the party and buy."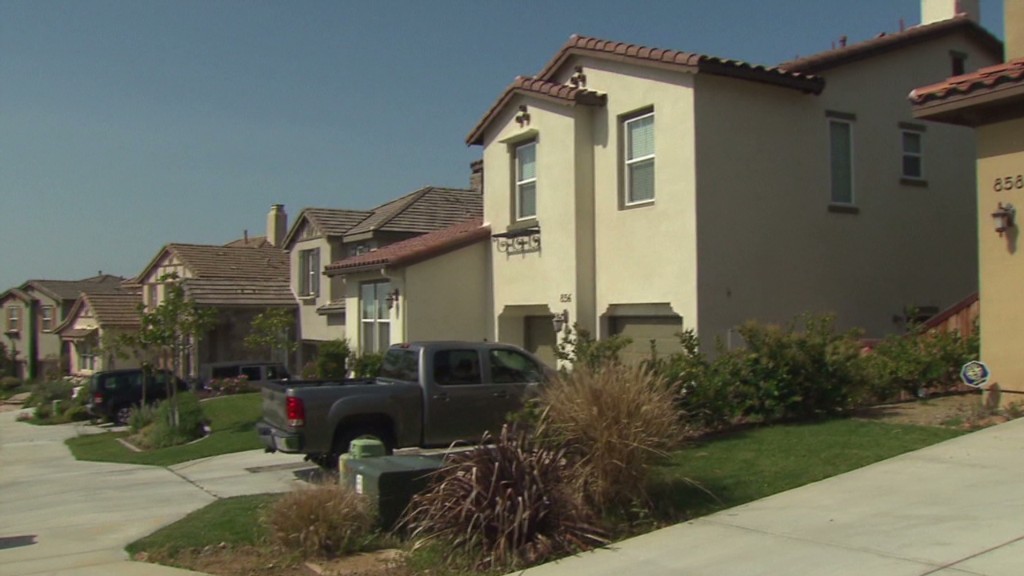 Others think there's still more room to run.
"The housing market's growth is not running out of steam," said Bill Banfield, vice president of Quicken Loans. "This continues to be encouraging news for homeowners that have been waiting to list their homes, and a welcome sign for buyers looking for increased inventory."
In a separate report Tuesday, the Census Bureau reported that builders filed for new permits in October at an annual rate of 1.03 million, the strongest pace since early 2008. But most of the increase was due to a jump in permits for buildings with five or more housing units, while the pace of single-family permits was little changed from September.
Housing starts are typically reported at the same time as building permits but the government shutdown in October delayed that part of the report.
Home prices have enjoyed a strong rebound during the past year, as improving sales and a drop in foreclosures have removed two major drags on the market. And while mortgage rates have been rising lately, they are still at historically low levels.
The rebound in home prices means that fewer homeowners are underwater. Since they no longer owe more on their mortgages than their homes are worth, it's easier for them to sell their existing home and buy a new one, which in itself helps the market.
Related: Was my home a good investment?
Housing is also critical to the overall economy, since an improvement in household wealth can free up money for homeowners to spend on other items. It's also helped spark a recovery in home building, which puts more construction workers back to work.
The Case-Shiller index is one of the most closely watched measures of home values. The quarterly report is different from the monthly reading, which looks at prices in the 20 largest markets. This one captures single-family home prices across the nine U.S. Census divisions.