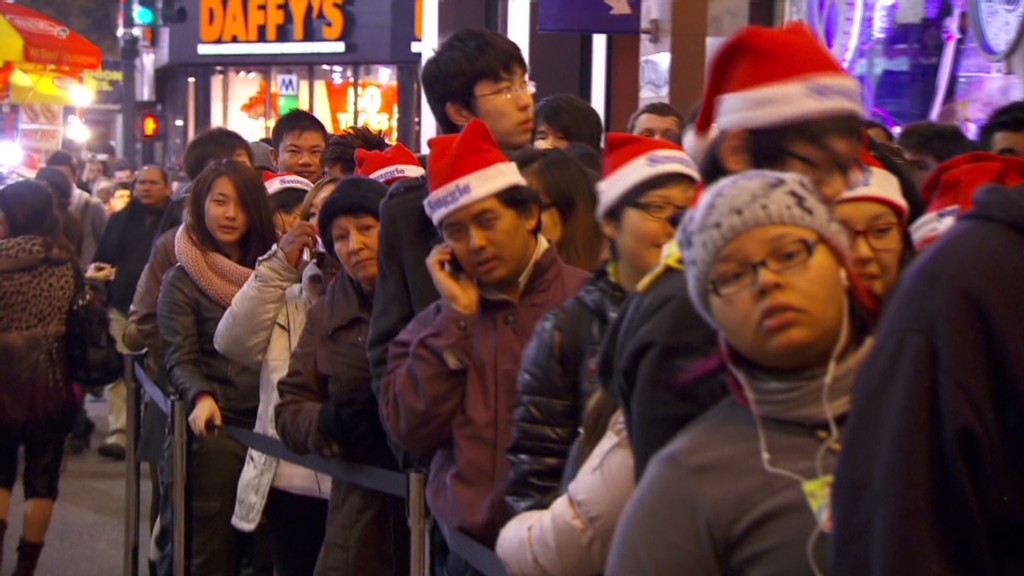 Black Friday is often billed as the best day of the year to find deals. But, in many cases, shoppers are either being enticed to spend more or to buy lower-quality products.
"So many people get caught up in the frenzy of Black Friday weekend. All retailers prey on that, " said Marshal Cohen, chief retail analyst at the NPD Group.
So if you decide to brave the stores this Black Friday (or in some cases, Thanksgiving Day), watch out for these common retail tricks.
1. Inferior products: Just because that big screen television looks like the one you've had your eye on for months, it doesn't mean it's the same model.
Many retailers sell cheaper versions of TVs, laptops, tablets and other items made specifically for the holiday season. The items look like the higher-priced model, but typically have fewer features.
Related: Buyer bewarel: Retail cards have a costly trap
For example, a tablet may come with a smaller storage capacity, while a TV or camera will have a lower resolution, Cohen said. "It's a good deal, but it's a money saver for the retailer and the manufacturer," he said.
Consumer Reports warns that these products may also carry shorter warranties.
In order to see whether the product is the one you want, come prepared with the product specifications and model number and make sure to ask about warranty terms.
Related: Wal-Mart's 2013 Black Friday deals
2. Read the fine print: Some Black Friday sales ads include fine print that says the full discount requires a mail-in rebate. So when you get to the register, you'll have to pay a lot more upfront.
For example, Staples is advertising a Toshiba laptop for $300, but the actual register price for the laptop is $350, which can be discounted with an "easy" $50 rebate, personal finance site NerdWallet.com found.
It's also a common department store practice to advertise storewide sales that then exclude dozens of items and categories. So that "one day blowout" that offers 25% off storewide is really only offering the discount on a select assortment of items.
3. Limited Supplies: It's not called a "doorbuster" deal for nothing. Many stores carry very limited supplies of their best deals so you'll likely have to be one of the first people in the store to snag them, Cohen said.
Wal-Mart is bucking this trend by guaranteeing prices for some of its best deals, as long as customers are in in line during a specific time. If a store runs out of a coveted product, shoppers get a voucher guaranteeing it later at the sale price.
Related: Save money on holiday expenses
4. Misleading "original" prices: Some retailers may try to make you think you're getting a deeper discount than you actually are.
Oftentimes, the original price they show in ads or next to the product in stores is higher than the price the item will usually sell for, said Patricia Huddleston, a professor of retailing at Michigan State University.
5. Bait and switch: Miss out on the doorbuster deal? Retailers are hoping that you'll buy a similar nearby product, which are usually more expensive.
Before taking the bait, try using a price comparison app, like Shop Savvy or RedLaser, or do research online to compare prices at other stores, said Trae Bodge, a spokesperson for RetailMeNot.com, a web site that tracks consumer deals.
"If consumers aren't really sure about something, they may want to take a breath and let the smoke clear," Huddleston said. "People tend to follow crowds, but just because there is a crowd around something doesn't necessarily make that a good deal."