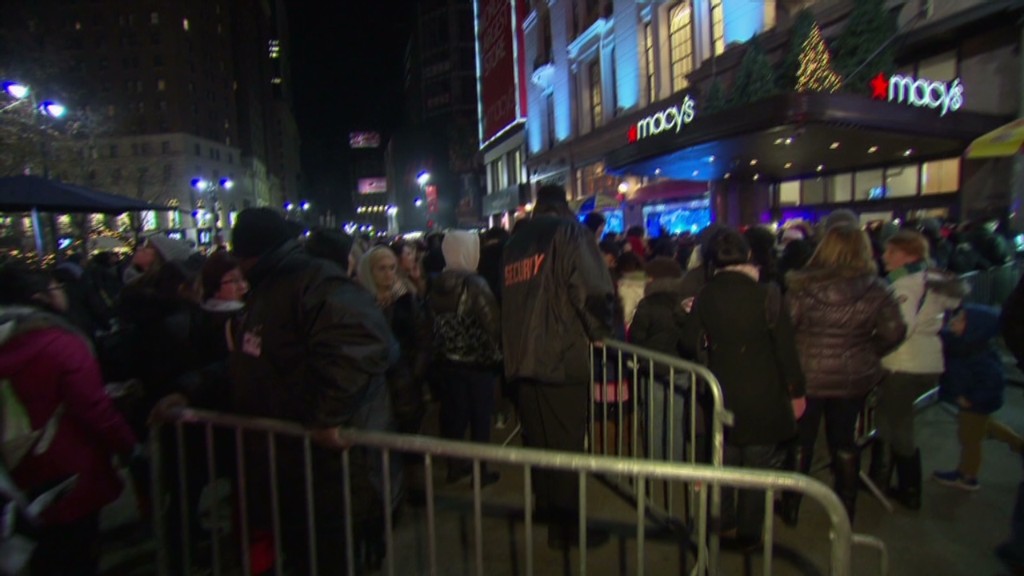 The start of the holiday shopping season Thursday included reports of fights among shoppers at several Wal-Marts nationwide.
In Claypool Hill, Va., the Tazewell County Sheriff's Department says it arrested two men in a parking lot of the Wal-Mart (WMT) in Claypool Hill, Va.
Ronnie Sharp, 61, was allegedly threatening Christopher Jackson, 35, with a rifle and a knife when sheriff's deputies arrived on the scene, according to the police. Jackson was suffering from a severe knife cut on his arm.
Police in Rialto, Calif., said an officer suffered a broken hand and a finger trying to break up a fight in a Wal-Mart parking lot. Raymond Rice, 25, was charged with felony assault and assault on a police officer A female relative of Rice, Chennel Smith, was also arrested when she joined the fight after police tried to restrain Rice.
At the Wal-Mart in Garfield, N.J., police were in the process of arresting Crystal Hickman for allegedly spitting at another woman and the woman's child when another shopper, Richard Ramos, reportedly started yelling and screaming vulgarities. Police say that when they tried to escort Ramos out of the store, he spun around and grabbed one of the officers by his uniform using both hands, prompting police to put him in handcuffs and arrest him as well.
Ramos was being held on charges of disorderly conduct, aggravated assault and resisting arrest. Hickman was issued a summons and released.
In Philadelphia, a brawl that broke out at around 2:30 a.m. Friday at the Franklin Mills Mall ended with one woman using a stun gun device on another, according to eyewitness Mike Napolitano, who captured part of the melee on video.
The fight centered around two female shoppers, mall general manager John Ahle said in a statement. Philadelphia police are investigating, Lt. John Stanford said.
Despite Napolitano's video, the mall's Twitter account tweeted at 11:42 a.m., "To clarify, no taser was used and the fight diminished quickly." But Franklin Mills Mall later acknowledged, "We responded too early and upon further investigation we learned a stun gun was used."
There were also reports and video of customer fights in Iowa, North Carolina, Tennessee and Texas, although the authenticity of those fights could not immediately be confirmed with police in those jurisdictions.
Related: Thanksgiving openings appear to succeed
Bill Simon, CEO of Wal-Mart's U.S. operations, said Friday that the nation's largest retailer attracted more than 22 million shoppers on Thursday and that problems were down from previous years. He said a new policy that guaranteed shoppers who showed up in the first hour that they would be able to get the 21 hottest sales items had calmed things down compared to previous years.
"By and large there were a few small incidents but we were really really pleased with how the event went last night," he said on CNN's New Day.
Related: Protesting Wal-Mart workers win a round in labor fight
He told CNNMoney that he did not know the details of any fights that did occur.
"Any time you get more than 22 million people together, you get some behavior people aren't proud of," he said.
In 2008 a Wal-Mart employee at a Long Island, N.Y., store was trampled to death when thousands of shoppers rushed into the store at the opening the day after Thanksgiving.
Not all Wal-Mart arrests involved angry shoppers. Ten people were arrested on misdemeanor charges Friday at a protest near an Ontario, Calif. store, after they moved into an intersection and failed to disperse, Ontario Police Department Sgt. David McBride said.
McBride called the incident "peaceful," and estimated that between 100 and 150 people attended the rally. It was unclear how many of those were actual Wal-Mart workers. Another 10 people were issued citations at a protest near a Wal-Mart in Chicago for blocking a roadway.
Labor groups that have been pushing for better wages and benefits for Wal-Mart employees also held Black Friday rallies at Wal-Mart stores in Alexandria, Va.; Quincy, Mass.; Orlando, Fla.; and Bellevue, Wash.
-- CNNMoney's Jose Pagliery and James O'Toole, and CNN's Kevin Conlon contributed to this story