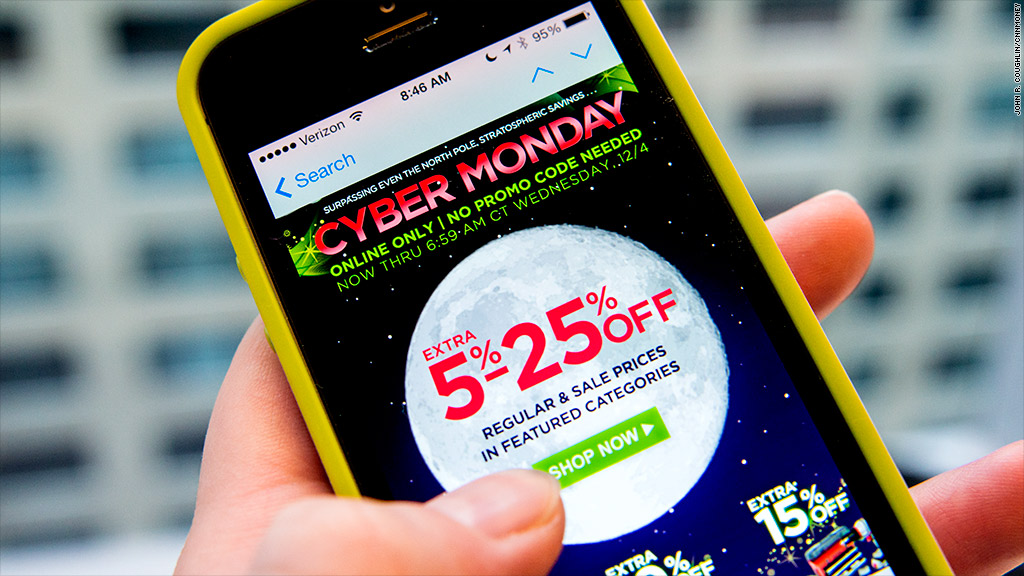 Cyber Monday sales broke a record in 2013, with shopping on mobile devices leading the charge.
Cyber Monday sales jumped 20.6% year-to-year, making it the biggest online shopping day in history, according to an analysis released by IBM (IBM) Tuesday.
Purchases made on mobile devices surged 55.4% year-over-year, and made up 17% of Monday's total online sales, according to IBM's e-commerce report.
Smartphones were more popular for making purchases than Tablets, said IBM.
Related: Mobile shopping for bargains
This is in stark contrast to Black Friday sales, which fell 13.2% from the prior year, according to ShopperTrak, a retail industry firm. But that's partly because many retailers, including Toys 'R' Us, WalMart (WMT), Target (TGT) and Best Buy (BBY), opened their doors on Thanksgiving Thursday, cutting into the traditional Black Friday sales.
ShopperTrak said sales for Black Weekend, which spans Thanksgiving Day through Sunday, crept up 1% compared to last year.
"Black Friday shopping is no longer a one-day event," the firm said in a press release.